Kunming On a Budget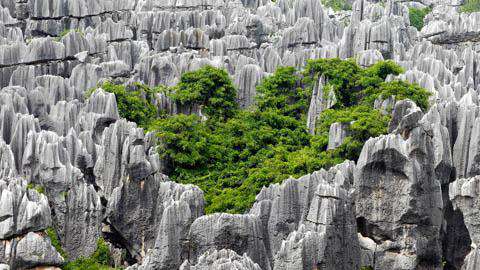 Kunming, located in southern China, is the modern capital city of the
Yunnan province
. It is a transportation hub for visitors entering the region, and good transfer point to just about everywhere else in the province by train or bus. Within the city itself there are many things to see and do with a full range of parks and zoos, museums, temples, theatres, and scenic areas.
Sights
Often called the "City of Eternal Spring," Kunming has a pleasant climate that allows for flowers to bloom almost year-round. Many take advantage of the warmer weather to explore the sights of the city which dates back to the zenith of the Silk Road. Taking a walk through its streets will lead you past some beautiful traditional architecture, especially in its temples. Yuantong Temple, in the northern part of Kunming is the grandest and most important Buddhist Temple in the Yunnan Province with a history of more than 1,200 years. Tanhua Temple, on the outskirts of the city, is another popular destination-the epitome of Kunming's natural scenery with many beautiful flowers and plants. Other important buildings include the Daguan Pavilion which is located in Daguan Park with wonderful views of Dianchi Lake and Qiongzhu Temple which has some outstanding examples of sculptural artwork.
Being the "City of Eternal Spring," Kunming also has many parks and lake areas offering some of the best scenic views in the city. Dianchi Lake, for example, offers a beautiful picture of forested mountain to the west and traditional fishing boats cutting through the mist of the waters in the east. Green Lake Park is another small but popular one with pedestrian paths. And then there are the stone and earth forests located just outside of the city, offering prime examples of the area's karst topography where jagged mountain pillars stand tall against the sky.
Neighborhoods
The city center of Kunming consists of two squares-Jinma Biji Square and Dongfeng Square-surrounded by five intersecting roads. Jinma Biji Square is the more eye-catching of the two decked with elaborate archways and traditional architecture plus plenty of opportunities to pick up souvenirs like the wood carvings and tie-dye textiles of the local ethnicities. Qingnian Road, Zhengyi Road and Renmin Road are the main commercial areas with much to offer in dining, shopping, and entertainment while Nanping Street, Jingxing Flowers & Birds Market, and Jinma Biji Fang make up the most popular pedestrian areas. Guandu Old Town is located south of the city center and offers another sampling of classic architecture with access to parks, pavilions and bridges, souvenir stalls, and abundant shops and restaurants. Old Town is usually bustling on weekends and is also home to the Gudu Liyuan Theater, where traditional Yunnanese Opera is staged.
Activities
As Kunming is the main entry point for the Yunnan Province, many visitors take a few days sightseeing before moving on to explore other parts of the area. Temples and traditional architecture can be found amidst bustling streets and markets full of local goods and trinkets. You might spend a day wandering these streets, find yourself relaxing an afternoon in one of the city's parks, or perhaps dive into the culture and history of the place at one of the many museums. Yunnan University Wu Mayao Museum of Anthropology, Kunming Zoology Museum, and the Yunnan Railway Museum are just a few examples.
Other attractions include Kunming Zoo which exhibits over 300 species of animals, and Kunming Botanical Gardens which has collected over 4,000 species of precious flowers, medicinal herbs, important trees, and endangered plants of the province.
Food and Dining
Be aware most dishes in Kunming and the Yunnan Province as a whole are usually very spicy. A favorite throughout the province is Guo Qiao Mi Xian, or Over the Bridge Noodles-a local style of steamy noodles with a variety of vegetables, meats, and usually a raw quail egg. Steam Pot Chicken is also popular as is Yiliang Roasted Duck and Xuanwei ham. Each is cooked with a mix of local spices, especially ginger. Erkuai is a kind of chewy rice cake, while other common snacks include sweet Tonghai peapowder candy, Qujing pickled chives flower, sweet pickled Kaiyuan Chinese onion, and smoked tofu. A walk through Kunming will bring you past a full range of flavors from savory street food to sit-down restaurants serving a full sampling of traditional food and international options. The main bar streets in town-Wenlin Street and Wenhua Alley-are lined with many Western cafes and restaurants, as well as a few Japanese, Korean, and Indian ones.
Transportation
By plane, Kunming Changshui International Airport is located about 22 kilometers from the city center. There are a number of transfer buses available at the airport for taking visitors to hotels and passenger terminals in the downtown area. The airport provides non-stop service from Beijing, Xiamen, and other Chinese cities. There are also flights to Southeast Asia to places including Seoul, Hanoi, Bangkok, Vientiane, Mandalay, Yangon, and Dhaka.
Kunming is also the hub of train transport in Yunnan. Day and night trains now go both to
Dali
and
Lijiang
. Buses are also widely available from Kunming to just about every place in Yunnan.
Due to ongoing construction of the railroad, if headed south to Vietnam or Laos, it may be faster to take the bus to the border.
Within the city bicycle rentals, local buses, and taxis are also available.
Related:
Looking for a
hostel in China
?
Traveling alone to
Beijing
or
Hong Kong
or want to party in
Shanghai
?