Shijiazhuang On a Budget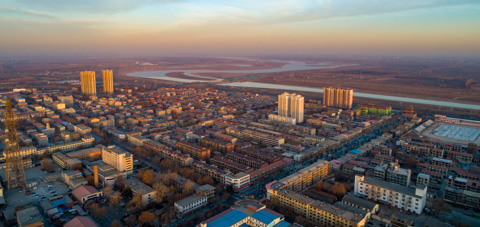 Shijiazhuang is the capital city of Hebei Province in China. It is a fairly young city, acting as the regional transport hub and economic center, though there are a few sights worth seeing. The city is also the largest pharmaceutical hub in China, as well as an important center for textile, IT, manufacturing, and chemical industries.
Sights
Most of the Shijiazhuang attractions are not within the city itself, but are locating in the surrounding area. The most popular is perhaps the Mount Cangyan Scenic Area, located about 43 miles (70 kilometers) from the city. The forested peak is home to many temples, pavilions, terraces, and other buildings constructed on the cliffs or in the valley. Bridge Tower Hall is one of the most famous structures. It spans two cliffs and was featured in the movie
Crouching Tiger Hidden Dragon
.
Closer to the city, Zhengding County is located just 15 kilometers north of Shijiazhuang. Visitors come to this ancient town to see the Longxing Temple of the Tang Dynasty, which is home to a 20-some-meter-tall bronze Buddha statue donated by the Song emperor in the 11th century. The general area around Shijiazhuang is home to many other historic villages that will offer visitors some insight into traditional life in China. Some of these include Shitou Village, Xibaipo Village, and Baodu Village.
One last sight worth mentioning is the the Anji Bridge (also known as Zhaozhou Bridge)-the world's oldest stone single arch bridge in the world. It was built around 600 CE under the Sui dynasty and has survived many floods and earthquakes.
Neighborhoods
Shijiazhuang is situated at the edge of the North China Plain with the Taihang Mountains to the west and the Hutuo River to the north. These mountains are home to the historic Niangzi Pass, which has served as a mountain pass connecting Shanxi and Hebei provinces since ancient times. The city itself is divided into many districts, but the city center will be of the most interest to tourists. Here is where most of the main city sights are located, including the Hebei Museum, Yutong International Sports Centre, and Shijiazhuang Zoo on the western outskirts. The city also has a number of parks, the largest of which is Chang'an Park, featuring an underground shopping mall, a theatre, a museum, a lake, bars, and restaurants. Set on a grid with roads running North-South and East-West, central Shijiazhuang is fairly easy to navigate.
Activities
Most people use Shijiazhuang as a starting point for traveling to the many temples, architectural treasures, traditional villages, and scenic wonders of the surrounding area. The city itself, however, is a great hub for shopping, dining, nightlife, and hotel accommodations. The few attractions within Shijiazhuang include things like the Hebei Museum, a number of city parks, Tianshan Sea World, and the Shijiazhuang Municipal Zoo. There are also a number of markets that are great for tourists who want to experience haggling culture. Since Shijiazhuang is a transportation hub, it will be easy to catch a bus to any of the nearby attractions outside of the city.
Food and Dining
Hebei Cuisine (also known as Ji Cuisine) has three branches-Middle and South Hebei Cuisine, Chengde Summer Resort Royal Cuisine, and East Beijing Seafood Cuisine. Shijiazhuang falls within Middle and South Hebei Cuisine, which is the most typical cuisine, primarily based upon Baoding dishes just north of Shijiazhuang. Common ingredients include a wide selection of raw materials, mountainous wild game, fish, shrimp, and crab. Flavors are strong and savory, and dishes are always served with soup. Gaocheng Gongmian (or Gaocheng Noodles) is a dish special to Shijiazhuang, originally made in honor of the royal family. The noodles are made with high quality ingredients and are uniquely shaped to be long and thin with hollow centers. Other popular foods include Huimin Baji (Hui Braised Chicken), Bagao (a soft chewy snack made from buckwheat), and Ganglu Shaobing (or Clay Oven Roll, crispy crust made with wheat flour sesame seeds). For the less adventurous palette, Shijiazhuang also has a number of western fast food chains.
Transportation
For air travelers, Shijiazhuang Zhengding International Airport is in Zhengding County, located about 21 miles (34 kilometers) northeast of the city center. Downtown shuttle buses, high-speed train, and long-distance buses to nearby cities are available from the airport.
Shijiazhuang is also one of the largest railway hubs in China, with its main station situated in the cross of Zhanqian Street and Zhongshan Road. From here, the city is connected to more than 50 destinations within China, making it a hub for regional transportation. Buses are also available.