Guangzhou On a Budget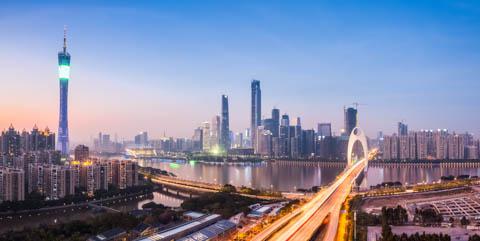 With a population of more than 12 million, Guangzhou is the third largest city in China after Beijing and Shanghai. Though it has a long history, founded in 214 BC, the city has also many modern attractions, a mix of the old and new with temples and parks as well as skyscrapers and shopping centers. Its location on the Pearl River has contributed to this growth, making Guangzhou a major port and commercial hub.
Sights
While the city beholds a beautiful modern skyline reflecting grandly in the Pearl River, there are a number of sights within the city just as striking. One significant landmark includes the 19th century architecture of the Chen Clan Academy, once owned by the wealthy Chen family and now displaying a number of ivory sculpture and artistic statues. Shamian Island, just outside of the bustling metropolis, also exhibits impressive architecture of the colonial era including the Our Lady of Lourdes Chapel. And then there is Canton Tower-the tallest structure in China, featuring an observation deck, restaurants, a 4-D theatre, and other entertainment.
As far as religious sites go, there are many temples throughout Guagzhou, significant of local culture.
Bright Filial Piety Temple
(or Guangxiao Temple) is the oldest and largest Buddhist temple in the Lingnan Area, making it a popular pilgrimage site for Zen Buddhists. Liurong Temple, also known as the Temple of Six Banyan Trees, is one of the most popular attractions in Guangzhou. It also includes the 17-story, eight-sided Hua Ta, or Flowering Pagoda. The temple dates back to the 6th century, while the pagoda predates it by about 300 years.
There are also a few traditional villages on the outskirts of the city for those interested in local culture and history, as well as museums and galleries dedicated to the same. Not to mention, endless opportunities for shopping.
Neighborhoods
Guangzhou is divided into ten districts. Among them, Yuexiu, Liwan, and Tianhe make up the City Center.
Yuexiu has been central to the city's culture since its founding in 214 BC. Some of its highlights include Yuexiu Park, Guangzhou Museum located at Zhanhai Tower, Orchid Garden, Mausoleum of Nanyue King, Guangxiao Temple, Temple of Six Banyan Trees, Huangsheng Mosque, Beijing Lu Shopping District, Sun Yat-Sen Memorial Hall, Temple of Five Rams, and Shishi Cathedral.
Liwan is on the north side of the Pearl River and makes up the old Guangzhou area. Some attractions include the colonial Shamian Island, Xiguan Old Houses, Xiangxiajiu shopping Street, and Liziwan Lake Park, and Chen Clan Academy.
Tianhe is the city's business district with many skyscrapers and shopping centers, as well as the transportation hub for trains to Hong Kong. Highlights of Tianhe include Guangdong Museum, Central Library, Opera House, and Shipai village.
Panyu, just outside the city center, is also popular with a number of theme parks as well as historic villages and towns that exemplify the traditional lifestyle of southern China.
Activities
In addition to sightseeing, museums, galleries, and temples, Guagzhou also has many historic parks for a little escape from the bustle of the city. Yuexiu Park is the largest urban park in China, covering a lush green area that flows over acres of hills and includes several lakes. It is home to the Ming Dynasty Zhenhai Tower as well as the Guangzhou Museum with relics on five floors dating back 5,000 years and an up-to-date miniature of modern Guangzhou. For more information, see this great guide to
things to do in Guangzhou
.
Baiyun Mountain (White Cloud Mountain) also offers opportunities for some outdoor adventure just outside the city, with trails, recreation activities, and a beautiful view of Guangzhou from above.
Theme parks are also popular and include Chimelong Paradise, Chimelong Water Park, Guangzhou CrocoPark, Guangzhou Xiangjiang Safari Park, and the Chimelong International Circus.
Food and Dining
Specialties of Guangzhou largely consist of Cantonese cuisine, which is well known for its fragrance, taste, and presentation. Dim sum, a kind of bite size snack, is especially popular and comes in many varieties, some of which include shrimp dumpling and steamed shaomai. Cantonese cuisine is also famed as one of the most adventurous kinds of dining, as it can include absolutely any kind of animal and all of its parts. Liver, kidneys, heart and even brain-nothing is wasted in Cantonese cooking. Dishes are sure to include an expansive and exotic range of ingredients. Duck, chicken, pork, and seafood are common. As far as desserts go, they are mostly pudding or custard like with flavors including ginger, red or green bean, and black sesame.
Transportation
Guangzhou Baiyun International Airport is a major travel hub in southern China, second to
Hong Kong
. The airport is home base to China Southern Airlines and also hosts a wide range of other airlines from international destinations. It is located about 28 km (17 mi) north if central Guangzhou.
From the airport, the most convenient way into the city is by Metro Line 3. The lower level of the airport terminal leads to the Airport South Metro station. Taxis and airport buses are also available.
Trains are available from Hong Hong to the Guangzhou East Railway Station. There is also the Guangzhou Railway Station and Guangzhou South Railway Station with other destinations.
It location on the Pearl River also allows for transportation by boat or ferry.
Related
Looking for a
hostel in China
?
Traveling alone to
Beijing
or
Hong Kong
or want to party in
Shanghai
?