Should you visit Brazil or Ecuador?
Comparing the cost of travel between Brazil and Ecuador, for most travelers Brazil is more expensive. While both countries offer a variety of sights and activities, both are very affordable even though Brazil is generally more expensive.
If you decide to fly to Rio de Janeiro, you will discover a very different atmosphere than what you're used to at home. You can relax on the beaches of Ipanema and Copacabana, experience the Brazilian party scene, enjoy the view of the city from the Christ Redeemer on Corcovado Hill or learn more about Rio's historical past. And depending of the season, you can even take part in the Rio Carnival or the Oktoberfest. Rio de Janeiro is a large city, which can be a little overwhelming for visitors who are travelling for a getaway from a chaotic city or environment.
The Iguazu Waterfalls and Its 275 individual waterfalls spread over 3 km are a completely unique natural wonder. Just next to the waterfalls, you can also see visit the bird park and discover some beautiful birds such as the Hyacinth Macaw and toucans.
Ecuador is one of the smallest countries in South America but do not be fooled; there is plenty to see, do, and experience! Ecuador is one of the most biodiverse regions in the world. It boasts 50 ecosystems, from the Galapagos to tropical rainforests to forested valleys to the Andean mountains and with several hotspots that have been named UNESCO World Heritage Sites. Ecuador is a great destination because it offers so much in a territory that is about the same size as the state of Colorado. Ecuador is easy to explore, and a small setting will allow travelers to see numerous destinations without riding in a vehicle all day. Traveling from the Pacific Ocean to one of the highest mountains on earth, and then visiting the jungle can even be done in one day! Ecuador is all about adventure. Hiking, biking, kayaking, horseback riding, diving, swimming, rafting, trekking through the jungle, mountains or volcanoes and rewarding your hard work with a good dip in a hot spring or an hour or two on a tropical beach. And the great news is that there is no need to spend your time figuring out exchange rates because Ecuador has been using the U.S. Dollar as currency since 2000, when it retired the Sucre. With 530 miles of coastline, it's no surprise that Ecuador has some of the most beautiful beaches in South America. Coastal towns to visit include the popular Salinas and Puerto Lopez, Salango for snorkeling and scuba diving, and Atacames for the fantastic nightlife. Not to mention the Galapagos Islands. If you are seeking for some true adventure, travel to the Andes and the Cotopaxi National Park, where one of the highest active volcanoes in the world has erupted more than 50 times since 1738. Ecuador blends Spanish culture with African and European influences, and this vibrancy is reflected in the people and its cities. As Ecuador's capital, Quito is where you are heading for culture, stunning views, great nightlife especially karaoke bars, and local meals. And speaking of food, the country's cuisine is as diverse as its landscape. Hearty mountain fare and seafood make up Ecuador's national dishes, which include a citrusy ceviche, toasted corn snacks, a cheesy potato soup, pan-fried pork and chicken, goat stew and guinea pig. In city centers, visitors will find museums, theaters, thriving markets, festivals, and very welcoming people.
When is the best time to visit Brazil and Ecuador?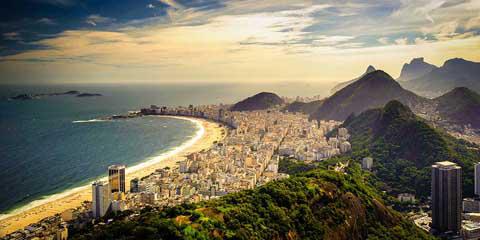 Brazil is made up of several climatic extremes, none of which are severe enough to prevent travel to any part of the country at any given time. Across the country, the warmest months are November to March, also a perfect time for enjoying New Year and Carnival celebrations. The northeastern coast experiences some rain in June and July, but usually only in the form of afternoon showers. The Pantanal's driest months between April and October are a good time to visit Brazil, but like in the Amazon, its wetter months offer distinct wildlife spotting opportunities and experiences. While Brazil is an all year round destination, the time you decide to visit can be relevant depending on the activities you have planned. Mid-summer, between January and March has warmer days that are accompanied by the start of the rains in the Amazon and the Pantanal. February is a particularly popular time for Brazilians to travel, as the Carnival often falls in this month. April and May are a great time to travel as the high temperatures of the last few months are starting to decrease and the Pantanal enters in its dry season towards the end of April. In June and July, evenings are cooler, but the air is fresh and the sea is still warm, which makes it a perfect time to explore the Green Coast between Rio and Sao Paulo. As June arrives, so does Bahia's rainy season, but it is usually fine to plan your day around the few afternoon showers. The best time to visit Rio is perhaps in August, September or October, when spring is arriving, there are few clouds in the sky and the temperatures are on the rise. During the summer months you can expect high temperatures across the country. Rio de Janeiro tends to be hot and dry in November and December, but it can be particularly busy as visitors flock to the city to celebrate Christmas and New Year. Most of the northeast tends to experience similar hot and dry weather, which also makes the water levels in the Amazon very low in December.
Many visitors describe Ecuador as the "Hidden Jewel of South America". This is because of the unmatched diversity in landscape, ecosystem and culture present in the country, but also because Ecuador enjoys mild spring-like weather conditions year-round with a gorgeous temperature of 65 degrees (F). Locals and travelers often describe Ecuador as the "Eternal Spring", which makes it an ideal place to visit any time of the year. Weather variations are usually the result of regional differences and micro-climates rather than clearly defined seasons. In between January and May is the coolest and wettest time period in Ecuador. Many people still choose to travel to Ecuador at this time because rainfall mostly presents itself in afternoon showers and the waters around the Galapagos Islands are at their warmest. The driest and warmest months in Ecuadorian mainland occur from June to September. Visitors can often enjoy clear blue Andean skies and warm sunshine. Fewer showers also make for more prolonged periods to enjoy bird-watching in the cloud-forests. This is also the peak time to visit neighboring Peru, so early planning is advisable. In the highlands, the 'four seasons in a day' phenomenon can happen at any time, so you should not limit your travel planning to this drier season. The months of October, November and December are a popular time to visit Ecuador, as the South American national holidays approach and the waters around the Galapagos become calmer again, so early booking is again advisable.
Why is Brazil more expensive than Ecuador?
In recent years, the Brazilian economy has boomed. As a result, increased wealth and inflation have augmented the prices. However it is difficult for some to keep up with the prices and the country's economic expansion is not necessarily benefiting the lower classes. While some services are less expensive in other areas of the country, food and transportation are quite costly around many areas in Brazil and especially in big cities including Rio de Janeiro and Sao Paulo. Therefore research, plan and budget accordingly as you don't want to find yourself short of money while visiting.
Ecuador has a fairly low cost of living. It is astonishingly diverse and interesting but it's also a relatively small and compact country, which reduces the need to spend on long-distance transportation the way you will in neighboring countries. Activities are pretty cheap. For example, a round trip on the stunning Devil's Nose train will cost USD$30, hiking trips to volcanoes and mountains usually start at around USD$40 and in terms of accommodation there are ample cheap private rooms to be found in Ecuador, and often the price difference between a dorm bed and a basic private is minimal. The one thing that can really tip the scale is visiting the Galapagos Islands. However few tourists travel to Ecuador without visiting the Galapagos Islands, which on its own requires a budget of at least USD$1000 per person though probably a bit more.
What are the most expensive and cheapest cities and regions in Brazil and Ecuador?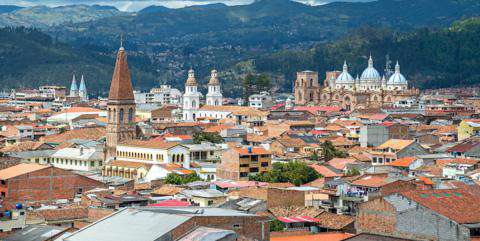 In Brazil, the Northeast and Southeast are the most expensive regions of the country. Northeast is the Brazilian region with the largest coastline of the country, which makes the region very appealing to tourists around the world. They are a very important source of income for the Northeast, thousands of foreign and Brazilian tourists visit the Northeast annually in search of beautiful beaches, views and sun. The Southeast is the vital center of the country, where the largest cities, the highest population density, and the best ports are concentrated. It's the most important industrial, commercial and financial region of Brazil.
Quito is a cosmopolitan city, where colonial architecture blends with modern life. It provides visitors with incomparable scenery surrounded by the breath taking Andes Mountains. On its colonial center, Quito offers narrow cobblestones streets, a maze maze of churches, and history and tradition in every corner. Cuenca is Ecuador's third-largest city. It hustles and bustles, but with a certain provincial charm. This prosperous and beautiful highland city has retained much of its colonial splendor, and, like Quito's, its city center has been declared a UNESCO World Heritage Site. Oddly enough, Quito and Cuenca costs more than the capital these days because the average income is higher and a lot of wealthy Ecuadorians have moved back from abroad and settled there for a more mellow life. Get beyond these two cities and Guayaquil, and you will be sure that living expenses are even less. Riobamba, Vilcabamba, Cotacachi, or other towns in the Andes are definitely cheaper.
How you can save money when visiting Brazil and Ecuador?
You should also agree on taxi prices for your journey with the taxi driver before setting off but taking the bus is much better most of the time. You can use couchsurfing for accommodation, which connects you with locals who will give you not only a free place to stay, but also a local tour guide who can introduce you to all the great places to see. If you prefer to stay in a hotel get a double room. In Brazil, you will pay a premium for a single room, almost twice the cost of a double. Pair up with a friend to halve the cost of your accommodation if you're not keen on staying in a dorm. Finally, if you can, travel off season if you want to keep prices low.
To save money in Ecuador, look into staying in Hospedajes, a very affordable accommodation option. These family-run guesthouses are all over the country and have rooms for just a few dollars per night. Eat and food shops at the markets. You can find meals and kilos of fruits for just a few dollars, making this the best way to eat cheaply in the country. Many restaurants have almuerzos, cheap lunches from a set menu, which are usually just a couple of dollars and even include a drink! Try to carry as much small change as you can as you will have trouble changing bigger notes than USD$20, especially in small towns. A good money saving tip is to book last minute tours. By booking your Galapagos Island cruise in Quito last minute, you can save up to 40% off the expensive cost of the trip. If you're flexible in when you go and can wait around for a spot to open, the cheapest option is also to just fly there and see what is around. If you want to make your trip even cheaper, find free accommodation and a chance to make a local friend on Couchsurfing.