Should you visit Thailand or Cambodia?
Thailand is the most heavily visited country to in Southeast Asia due to its natural beauty, friendly people, and low prices. Its economic dependence on tourism can be felt pretty much everywhere, as no matter where you visit, you are likely to run into other travelers, as well as see hotels and restaurants catering to tourists. The beauty of Thailand is obvious and famous all over the the world. The diversity of landscapes, combined with the generally friendly nature of its people lead to a huge number of tourists every year, and the numbers are growing. The large number of visitors can drive prices up quite a lot, especially compared to the prices of common goods that the locals pay. Supply and demand is clearly at work in the Thai tourism industry, and many local people want in on the business.
Cambodia, perhaps most famous for the temples at Angkor, is a developing country with a very low cost of living. But this small nation has a lot to offer with regards to culture, history, and its amazing food. Cambodia is very affordable for travelers, being one of the cheapest countries in the world, not just Southeast Asia. In man places in the country you can see how people have lived for centuries, while others are more modern and cosmopolitan.
Many travelers visit both of these countries during their trip through Southeast Asia. It's very easy to take a quick flight or a cheap bus from Bangkok to Siem Reap (crossing the border) to see Angkor in just a few days. However, this would leave you missing out on so many of the other great places to see in Cambodia.
When is the best time to visit Thailand and Cambodia?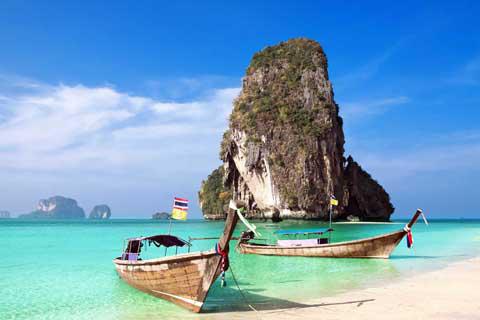 The high season for travel in Thailand is from November to February, although tourists come all year as the weather is generally agreeable even during the "wet season". The dry and wet seasons are caused by monsoon winds more than temperature changes, though. In the north, the dry season is from November to May. The southern coasts stay fairly dry during this "winter" period. Due to the directional change in weather patterns that occurs every year, the east and west coasts of Thailand receive rainfall during opposite seasons of the year. The rainy season on the western coast is usually from April to October (summer), while the east coast experiences more rain between September and December (fall).
Cambodia is consistently warm all year, with a wet season from May to October in the summer months. While it may rain every day, the rain tends to come in shorter bursts of just an hour or two, so travelers need not worry so much about activities being rained out or having their trip ruined. However, the concerning issue is that sometimes the rains can wash out roads in more rural areas, making transportation difficult, time consuming or more expensive. Otherwise, one can visit Cambodia year-round without any concern.
Why is Thailand more expensive than Cambodia?
Thailand's economy is strongly dependent on tourism. Various transportation companies have established themselves in Thailand catering to the budget and mid-range tourist market. They offer buses, both large and small, and on long range and short range routes. These services are significantly more expensive than the public government-run transportation system that locals use. Keep in mind that the companies that cater to tourists, while more expensive than public transportation, are not always more efficient. However, they tend to drive prices upwards.
Touristy areas in Thailand are expensive simply due to supply and demand. On the most popular islands, usable land is often very scarce and therefore accommodation options are not as numerous as the large volume of tourists needing beds. This drives prices up, especially during the high season. Also, many of the islands require food, fuel, and other necessary supplies to be shipped in, which creates a higher cost of food at restaurants, higher taxi prices, and an increase in the price of clothing and other needed items. It's best to bring as much with you as possible if you can. Try to eat local food if possible to save money.
Cambodia is very inexpensive for a variety of reasons. It is a mostly agricultural country with large portions of rural areas, but only few key tourist areas. It's overall economy is still very dependent on agriculture instead of higher priced tourism, manufacturing, or other services. While competition has generally brought down prices for accommodation and food, as locally owned businesses fight (sometimes quite hard) for attention, many locals still compete for income from tourists. Public transportation is also generally efficient, meaning that budget and mid-range travelers can make their way to many places in Cambodia for a very low cost. This also lowers prices and creates a competitive atmosphere among tour companies, as they know that public transport is always a bottom-line option for tourists.
If you desire more luxury in Cambodia, then you'll generally need to pay more for better hotels, nicer restaurants, and more comfortable transport. However, the price of these luxuries is still reasonable and on par with the rest of the region.
What are the most expensive and cheapest cities and regions in Thailand and Cambodia?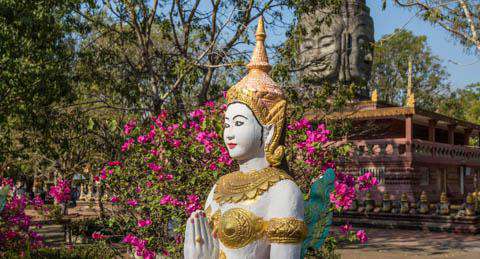 As a general rule in Thailand, the more busy a destination, the higher the prices can get. Southern Thailand is often more expensive than northern Thailand (with a few exceptions) with some of the most expensive areas being the islands of Koh Phi Phi, Phuket, Koh Phangan, and Koh Samui. Your timing could also significantly affect cost. During the Full Moon Party, prices in Koh Phangan can climb, but expenses are more reasonable during quieter times.
Visitors to the big cities of Thailand can experience a mix of prices. With a more diverse range of accommodations and food, travelers to Bangkok, Chiang Mai, Pattaya, and other urban areas can find both cheap and expensive places to stay or restaurants to eat at.
In the countryside of northern Thailand, prices tend to be cheap. Smaller towns in the north wish to attract visitors and lower their prices accordingly. However, sometimes transportation can get pricey.
The Siem Reap (temples of Angkor) region is by far the most touristy, and therefore the most expensive area of Cambodia. These ancient temples are the main reason why you are making the trip to Cambodia. Here, hotel prices are high if you want to travel in luxury. Basic rooms and hostels, however, are available for very affordable prices for those who are interested in saving their money. The prices in this area are also high due to the need for some type of tour around the temple complex. Generally speaking, expect to pay for some sort of transportation or tour even if you are not interested in a guide, as the temple area is very large and it's not possible to simply walk in and see everything. Plenty of cheaper tuk-tuks are available and double as taxis and tour guides if you don't want to pay for a full on tour. It's easy to hire one of these, as they are quite common and tend to approach the new arrivals in town. If you're really on a budget, rent a bicycle, pack your own lunch, and expect to get a lot of exercise.
Phnom Penh can also have some higher prices for hotels and food, but is also large enough to support plenty of budget options, too. The same is true for the more popular beach areas along the southern coast of Cambodia.
How you can save money when visiting Thailand and Cambodia?
Negotiate hard! This is generally true all over Southeast Asia and espeically so in Thailand and Siem Reap, Cambodia.
Make a point to get off the beaten path. Prices in the well-traveled areas tend to be the highest. In northern Thailand, plenty of smaller or medium cities offer the same experiences as the popular destinations such as Chiang Mai, so you could use the popular place as a hub and stay further afield. While in the south, pay attention to the less visited islands - the water is still gorgeous and crystal clear. In Cambodia, Angkor is amazing, but many other terrific places in this dynamic country are ready for tourists and offer very low prices. Check out the beaches and the areas around the lake, for example. Look for cultural places over "resorts" and you'll be pleasantly surprised at what you find.
Travel with the locals. Find local transportation (the government buses) whenever possible to avoid paying the much higher prices for tourist-oriented buses. Usually, the government bus depot will be in the main central business district of the town, and separated from the tourist areas.
Slow down and practice "slow travel". If you're rushing through a country you're going to spend more money at a faster rate. Transportation costs can be somewhat expensive due to regional fuel costs, so the more places you visit, the more money you're going to spend to get from points A to B.
Plan your schedule around the prices of hotels. Festivals are fun but they drive up the costs of both hotels and restaurants. If you will be visiting an area with a Full Moon Party, avoid the island areas during these times if you're not interested in going to the party and want to save money. Also look at the holiday schedule to see when locals are on vacation. Furthermore, keep in mind that visitors to these festivals are often targets of theft and scams, which can cost you a lot, even if it's just a petty pick-pocket.
Locally owned shops, hotels, and restaurants are most often much cheaper than their larger chain counterparts, most of which cater to higher spending tourists. Fear of the locals will lead you into "westernized" establishments, and cost you a lot of money.
Eat where the locals eat. This is not just good for your budget, but the local cuisine is terrific. Cambodian food is amazing, as it is very similar to Thai food but without a lot of the hot spices.