Should you visit Vietnam or Cambodia?
In the last decade, tourism has surged in Vietnam. The reasons are obvious, as this diverse and beautiful country offers much to do and see to its visitors. While the beaches are nice, the real gems are the authentic local experiences to be had in every region, from floating markets in the Mekong Delta to trekking through the Hmong villages and rice terraces in the north. And don't miss the stunning landscapes of Halong Bay, either.
Cambodia, known for the temples at Angkor, Phnom Penh, and a history of turmoil, is one of the poorest countries in the world. Now very stable and welcoming, this small nation is rich in culture, history, and cuisine. Extremely inexpensive for travelers, Cambodia offers an authentic glimpse into a rural and agricultural way of life alongside ancient and recent history.
Vietnam offers a terrific value to tourists as prices are cheap, accommodation options are of good quality, transportation is efficient, the food is amazing, and the locals are friendly. The same can be said about Cambodia, and both countries are very affordable.
When is the best time to visit Vietnam and Cambodia?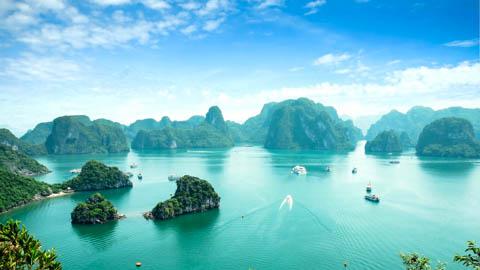 Vietnam and Cambodia are both warm (sometimes hot) all year, so just accept that you'll be in a tropical country. There is really no best or worst time to visit either place.
At higher elevations and in northern Vietnam, the weather is significantly cooler. Fortunately, some of the higher elevation towns are on Vietnam's must-see list, so that should alleviate some of the heat during your trip.
In the north of Vietnam (Hanoi), summer months are hotter and have more rain, while winter months are dryer and cooler. In the central area (Danang & Hue), it's dry but very hot from January to late summer, and rainy from the summer through December. In the south (Mekong Delta), it's hot and dry in winter months, and hot and wet in summer months.
Cambodia's weather patterns are comparable to that of southern Vietnam, obviously. The general theme is warmth, with a wet season from May to October.
In both countries, while it may rain every day, the rain tends to come in bursts, so travelers need not worry so much about activities being rained out or having their trip ruined. However, sometimes the rains can wash out roads, especially in Cambodia, making transportation difficult or more expensive in some regions.
Why is Vietnam more expensive than Cambodia?
Generally, Vietnam is more expensive for several reasons. Vietnam's economy has been growing in the last couple of decades. With a population of 90 million and a growing middle class, as well as a large growth in foreign visitors, prices in Vietnam are on the rise. However, it's still generally cheap and on par with Southeast Asia as a whole.
While accommodation and food can be cheap in both countries, western standards for hotels and restaurants can be much more expensive than their local counterparts. In other words, if you want more luxury, expect to pay a premium.
Many tour companies have also started providing efficient, friendly, and convenient ways to see various destinations in Vietnam such as Halong Bay, the Mekong Delta, and other rural areas which might not be serviced by public transportation. While these tours are not overly expensive, they can be more expensive than planning the trip on your own with public transport and self-booking of accommodation.
The same is true about Cambodia. Hiring tour companies will add a significant expense to your budget.
Cambodia is a mainly rural and agricultural nation with a few key tourist areas. Competition for the tourist dollar has generally brought down prices for accommodation and food, as locally owned businesses fight (sometimes quite hard) for attention. Public transportation is also fairly efficient, meaning that budget travelers can get to many places in Cambodia for a very low cost.
If you desire more luxury in Cambodia, then you'll generally need to pay more for better hotels, nicer restaurants, and more comfortable transport. However, the price of these luxuries is still reasonable and on par with the rest of the region.
What are the most expensive and cheapest cities and regions in Vietnam and Cambodia?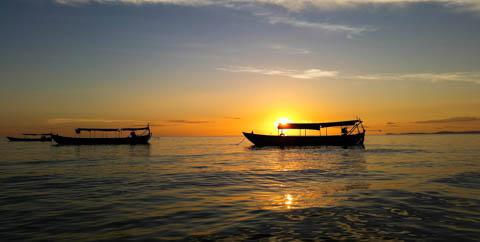 As Vietnam is a highly populated country, even visiting the smaller towns or the countryside means that plenty of infrastructure, accommodations, and restaurants are available. This means that prices are fairly consistent even in more rural areas compared to other countries.
The Siem Reap (temples of Angkor) region is by far the most visited, and therefore the most expensive area of Cambodia. These ancient temples are, after all, why you and millions of others are visiting Cambodia. Here, hotel prices are high if you want to travel in luxury. But heavy competition in the budget market leaves plenty of cheaper options for those wishing to stay in a basic room or hostel. The entrance ticket to the temple complex itself is quite hefty, and rises almost every year. Also, expect to pay for some sort of transportation or tour around the complex, as it is too massive to merely walk around in. Plenty of tuk-tuks are available and double as taxis and tour guides if you don't want to pay for a full on tour. If you're really on a budget, rent a bike and expect to get a lot of exercise.
In the big cities such as Hanoi, Ho Chi Minh, Da Nang, and Hue, a variety of options are available for food and hotels. Prices can be higher if you want more luxury, but cheap options abound everywhere, too. Generally, the more touristy a destination, the higher one can expect prices to be for tourist-related activities. But food and other goods tends to stay consistent. Phnom Penh, the capital of Cambodia, can also have some higher prices for hotels and food, but is also large enough to support plenty of budget options, too. The same is true for the beach areas.
How you can save money when visiting Vietnam and Cambodia?
Negotiate, negotiate, negotiate, negotiate! When you're done, negotiate again. Vietnam is one of the most difficult countries in the world for bartering, and Cambodia is not far from the top of the list either. Hold your line, stand firm, and be prepared to walk away if you don't like the price. After that, you'll be surprised at how prices will come down just a few seconds later. Read up on negotiating strategies such as "cut their offer by a third when you counter offer, and don't pay more than half."
Shop around. Don't go for the first thing you see, whether it be a small souvenir, a hotel, or an all-inclusive tour. Be picky and look at all of your options, then go for the best value (but not always the cheapest).
Overall, if you want to save money in Southeast Asia, the rule is "go local". Eat local food, as it's not only yummy and healthy, but also very cheap. Locally owned hotels and hostels are also very cheap. Think local and buy local. It's not just good for the economy, it's good for your wallet!
Take local transportation and avoid the multi-day tours that prey on tourists and backpackers. Buses go everywhere in Vietnam for a very cheap price, and almost everywhere in Cambodia. Taxis are not too bad, either. With the conveniences of the tours comes the higher prices and less authenticity.
Overnight buses are a good way to get around and avoid paying for a hotel room at the same time. (Just don't expect a great sleeping experience.)
Eat where the locals eat. This is not just good for your budget, but the Cambodian cuisine is terrific. It's similar to Thai food, but often less spicy.
While in Cambodia, get off the beaten path. Angkor is amazing and you shouldn't miss it, but there are plenty of other great places in this dynamic country. The beaches, the capital city, and the beautiful countryside are all good options.