Should you visit the UK or Ireland?
With jaw-droppingly beautiful countryside, award-winning beaches and a whole lot of character, it is no wonder that England tops everyone's must-visit bucket list. In fact, England, Scotland, Wales and the Offshore Islands all offer great holiday destinations with something for everyone, whether you are travelling alone, as a couple, or with your family. You won't find anywhere as peaceful as the English countryside and its beautiful lakes will take your breath away. Rocky coasts, castles, green hills and charming pubs, all that is England; without forgetting energetic, majestic and ambitious London, steeped in iconic landmarks, world-class museums and royal parks and one of the world's greatest cities. The UK's cities and towns also have a lot to offer visitors, from the hip, indie scene of Manchester to the amazing Balti food of Birmingham, from the dreaming spires of Oxford and medieval passageways of York to the lively art scenes of Glasgow. It may be small in size, but England is rich in tradition, complex in culture, endlessly diverse and has a lot to offer when it comes to fascinating history. There are lots of unique historic buildings that you can visit, including the awe-inspiring Tower of London, the atmospheric ruins of ancient castles, prehistoric Stonehenge or the Victorian village of Saltaire. The United Kingdom offers lots of delicious food for everyone. So you shouldn't have any issues whatsoever when it comes to finding cuisine that you will thoroughly enjoy.
There's a lot more to Ireland than Guinness and pubs, although for some, this may be the best part. Ireland has a rich history which dates back to prehistoric times. Its many museums, magnificent houses and historical sites make it a top destination for ardent historians. With its scene-stealing natural beauty and multitude of things to see and do, Ireland is a dream tourist destination. Looking for cliffs, beaches, national parks, forests and 100 shades of green? Ireland has it all. Green is the islands emblematic color. From vast mountains to pebbly beaches, rural bog lands to inland waterways, tourists can sample a feast of natural attractions. Located in the Burren region in County Clare, the Cliffs of Moher are said to be the biggest natural tourist attraction in Ireland drawing over million people each year. The view from the 200 metre high cliffs is breathtaking and many that visited it will agree that this is a must-visit in Ireland. A visit to Ireland's buzzing capital city goes without saying. Dublin is a super friendly city with a youthful, creative vibe. It has free museums to explore, architecture to gawp at and a more than lively pub scene. If you go during St Patrick's Day, an Irish festival celebrated and known around the whole world, your stay will be unforgettable. The biggest festival is held, of course, in Dublin, and the celebration lasts for several days. Finally, don't leave Ireland without trying their shellfish, Irish stew, colcannon and champ, boiled bacon and cabbage, smoked salmon, black and white pudding, coddle, bambrack and soda bread. You might not think of Ireland as a Gourmet Destination, but the food here is world class.
When is the best time to visit the UK and Ireland?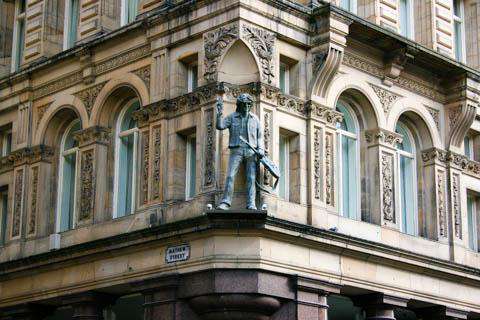 The United Kingdom can be visited at any time of year, as its climate is relatively temperate and, in general, doesn't experience extremes during either summer or winter. Bare in mind that no matter when you travel, you should always pack an umbrella, as the UK is notorious for experiencing misty days and showers year-round. Indeed, England has a bit of a bad reputation when it comes to weather, but one of the joys about the country is that, in fact, it does the seasons very well. Overall, spring, from March to June, and autumn, from September to November, are the best times to visit, as it is usually warm and dry. Spring is full of new life, with daffodils blooming and Easter egg hunts and autumn dazzles when the trees turn bright red and orange. However, England during summer is all about eating ice cream at the beach and picnics in the countryside and winter brings snow and cosy nights in front of a roaring fire. Late spring, along with summer is UK's high tourist season so hotel and flight prices reflect the surge. Although some attractions close in mountainous areas, and there's likely to be snow in the north during winter, the main cities remain fully open and will be quieter for sightseeing. December in London is also an incredibly popular place to be during the holidays, so expect the streets to be crowded with both English and international tourists.
Ireland has a mild, temperate climate and although at times rainey, you can visit at any time of year. However, depending on what you're looking for from your vacation, there could be better times than others to travel. During the months of March to May and September to November, the weather isn't as cold as during the winter months and the sites are not as crowded as during the summer months. The months of June, July and August are the warmest of the year, when Ireland's landscapes are at their most vibrant and days are extremely long. However, in summer, sites and roads are crowded and prices are higher. From late October some sites close, and temperatures drop. There's no avoiding the rain in Ireland no matter what time of the year you land on its shores but in terms of prices, opened sites and number of tourists, the mid-seasons are definitely the best time to visit Ireland.
Why is the UK more expensive than Ireland?
The UK is well known as an expensive travel destination, even by European standards. The National Rail service is one thing citizens in this part of the world love to complain about, as it is very expensive. Unfortunately, restaurants will also not be friendly to your budget when you visit England so you might want to avoid eating out. You can find cheap food in England if you really pay attention. Fish and chips, kebabs, Indian and Asian food are only a couple of pounds. However do not expect to pay less than £15 if you sit-down at a restaurant. Cheap accomodation is also very hard to find in the UK and while some activities, such as a few museums, are free or cheap, castles and other attractions entrance fees are around £10 to £20. You'll find most other day activities, such as cycling, wine tours, tours to ancient ruins tend to be around 80 GBP.
Ireland, in general, is an affordable destination and with some insider knowledge, you can stretch your money further and have a fabulous upscale vacation there. In terms of accomodation, prices average 10-20 euros a night for a hostel dorm room. You can find private rooms that sleep two ranging from 35-60 euros. In the bigger cities, especially Dublin, expect to pay a bit more. You could also try Airbnb, which has shared rooms for as low as 16 euros per night and entire homes averaging about 50 euros a night. Fast food items start at around 4 euros, while a simple meal at a pub will cost you about 10 euros. A nicer meal, with a drink, will be upwards of 20 euros. If you go out early to lunch or dinner, you'll find many restaurants offer "early bird" specials where you can get good deals. Public transportation is first-rate in Ireland! Whether you're on a bus or train, expect free WiFi, friendly drivers, and timely departures. Bus trips around Dublin cost about 2 euros for a single journey. Longer bus journeys, such as Dublin to Belfast will cost around 17 euros. Taxis are expensive and, since most cities are extremely walkable, it is suggested that you avoid them. Most museum fees throughout the country cost about 10 euros.
What are the most expensive and cheapest cities and regions in the UK and Ireland?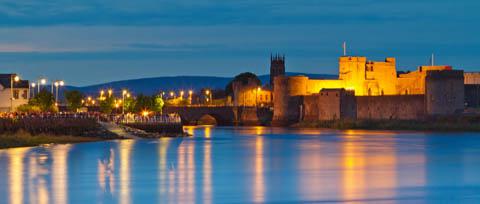 Cities are more expensive than the countryside in the UK. A city break in London, Brighton or Edinburgh could cost you almost twice as much as the equivalent stay in Newcastle, Sheffield or Liverpool. St Andrews, Bath and Oxford should also be avoided if you are looking for a budget-friendly trip in the UK. However Exeter, Cardiff, Manchester and Birmingham are very affordable. A great city with affordable accomodation and food is York. It has a history dating back to prehistoric times and has been a backdrop for numerous influential political events. Cornwall is an incredibly popular destination in the UK and it turns out that cottages and food is fairly reasonably priced. Norfolk seems to have it all; clear coastline, interesting nature reserves, incredible wildlife, market towns, seaside resorts and remains a budget destination! For a cheap beach holiday in the UK head to Pembrokeshire, the most popular coastal destination in Wales. It boasts the Pembrokeshire Coast National Park, the only coastal national park of its kind in the United Kingdom. As for Dorset and the Peak District, finding budget food and accomodation is all about knowing the right places to visit, and going at the right time. While these are not the cheapest regions in the UK, affordable holidays are possible in the countryside if you book in advance or sometimes taking the risk and booking at the last minute also pays off.
Dublin has a reputation for being an expensive city and it certainly can be if you're not careful. Food and drink are going to be two budget killers. Luckily, attractions aren't too expensive and hostels/accommodation are reasonable. The countryside and smaller towns are way less expensive than the capital and, of course, slightly more affordable than any famous tourist spots such as Kinsale, Galway City, Cork, Kilkenny or Clifden.
How you can save money when visiting the UK and Ireland?
Bare in mind that many public museums and cathedrals offer free admission in most city throughout the UK. It's a great way to learn about the country's most influential artists, immerse yourself in the country's history, and waste a rainy day without paying a cent. Most major cities in England offer free walking tours as well. They usually last a few hours and are a great way to see the city. When in cities, rely on walking to get around. Private cars and taxis can ratchet up the cost of your trip significantly because fuel costs in Britain are high. You can also use public transport but when in London, use an Oyster card. Visitor Oyster cards and contactless payment cards offer the cheapest ways to travel in London. Using a Visitor Oyster Card is more than 50% cheaper than buying one-day paper Travel Cards or single tickets with cash. A good way to lower your food expenses is to stick to eating out during lunch only. Restaurants offer fabulous lunch specials where you can get multi-course meals for around 10 GBP. For good cheap and filling meals, visit the local pubs. Most serve good meals for less than 10 GBP and are a great way to meet the locals! Don't let the UK's reputation for expensive accommodations put you off visiting. For budget accommodation, look no further than London's friendly hostels, budget hotel chains, B&B's and Halls of Residence. If chilly days don't bother you, January is the cheapest month to take a vacation to Britain. The hotels have the lowest prices, and since tourism is usually weak, restaurants, theaters and museums offer deals to boost business.
Use your student discounts! A valid student ID will get you discounts, up to 50%, to many attractions, museums, and buses throughout the country. Also, Ireland's strong pub culture will hit your wallet hard so try to temper the cost by visiting happy hours, drinking at home, or skipping drinks altogether. For the best value food, head to the pubs for good, hearty local Irish food. Local meal, with local people, at local prices! For those of you that love to tour heritage sites, you should definitely get an OPW Heritage Card. It guarantees access to main attractions, including most of the castles throughout the country. The card is a must for people visiting multiple cities in the country as it only costs 25 euros for adults. For free accomodation, use couchsurfing! This app connects you with locals who will give you not only a free place to stay, but also a local tour guide who can introduce you to all the great places to see. If you're flexible in your schedule, you can also use the ridesharing service BlaBlaCar and catch rides with locals between cities. If you decide to hire a care, there are lots of different car hire sites, and you can compare deals but you should book your hire car in advance to avoid excessive fees.