Paris is expensive. But you knew that already, and that's why you're here. So how do we do this amazing city on a budget? Well, we needed to know. And we found out. And now we're passing along the information.
We had heard that some of the museums were free on certain days of the week. And we had heard that there are some nice parks and outdoor spaces. And everyone knows that some of those big, famous churches are free to enter. But otherwise, Paris has plenty of other activities that are quite expensive. All of those admission tickets really add up!
So, when we were planning our upcoming trip to Paris, we asked some experts in the travel community to send us their lists of free activities in Paris with the hopes that we could save some cash. We posted a few messages - and then a miracle happened!
The responses were overwhelming. Paris has SO MANY FREE THINGS TO DO! It's not just one or two things, but rather an entire list of activities and places that are absolutely free. You could spend an entire week in the city of light without spending any money on admission tickets. You could then find a cheap place to stay at one of the
best hostels in Paris
which won't break your budget. That just leaves you with paying for some food - and yes, you will want to spend your money on all of that amazing French food!
So once all of the responses came in to find all of these free things to do, we categorized them by the type of activity. Thus, here is the list of free stuff in Paris. Some of it was researched by us, and where noted, some of it was contributed by other travel experts.
Free Museums in Paris
The Louvre
While normally not free, this famous museum is free on the first Saturday of the month after 6 p.m. (
Opening Hours
) It is also free on Bastille Day, July 14. (Keep in mind that the Louvre is closed every Tuesday.) And visiting a museum in this city is always a good idea, especially if you're
visiting Paris in the Winter
. After all, you're indoors, and the Louvre is so huge you can spend all day here (and even have lunch).
Musee d'Orsay
Paris is known for one of the famous museums in the world - no other than the Louvre. Because of this, a lot of people tend to forget that there's another museum in Paris that is just as great, and it offers more. Plus, admission is free for select demographics, which means you can save money for something else to spend on.

If you're looking for a fusion of an old train station and a museum, the best place to be is in Musee d'Orsay. The museum houses French art dating between 1848 to 1914, which include but not limited to sculptures, paintings, and photography. From Monet to Van Gogh, you'll find the masterpieces in this museum.

Believe it or not, Musee d'Orsay is one of the largest art museums in Europe. If you are an art lover, you don't want to miss the opportunity of seeing what this museum has to offer.

The museum is open six days a week (from Tuesday to Sunday). Typically, the museum has an admission fee of €14, but there are exceptions. The museum is for on the first Sunday of each month, if you are 18 years old and under, if you are 18- 25-year-olds who are citizens or long term residents of an EU member state.

You also get free admission if you are: disabled visitors with one extra person, unemployed, and holders of a Paris Museum pass.
- Allan Liwanag from The Practical Saver
Le Petit Palais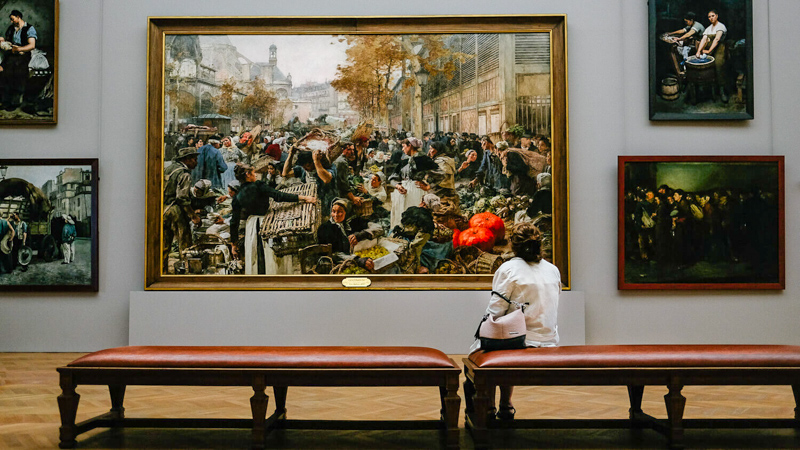 Blocks away from the hustle and bustle of The Champs-elysees is a fantastic museum that is often overlooked. Le Petit Palais, houses a collection of art and historical artifacts and the best part is, the permanent exhibitions are absolutely free.

The art galleries are filled with collections ranging from realist portraiture, to neoclassical and romanticism. There are exhibits of Renaissance jewelry and classical artifacts from the Roman Empire and Greek Civilizations. Some of the pieces scale an entire wall and it's nice to sit on the opposing bench and analyze the scene.

When you're not admiring the art, the Palais itself is a sight to behold. Everything from its intricate domes, curving stairwells and mosaic tiles are equally as impressive as the exhibits. Speaking of architecture, if you enjoy it, consider spending a few days in the Loire Valley, where you can find some of France's most elaborate chateaux. The cafe at the Petit Palais offers lunches and snacks which can be enjoyed in the outdoor courtyard overlooking the domes of the building.

Because the museum is often overlooked by tourists, it's often less busy and you can find yourself roaming the galleries without another person in sight. It's a great place if you're seeking some solitude from the densely populated city.

Opening hours are 10am-6pm every day except Monday. There are temporary exhibits as well but they require an entrance fee. Audio guides are available for rent if you'd like a more detailed visit of what you're seeing.
- Natasha from And Then I Met Yoko. Here's more information on
spending 4 days in Paris
.
Atelier Brancusi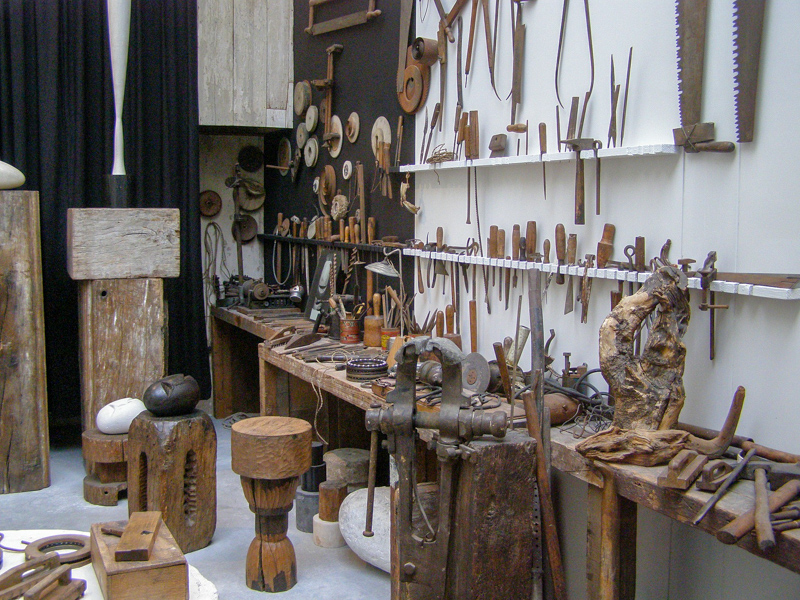 Constantin Brancusi is undoubtedly one of the most famous modern sculptors, his works being notoriously sought-after pieces at auctions all over the world. Born in Romania, the sculptor spent most of his life in Paris, where he arrived in 1903. He was part of an exceptional and effervescent community of artists and intellectuals who were, at the time, literally inventing modernity.

After leaving the workshop of Rodin with the famous words "Nothing can grow in the shadow of big trees", Brancusi perfected his own style focused on abstracted, non-literal representations meant to depict "the essence of things". He lived in a room adjacent to his workshop and is known to have developed a passion for photographing his works in different lights/positions to discover the settings that display them best. It is here that he did most of his work, but also where he was showing his sculptures to potential buyers and throwing memorable parties.

Upon his death in 1957 - his grave, as well as his sculpture The Kiss are in the Montparnasse cemetery - he donated the entire content of his studio to the French state, to be stored and displayed according to his own instructions in a two-room studio on the Place Georges Pompidou. Many visitors to the famous modern art museum simply pass by the grey, rather unassuming building on the main square in front of the Centre Georges Pompidou. It is for this reason that we have specifically included a visit to the Atelier Brancusi in our three days in Paris itinerary. The entrance is free, visiting times are every day except Tuesdays from 2-6 PM.
-Anca from Dream, Book, and Travel
Other Free Museums
Paris actually has quite a few free museums. Here's a short list of the best of them:
- Musee Zadkine (sculpture)
- Galerie Lumiere des Roses (photography)
- Musee Carnavalet (history of Paris)
- Maison de Balzac
- Mainson de Victor Hugo
- Musee d'Art Moderne de la Ville de Paris (modern art)
- Le Memorial de la Shoah (Holocaust Museum)
Free Churches in Paris
Notre Dame
Notre-Dame is without doubt one of the most iconic cathedrals in the world, and the most famous Gothic cathedral of the Middle Ages thanks to its size, antiquity, and architectural uniqueness. Being one of the most widely recognized symbols of Paris and the French nation, Notre Dame stands as the most visited monument in the city with over 12 million visitors per year.

Even though the cathedral has been part of Paris since its construction began in 1160 under Bishop Maurice de Sully, it wasn't until 1831 that popular interest in the cathedral grew after Victor Hugo published his famous novel Notre-Dame de Paris (better known as The Hunchback of Notre-Dame ).

While climbing up to the towers carries a fee, entering its beautifully decorated interior space is free. There you can see the beautiful rib vaults at the nave, the delicate arches, and the colorful clerestory windows - all details of its stunning Gothic and Baroque architecture. In addition, some of the most important relics in Christendom, including the Crown of Thorns, a sliver of the cross, and a nail from the cross, are preserved at Notre-Dame.

Unfortunately, Notre-Dame was badly damaged by a fire on April 15, 2019, so its interior space is currently closed, but you can still admire this architectural wonder from outside and see how it's being restored to its former glory. Spend some time in front of it and look at every detail. The facade holds so many stories and interesting facts written in bas reliefs, carved wood and stone details, and sculptures.
-Norbert from
GloboTreks
Sacre-Coeur
Sacre-Coeur Basilica is a white Romano-Byzantine cathedral that is located in Montmartre at Paris' highest point. This Roman Catholic church is dedicated to the Sacred Heart of Jesus and is free to enter. In recent years, Sacre-Coeur has welcomed over 11 million guests annually and been the second most popular tourist monument, after Notre Dame.

On our last trip to Paris, our family was fortunate to attend Mass at here on our last day in Paris. While the was walk from our Airbnb up to Sacre-Coeur was a steep incline that included several flights of stairs, we were awestruck at the beauty of this intricate, white cathedral. The Basilica is comparably new, having been completed in 1914 by architect Paul Abadie, who the design competition for the Sacre-Coeur. We arrived about 15 minutes before Mass began and quickly made it through the security line and to our seats. While the Mass was entirely in French, we were excited to worship in this landmark. The mosaic above the altar depicts a 60-foot-tall Christ exposing his sacred heart and is one of the world's largest mosaics.

When planning a trip to Sacre Coeur, make sure to wear comfortable walking shoes. There are no bathrooms available inside the Basilica, and photography is strictly prohibited.
- Catherine D'Cruz from We Go With Kids. Find out more about top
attractions in Paris for families
.
The Covered Passages
Paris is full of old buildings that contain covered passageways, or "passages couverts" as they are known in French. These passageways are often beautiful and historic, and are home to small shopping areas, restaurants, and hidden courtyards with fountains. See a
list of covered passages in Paris here
and start exploring!
- Submitted by A Journey to France
Saint Sulpice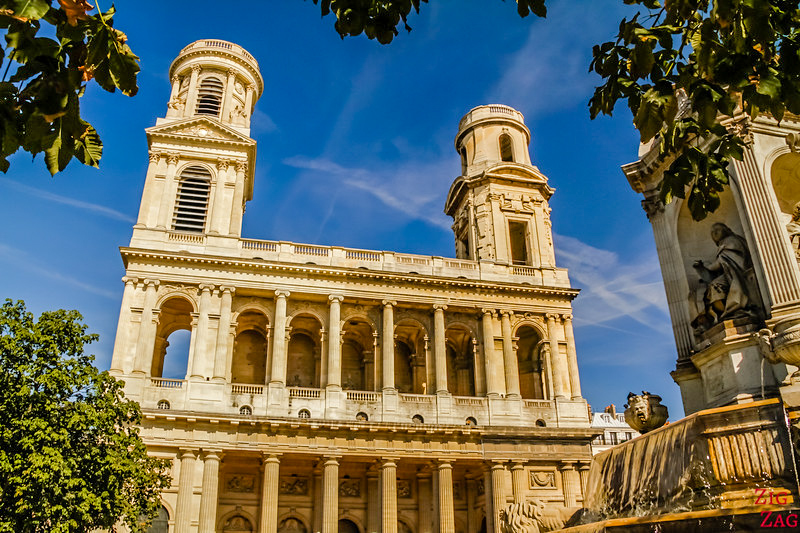 Paris is home to many beautiful pieces of architecture, especially the churches. Far from the crowds of Notre Dame or Sacre-Coeur, one of my favorites is Saint-Sulpice.

It is the second largest church in Paris standing 113m long, and 34m tall. The present building dates back to the 17th century but a church has been standing here since the 13th century.

What I enjoy the most is the baroque facade with a mix of architectural ideas. It is quite impressive due to its size and series of columns. At the front is a large square that allows you to take some distance and appreciate it in its entirety.

Inside the church, do not miss the roof arches, the organ masterpiece and the famous paintings.

Plus, for a fun extra, walk inside Rue Ferou next to the church, where you will be able to read a French poem on the wall.

And if you are wondering why this church looks familiar, you might have seen it in the Da Vinci Code movie....

Saint-Sulpice is located on the South side of the Seine river. You can take the metro line 4 and stop at Saint-Sulpice station or walk from Notre Dame (only 15min on foot).

Like the other churches, it is free to enter. However, it is closed to tourism during mass.
- Claire from ZigZag Road Trips. Check out this
3 days in Paris itinerary
.
Parks, Gardens, and Outdoor Activities
Arc de Triomphe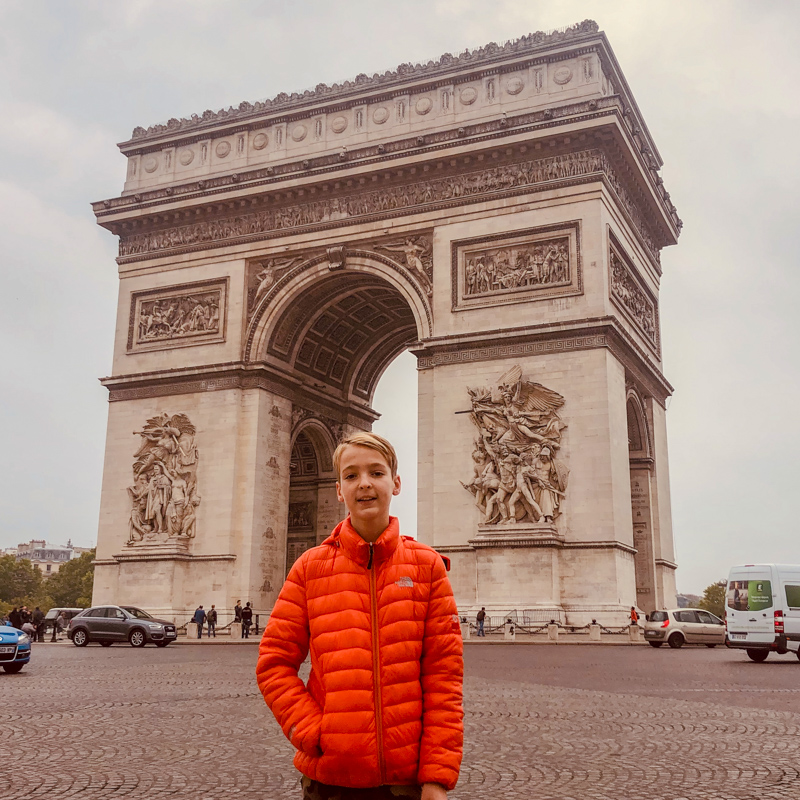 The Arc de Triomphe stands at the western end of the Champs-Elysees in Paris. It sits on the Place de l'Etoile (meaning 'the star'). 12 roads meet at the Arc de Triomphe and watching vehicles navigate their way around the towering arch is an impressive sight! The Arc de Triomphe was built as a monument to honour those who fought and died for France in the French Revolutionary and Napoleonic Wars. Commissioned in 1806 by Napoleon, it was not completed until 1836, 15 years after his death, so he never saw the completed structure. It is one of the most famous and iconic monuments in Paris.

To visit the Arc de Triomphe take the Metro train line to Charles de Gaulle Etoile station. After you alight just follow the signs - it really is that easy! There are plenty of free things to do around the area. To get the best photo, you can literally walk out into the middle of traffic on the Champs-Elysees to position yourself under the arch. Just make sure you look for the police directing tourists. There will be a (usually long) line of people waiting for their turn to get into the prominent (well-marked and police managed) spot. Join the queue and take your free photo of you or your friends/family at this beautiful and historic landmark.

Once you have your photo, head back towards the Metro and take the underground path (because nobody is actually going to cross the road around the Arc de Triomphe - the traffic is crazy!). The path is underneath the road and you can pop up right alongside the monument.

What is free at the Arc de Triomphe? You can walk around the base and under the arches of the Arc de Triomphe without paying any fee. Here you can read the names of the 660 Generals and observe the grand reliefs on the exterior.

Entry is free on certain days. Admission is free on the 1st Sunday of every month from 1 January to 31 March and from 1 November to 31 December.

Admission is also free on the Saturdays and Sundays of the European Heritage Days which is organized on the 3rd weekend of September.

The Arc de Triomphe also allows free entry to young people under 18 (with valid ID cards). It is also free for EU citizens who are 18 to 25 years old.
- Janine Mergler from
Families Magazine
The Tuileries Gardens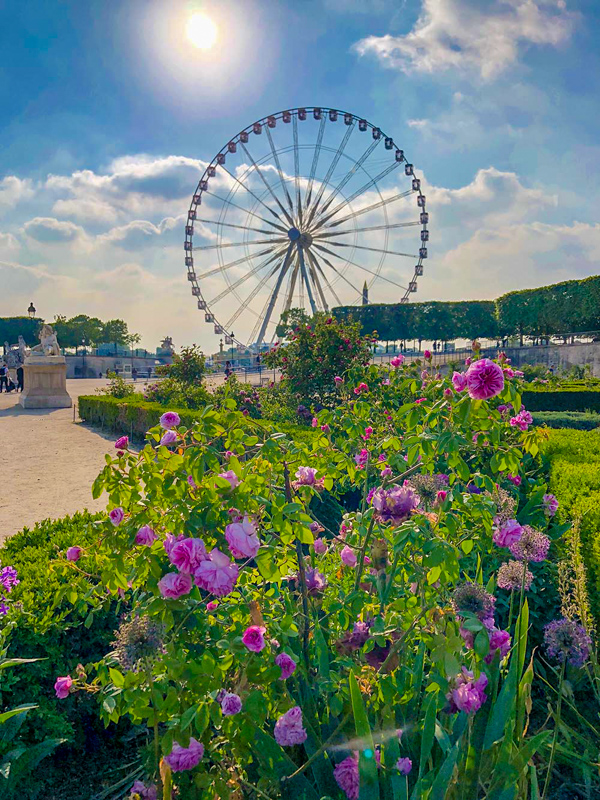 The Tuileries Gardens sandwiched just between the Louvre and La Place de la Concorde is one of my favorite free places to visit in Paris. For nearly 100 years it was a private garden, created by Catherine de Medici. But after the French Revolution, the Tuileries Gardens were open to the public. It was a place where Parisians went to stroll, meet, picnic, walk, and talk. The gardens are much the same today. It's a great place for families to visit after a long day visiting the Louvre or wandering around the historical sites in Paris. The shaded, landscaped pathways the Tuileries are also one of the best places to bike in Paris. There is a great children's playground as well as trampolines and a carousel. Bring a snack, and sit on a bench and enjoy some people watching in the heart of Paris.
- Vanessa from Wanderlust Crew wanderlustcrew.com
Walk Along the Seine
The banks of the famous river that runs through Paris has been turned into a park. Here you'll find beautiful views of many sights and monuments such as Notre Dame as you stroll along the wide walkways that line the river. Hop into a cafe or one of the many free churches along your way. And don't forget your camera!
Trocadero Square
Located just across the river from the famous Eiffel Tower, this outdoor park with fountains is one of the best places to snap a selfie of yourself with the Eiffel Tower in the background.
Parc du Champ de Mar
Then, on the other side of the Eiffel Tower is this large park that stretches for a good distance. Have a picnic, roam around, find the perfect photo, and enjoy the weather.
This is a great place to be at night when the Eiffel Tower lights up. The light show begins every hour, on the hour.
Pere Lachaise Cemetery
One of our favorite free things to do in Paris is visiting the Pere Lachaise Cemetery, the largest one in Paris and quite possibly the most famous cemetery in France. The cemetery is located in the 20th arrondissement, and the best way to reach it is to take the metro to the Gambetta stop which is the closest to the rear entrance (there are five entrances total) of the cemetery. There are over 300,000 graves here, including the resting place of Jim Morrison (yes, of Doors fame) and Victor Hugo (author of Les Miserables and The Hunchback of Notre Dame).

Free cemetery maps are available at the entrance, so grab one and keep it handy. Everything is laid out perfectly, with beautiful tree covered lanes winding through the ornate tombstones and mausoleums. It's so beautiful it hardly feels like a cemetery. Other important figures buried at Pere Lachaise include Frederic Chopin (composer), Baron Haussmann (whose 19th century buildings make up most of central Paris), Oscar Wilde (Irish writer), and Edith Piaf (a famous French actress and singer). Be sure to hike to the top of the hill in the cemetery for a great view before you leave.
- Kirsten Maxwell from Kids Are A Trip. See also,
the best things to do in Paris with kids
.
Free Playgrounds in Paris for Kids
If you're travelling in Paris with children, then chances are you'll be expected to provide a little playground action at some point during your stay. The good news is Paris has a number of playgrounds that are completely free, and heaps of fun for children. Most playgrounds have slides, climbing frames, see-saws and all things you'd expect in a playground. We visited a number of playgrounds on our trip to Paris, and found them clean and well maintained. If you have kids, you might like to visit these playgrounds as well.

One of the playgrounds we visited was in the 10th arrondissement, near our hotel. It was situated inside a luscious green park, with trees, friendly dogs and manicured gardens. For kids the playground offered two slides, a climbing frame, a pirates ship as well as a smaller play fort for younger children. You can enter the park on Rue Des Recollets, or Av. de Verdun. The best train station for this playground is Gare de L'Est.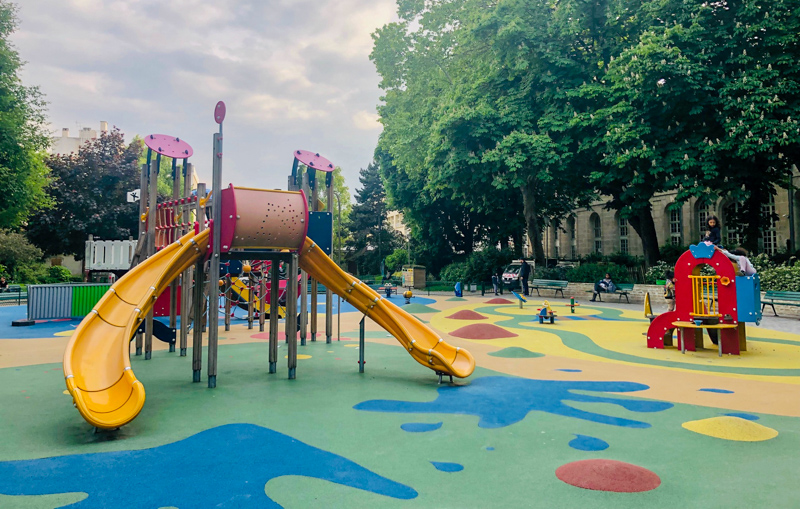 Another playground we visited was inside Tuileries Garden, and it offered a slide, a huge net bridge across to the slide, and a see-saw. The closest metro train station is Musee d'Orsay (near the Louvre) with a short walk across the Pont Royal bridge. There is also a lovely cafe here called Cafe Reale for the adults to get their coffee.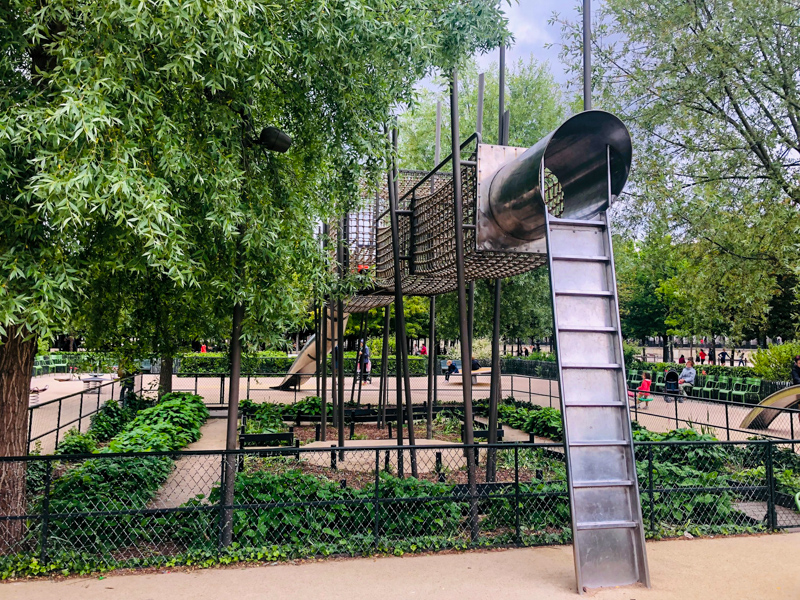 Paris is home to plenty of green space and lots of children's playgrounds that are bound to please your kids. Even if you can't visit one of the playgrounds listed above, if you keep your eyes open you're bound to wander into one or two on your sight seeing stay in Paris.
- Alex from
Get Out With Kids
Parc Monceau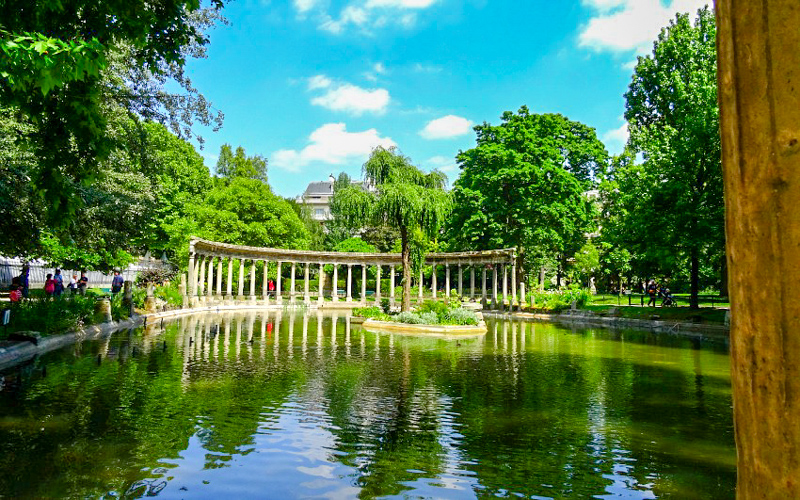 If you're looking for free things to do in Paris then visit one or all of its many parks. Did you know that Paris is home to over 400 parks and gardens? And one of my favorite parks in Paris is Parc Monceau. It certainly isn't one of the city's famous parks but it is worth a visit. Located in the 8th arrondissement, Parc Monceau has a metro stop that brings you to its main entrance on Boulevard de Courcelles. Covering 20 acres, Parc Monceau dates back to the 17th century and is, to me, both sprawling park and open-air art gallery.

You can wander its many shaded trails that are home to some of the largest trees in Paris. But there's so much more. There's a Roman colonnade wrapped around a picturesque pond, a windmill, minaret, a Chinese pagoda, Egyptian pyramid, a small bridge modeled after Venice's Rialto Bridge, a grotto, and waterfall. It's like traveling around the world within one small park in Paris. And on top of all that there are numerous statues of famous French figures. Parc Monceau is quiet, a favorite to locals, full of things to do and see, and even inspired Claude Monet.
- Stephanie from The World As I See It
Luxembourg Gardens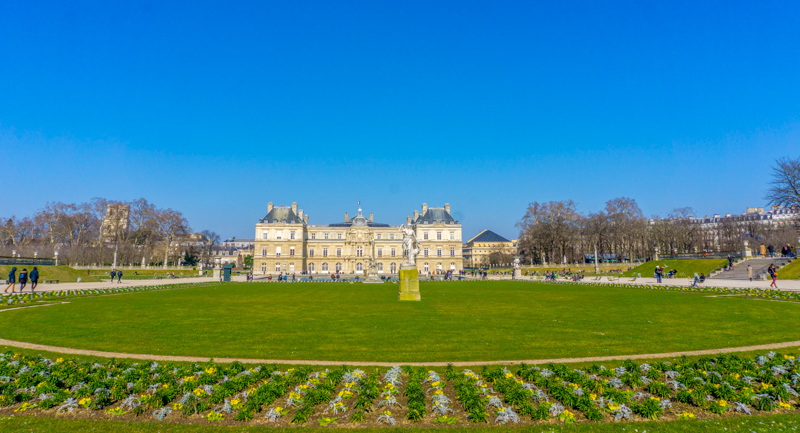 A perfect place to relax or have a picnic, the Luxembourg Gardens are certainly among the best free things to see in Paris.

This popular and beautiful public park is located in the center of Paris, between the charming districts of Saint-German-des-Pres and the Quartier Latin.

Its 25 hectares include the French gardens, the English Gardens, a forest, and a large pond at the center, as well as an apple orchard, an orangery, an apiary, greenhouses with stunning orchids, and a rose garden.

Constructed in 1612 by the Queen Marie de Medici, the gardens spread before the remarkable Luxembourg Palace, the house of the French parliament.

Another highlight of the park is the romantic Medici Fountain.

Wandering the Luxembourg Gardens, you can also admire a total of 106 statues that decorate the park.

If you're traveling with kids, they too will love this place.

Besides a playground area, there's also a puppet theatre with shows during spring and summer, and remote-control boat rentals at the central pond.

From April to October, on the first Wednesday of the month, you can even join a free guided tour of the Luxembourg Gardens with a local gardener. Meeting point is the observatory gate at 9 am.
- Vanda from
The Yogi Wanderer
The Quai Branly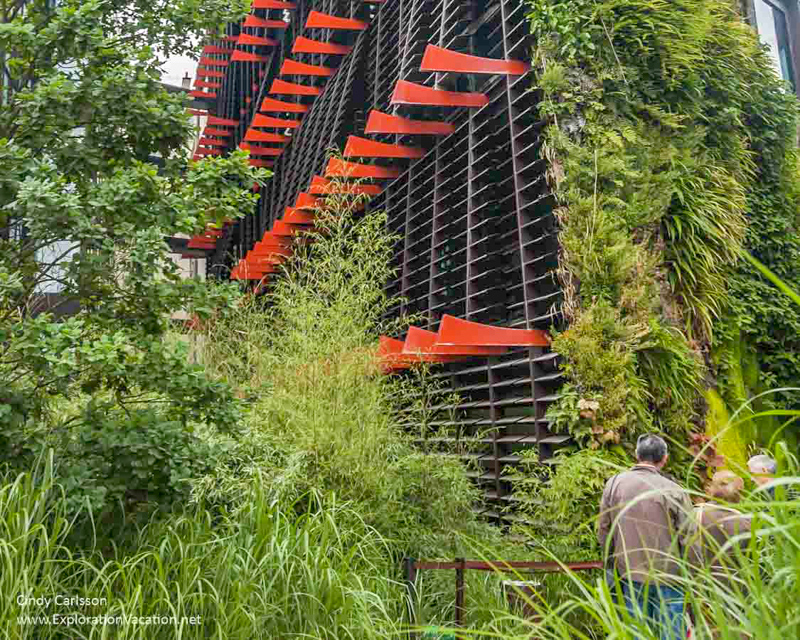 Paris is filled with gardens. But for a greenery-filled break that's a little different, head over the Quai Branly Museum.

To begin your visit, approach the museum from along the River Seine. The Quai Branly will be easy to spot: it's the colorful building behind the green wall. Not a painted green wall, but a living one. A vertical garden on the side of a museum building is home to about 22,000 live plants of 376 species.

The entrance to the museum and garden is through the adjacent glass wall. Once inside, greenery abounds. The museum is surrounded by gardens that are more wilderness than manicured yard. Intended to evoke the overgrown site of a past civilization, greenery clambers around, under, and over buildings. The museum's bold colors and geometric patterns shift as they appear and disappear in the foliage. Streams meander through the gardens, creating waterfalls as they go.

Each season brings change: Magnolias in spring. Nearly-wild roses and waving grasses in summer. Bronze and yellow leaves in fall.

The gardens of the Quai Branly are just steps from the Eiffel Tower, making it a good escape when you tire of crowds. Paths crisscross the gardens, making it easy to explore or find the perfect spot to just sit and relax all alone.

The Quai Branly gardens are generally open (and free) every day except Monday. They open at 9:15 am and close at 7:30 pm (Tuesday to Sunday) or 9:15 pm (Thursday to Saturday). Check the Quai Branly website for more information.
- Cindy from Exploration Vacation.
Read more about the Quai Branly gardens
at Exploration Vacation.
Palaces
Palais Royal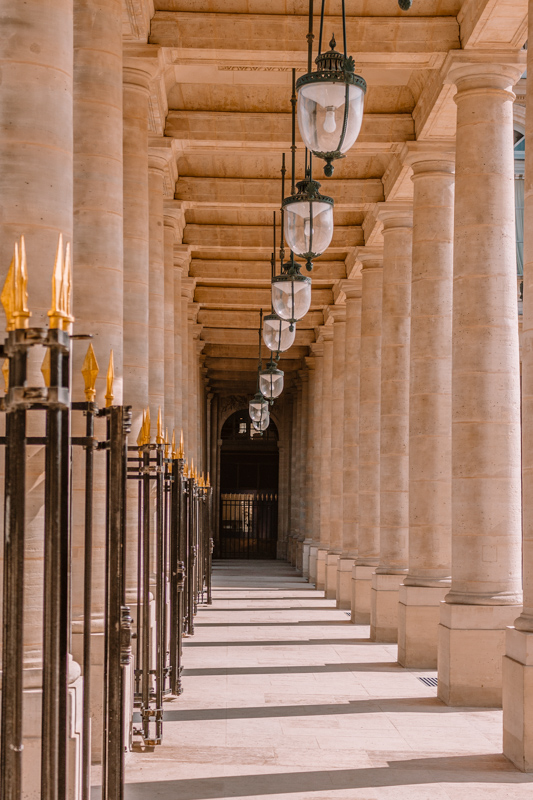 Paris' Palais Royal is definitely one of the most picturesque and instagrammable spots in the city. It's right by the Louvre in the first arrondissement and is a former royal palace, which explains the beautiful architecture. Today, the buildings are occupied by various government departments but the courtyard is open to the public and usually full of Parisians and tourists alike. It's here that you'll find the Columns of Buren, black and white striped columns of varying heights.

Beyond this courtyard is a beautiful, long garden that is perfect for a summer stroll. There are central garden features which are with walkways on either side that are flanked with trees and benches. The trees and flowers bloom in the spring and summer months and the beautiful pink magnolia trees are magnificent. In the centre of the garden, there's a large fountain, around which there's plenty of seating. This is a great reading spot and you'll find many Parisians sat around here reading their newspapers or books. Get here early in the morning when it's nice and quiet to nab yourself a good spot and spend the afternoon reading under the sun. The views of both the architecture and nature make for a perfect pairing and all of this is free! If you get peckish there are plenty of cafes and coffeeshops nearby, some even inside the walls of the garden.
- Laura from
What's Hot?
Chateau de Fontainebleau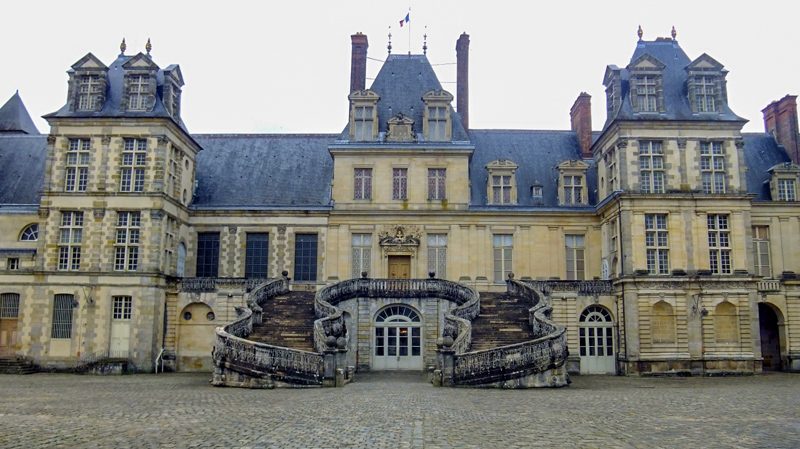 On the first Sunday of every month, Chateau de Fontainebleau and its beautiful grounds are free to enter. It's a UNESCO World Heritage Site and a great way to see all the beauty and splendour of a chateau without having to battle through the crowds at Versailles.

To get to Fontainebleau, you'll need the Gare de Lyon (main line). Get a train calling at Fontainebleau-Avon, which should take about 40 minutes. If it's a sunny day, you can then walk straight into the woodland and head to the chateau (about 30-40 minutes). If you don't want to walk, hop on the 'Ligne 1' bus destined for Les Lilas, getting off at the 'Chateau' stop (the clue is in the name!), which takes about 15 minutes.

Once you're there, you can look around the chateau, which should take about 45 minutes to an hour. Look out for the swanky chambers designed for Marie Antoinette, the apartments Napoleon lived in, and the three chapels with very intricate ceilings. Interestingly, Fontainebleau is the only chateau that was lived in by every French monarch for almost eight centuries, so history buffs will enjoy taking in all the touches and details of different inhabitants.

Outside the chateau, you can spend a nice hour or so wandering the 130-acre grounds, featuring formal gardens and parkland. If you want to go further out into the woodland for a good view, head straight out of Porte Doree. Leave the grounds and keep walking straight on. You'll get to a hill and up there, you'll find brilliant photography spots for views over the chateau and the pretty town of Fontainebleau itself.
- Caroline from
Pack the Suitcases
Neighborhoods in Paris and Other Activities
Montmartre
Montmartre is a large hill in the 18th arrondissement that overlooks parts of Paris and has a distinct and well-known landmark, the Basilica of the Sacre Coeur. The history of Montmartre is a fascinating one as it's been well known as having an array of artists on its hilltop during the Belle Epoch period, including Edgar Degas, Pablo Picasso, and Vincent Van Gough. Today Montmartre is designated as the artists' district.

A walk around Montmartre during the day showcases the beautiful parts of the area including the white domed basilica, where tourists can use a free audio guide to walk through the church. Montmartre has its own museum, Le Musee de Montmartre that is a must see for all visitors as it beautiful Renoir Gardens are a treasured walk.

In the evening the hill is lit by streetlamps that give off enough glow for artists to take their place in different areas and put their easels up. Artists of all kinds engage tourists and do a wonderful job of drawing portraits in just a few minutes time. Though you do pay for an artist to draw your portrait, it is one of the best souvenirs that visitors can bring back with them. If not looking for a portrait simply watching the artists in action is an experience. After, there are plenty of places to grab a drink or dinner to complete an evening on the hill.
- Diana from
The Elusive Family
Galeries Lafayette Haussmann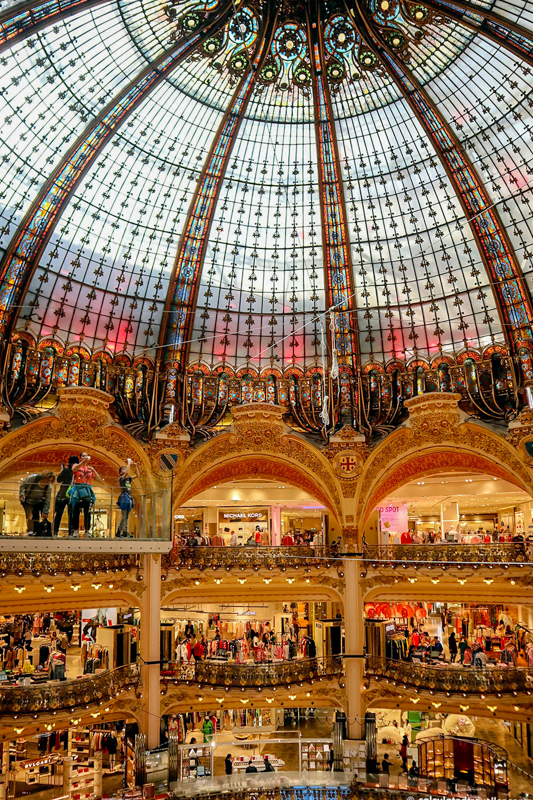 On my first trip to Paris, France I had lofty dreams of picturesque photos of the Notre Dame Cathedral, the Louvre and the Eiffel Tower but once I got there the crowds of people made it almost impossible to take any good photos. Little did I know that a visit to Galeries Lafayette Haussmann, a shopping mall in the 9th arrondissement of Paris, would bring about the best photos that I instantly go to when sharing my memories with friends and family!

A visit to Galeries Lafayette Haussmann shopping mall is free to visit unless of course, you plan on actually shopping in the store, and offers the most beautiful of views and picture-perfect moments. Climb up to the top floor for a rooftop view of the city down below and the famous wrought-iron lattice tower off in the distance. If the queue isn't too long on the third floor, wait your turn and walk out onto a 9-metre glass walkway leading into the middle of the elaborate art deco stained glass dome. Don't forget to visit the gourmet food floor for all manner of sweet and savoury food delights including colourful macarons and decadent chocolates. Photos are free but keep your wallet tightly locked away so that you aren't tempted to spend!
- Mary from
Calculated Traveler
Free Walking Tours
One of the best free things we did in Paris was arrange a neighborhood walk with a local. Several companies offer free tours that are led by local residents. Some tours are group tours while others are private and cater to your personal interests.

We opted for a private tour and spent a couple of hours with our local ambassador, Georges. Our tour took us through the neighborhood of the Marais where he lives. We met early on a Sunday morning and the normally bustling streets were nearly empty which gave us the opportunity to really see the area and explore.

Visiting a city as large as Paris can feel overwhelming and at times, impersonal. Seeing the city through the eyes of someone that lives there was such a personal way to see an area of the city we would have missed on our own.
- Candace from
Where I've Been
Also, the following companies offer free walking tours:
-
Greeters
-
Discover Walks
-
Free Tours by Foot
La Promenade Plantee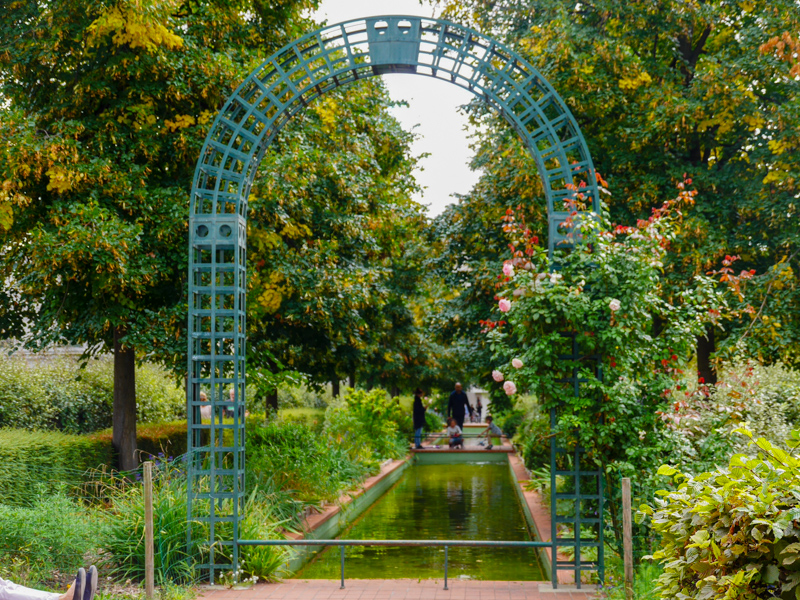 La Promenade Plantee or Coulee verte Rene-Dumont is a 4.5 km walk which is partially above the streets of Paris. It is a lovely green walk (or cycle or run) for the most part although the walkways and scenery changes over the length of the walk, which is part of its charm. We walked it in September and even in Autumn it was still verdant and beautiful and very well patronised.

La Promenade is built on the site of an unused railway line and covers an area from Opera Bastille to Bois de Vincennes. Walking some or all of the Promenade is a great way to get some exercise and see more of Paris at your own pace. You will enjoy not just the gardens along the way but also the view over Paris streets, as well as some art installations on the side of the Promenade. There are also places to sit and watch the world go by.

You can enter and exit La Promenade at several spots allowing you to pop down to street level for some leche vitrine (window licking) or to find somewhere to eat or have a drink. At the time we walked the Promenade there was no food or drink along the top so best to take some water (and a hat) particularly if the weather is warm.

La Promenade is a great way to get under the skin of Paris and see more of how the locals live.
- Jan Wild from
Retirement Planning
Exploring the Marais district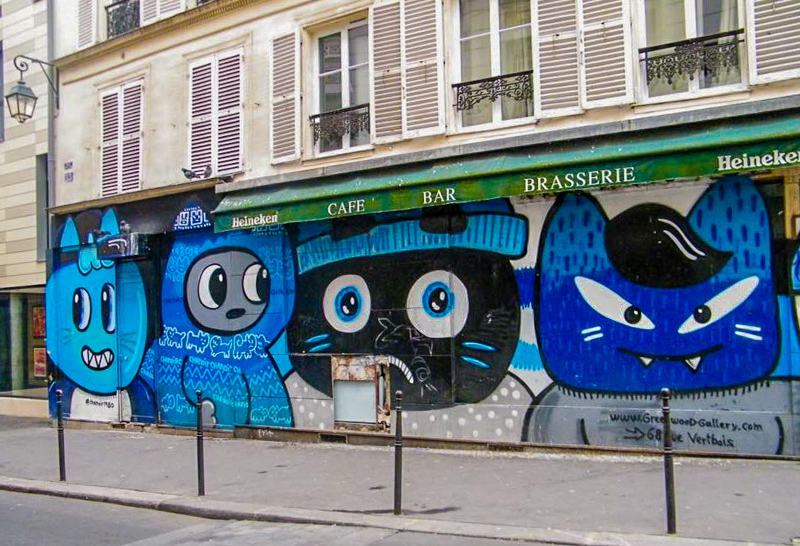 A visit to Paris would not be complete without a stroll through Le Marais. This area of Paris spans the 3rd and 4th arrondissements has a fascinating history which is reflected in the many architectural styles you can see as you walk through the district.

Prior to the French Revolution this area was popular with aristocrats who built their city mansions there. Called 'hotel particulier' these townhouses can be spotted all around the district such as the Hotel de Sully and Hotel Carnavalet. Many of them have been restored and are now museums. The Picasso Museum for example can be found at the Hotel Sale.

After the Revolution the area became the home to a large Jewish community and many kosher restaurants can be found in the district.

I would recommend planning to spend at least an hour or two wandering the streets of Le Marais. Don't miss the beautiful Place des Vosges, one of the oldest squares in Paris and a great place for summer picnics. Stoll the square and enjoy the fountains and gardens and admire the stunning facades of the buildings surrounding the square.

With so many wonderful places to eat in Paris you are spoilt for choice but if you are in Le Marais I would highly recommend a visit to the Marche des Enfants Rouges - the oldest covered market in Paris. With stalls groaning under the weight of fresh produce and delicious smells from the various food vendors (I highly recommend the Lebanese stand) this is a great place to have a quick bite or stock up with picnic items for the Place des Vosges.
- Tracy from Tracy's Travels in Time
That's it for now, but if you have another place or activity in Paris that's free and not listed here, please let us know!
If you have a limited amount of time for your journey, see our advice about how much time to spend here: Should I spend 1, 2, or 3 days in Paris?, Should I spend 3, 4, or 5 days in Paris?, Should I spend 1 or 2 weeks in Paris? and Is Paris Worth Visiting?