Strasbourg On a Budget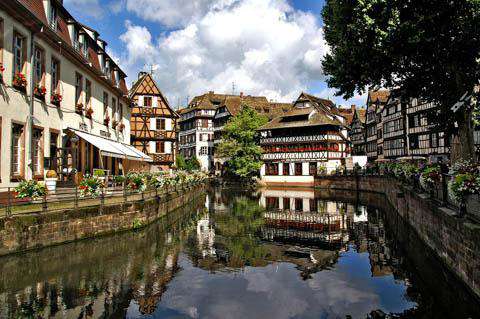 Strasbourg is the capital and largest city of the Grand Est region of France and is the official seat of the European Parliament. Located close to the border with Germany in the historic region of Alsace, Strasbourg is the perfect introduction to all that is unique about Alsace - walking a fine tightrope between France and Germany and between a medieval past and a progressive future. Strasbourg has a range of attractions from a fascinating Gothic Cathedral to the old town's twisting alleys lined with crooked half-timbered houses and cozy winstubs (Alsatian taverns) by the canals. Strasbourg is famous for its Christmas market and gingerbread and is also home to the glittering EU Quarter and hosts France's second-largest student population. Strasbourg is immersed in the Franco-German culture and although violently disputed throughout history, has been a bridge of unity between France and Germany for centuries. The city center is classified as a UNESCO World Heritage site, the first entire city to earn such an honor.
Sights
One of the top sights in Strasbourg is the Cathedral Nortre Dame de Strasbourg. It is considered one of the most beautiful monuments of Western architecture with its massive tower. This impressive Cathedral built out of red Vosges sandstone took several centuries to complete and displays a range of architectural styles-from 12th-century Romanesque to 15th-century Late Gothic. The exterior of the Cathedral functions as a lesson in biblical stories, complete with hundreds of figures and has beautiful medieval stained glass windows.
The
Maison Kammerzell
is another popular sight. This building (now a hotel with a renowned restaurant, located opposite the Tourist Office) is the finest old burgher's house in the city. Considered a gem of Alsatian architecture, the Kammerzell House features a stone-built ground floor, half-timbered upper floors, traditional leaded windows, and rich carved ornamentation.
Neighborhoods
One of the most popular and beautiful neighborhoods in Strasbourg is the Quartier des Tanneurs. The most atmospheric section of Strasbourg's historic center, the Quartier des Tanneurs has a charming Alsatian character. This district is part of the Grande-Ile (a large island surrounded by the River Ill) that is a UNESCO World Heritage Site. Also known as "La Petite France," the Quartier des Tanneurs delights tourists with its winding maze of canals and narrow old streets lined by perfectly maintained half-timbered houses.
The Quartier Krutenau, one of Strasbourg's most lively neighborhoods, combines Old World charm with trendy restaurants, fashionable shops, and art galleries. This quarter has a friendly village atmosphere and is a pleasant area to take a sightseeing stroll.
Activities
One of the biggest activities in Strasbourg is the famous Christkindle Market, which is absolutely something you must do on your
one-day itinerary in Strasbourg
. It operates from the end of November through the end of December and has been a tradition since 1570. During this time, Strasbourg's houses, streets, and churches are decorated with Christmas lights, and a giant 30-meter Christmas tree is placed in the center of the city at the Place Kleber. Strasbourg's Christmas markets are among the largest and most interesting in Europe. The city has eleven sites throughout the city's historic center with 300 "chalets" featuring typical Christmas decorations, arts and crafts, and seasonal Alsatian food such as gingerbread and foie gras.
In addition to the markets and festivals, Strasbourg has many other things to do, from several museums to explore, to wine tasting tours, Segway tours, bicycle tours, and many other tour options are available.
Food and Dining
Strasbourg has a lot to offer with food and dining as well. A few local dishes to watch for include: Tarte Flambee, which is crusty bread dough is rolled into a thin rectangle and generously covered with fromage blanc, onion petals and lardons; Choucroute Garnie, which is cabbage (sauerkraut), traditionally cooked with a glass of Riesling and a variety of spices; and Baeckeoffe, which is casserole of sliced potatoes, onions, beef and pork. And for a few restaurant ideas, look for: Hippopotamus, which offers traditional French food; Ancienne Douane, which offers great local Alsatian dishes; and Le Panier Au Marche, which is a modern take on French cuisine with Alsatian and Asian influences.
Transportation
Strasbourg has its own airport, which caters mostly to domestic flights, but does take some international flights as well. It would be possible to connect to Strasbourg through other larger airports in the country. The city is connected to other large citied in France through the TGV network and it is possible to get there on public transit. The city itself also has a good public transportation center, though much of the city center caters more to pedestrian traffic. And of course, renting a car for your time there is another option.
Train and Bus Prices
The best prices for buses and trains in France
can be found on Omio
(formerly
GoEuro
). They let you search across all train, bus, and plane routes throughout the region.