Toulouse On a Budget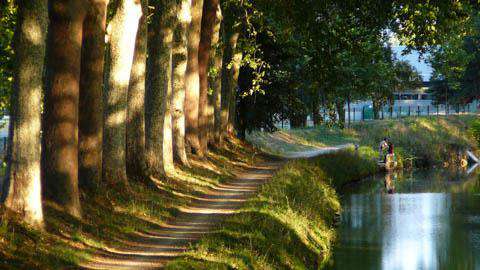 Toulouse is the capital city of the southwest French Department of Haute-Garonne, as well as the Occitanie region. It rests on the banks of the River Garonne. Toulouse is the fourth largest city and metropolitan area in France with nearly 500,000 inhabitants. Toulouse is the headquarters of the European aerospace industry, with the headquarters of Airbus, the Galileo positioning system, the SPOT satellite system, the Aerospace Group, ATR, and the Aerospace Valley. Toulouse is a city with unique architecture made of pink terracotta bricks, which earned it the nickname la Ville Rose ("the Pink City"). Its enchanting Vieux Quartier (Old Quarter) is a dreamy jumble of coral-colored shop fronts and churches. Toulouse knows how to have a good time, whether in food markets or the thick of its smoldering jazz, techno and rock scenes. From the tips of dusky pink spires to its loudest bars, time spent in Toulouse truly has a rose colored glow.
Sights
Toulouse has many great sites, two of which are UNESCO world heritage sites.
The Canal de Midi (or canal of the two seas), one of the UNESCO sites, is a 241 km canal constructed in the 17th century. It is considered one of the greatest construction works of that century.
The second UNESCO world heritage site in Toulouse is the Basilica of St. Sernin, which is the largest remaining Romanesque building in Europe and possibly the world. The church is the only remaining building of the Abbey. It was built somewhere between 1080 and 1120 and, for anyone interested in architecture or historic sites, you won't want to miss it.
Neighborhoods
St. Cyprien is a good neighborhood to visit if you want to get the local feel of Toulouse blended with some key tourist sights. This neighborhood is multicultural, boisterous and brimming with activity and things to do. It is a hotspot for young families, students and the like to hang out or reside. Saint Cyprien is located on the west side of the Garonne River, just outside the old city walls of Toulouse. Walk down any of the many side streets in Saint Cyprien and you can find a wide variety of restaurants, cafes, bars, bakeries, specialty shops and hair dressers. If art is your thing, Les Abattoirs is a museum of modern art on one of the main streets in St. Cyprien.
Carmes is another good neighborhood. It has everything you need in one little lovely neighborhood mixed with beautiful old homes with gated courtyards. On the main and side roads, there are many wonderful bars, restaurants and shops bustling with people from morning until after dark.
Les Chalets and St. Aubin are two other neighborhoods in Toulouse. Primarily a quiet residential neighborhood lined with trees that guard the beautiful bourgeoisie homes near the canal. Les Chalets is limited in terms of shops and restaurants, but the few they have are quite impressive. And just minutes away is St. Aubin, with its wonderful Sunday market and petit rues filled with ethnic restaurants, cute bars and shops.
Activities
There's plenty to do in Toulouse. You could go see a performance at the ballet, opera, or theatre. Or take a guided tour through one of the city's fabulous museums. The culture in the city is historic and vibrant, and these make great options for a night out.
You could also take a city tour on a mini bus. With its open top, it is a great way to see the city and all of its historic monuments.
For something a little different, try a Segway tour of the city and ride around in style, getting a little closer to the attractions available!
Food and Dining
Toulouse, much like the rest of France, has an excellent food scene. There are some great local dishes to try, such as: Saucisse de Toulouse, a type of sausage, cassoulet Toulousain, a bean and pork stew, and garbure, a cabbage soup with poultry. Also, foie gras, the liver of an overfed duck or goose, is a delicacy mainly made in the Midi-Pyrenees.
There are many great restaurants to choose from, but for a few ideas try, Solilesse, which is a great Bistro, La Genty Magre is a good option for traditional French cuisine, and for a more modern twist on French cuisine, try Restaurant Py-r.
Transportation
The main airport in the area is the Toulouse Blagnac. It is mainly a local airport, but has regular flights to and from Paris as well as some to and from the UK, so to get to this city, it is not hard to find a connecting flight from one of the more major cities.
Getting around the city is not difficult at all with the extensive public transportation system the Toulouse has. There is a great bus system here, a metro system of rubberized automatic trains, main railways, and tramways are all options to get around in the city. In addition, there is a bike rental service throughout the city if you want to ride for a while between destinations.
Train and Bus Prices
The best prices for buses and trains in France
can be found on Omio
(formerly
GoEuro
). They let you search across all train, bus, and plane routes throughout the region.