Brittany On a Budget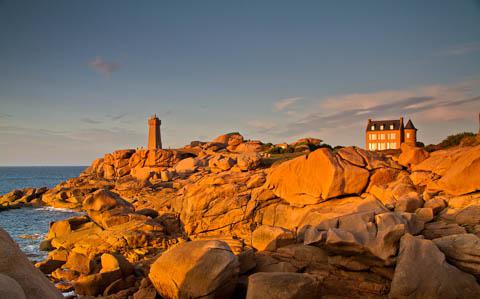 Brittany is a cultural region in the northwest of France. It has also been known as Lesser or Little Britain. It is bordered by the English Channel to the north, the Celtic Sea and Atlantic Ocean to the west and the Bay of Biscay to the south. Brittany is recognized by the Celtic League as one of the six Celtic nations, maintaining a distinct cultural identity that reflects its history. Everything about Brittany is distinctive, from its geography and its granite looks to its traditions and its language. The region stands apart from the rest of France, its long peninsula reaching out 300 kilometers into the Atlantic, however, Brittany isn't isolated, but open to the world. While it celebrates its traditions, it's also forward-looking and fun-loving. Brittany boasts a staggering 1,700 miles of coastline and is one of France's very top destinations for tourism and seaside holidays.
Sights
There are many sights to see in Brittany, many of which are the stunningly beautiful natural scenery, such as Jentilez or Monts d'Arree. You could also Visit Saint-Malo or the
beautiful town of Dinan
, which are walled cities, very well-preserved and are beautiful places to stop.
If you like castles, Brittany is a wonderful place to be. There are castles all over Brittany, but the Morbihan province has the highest concentration of them, with a grand total of 56. If you don't have tome for all of them, Chateau de Largoet in Elven and Chateau de Suscinio in Sarzeau are good ones to hit. But really, they're all pretty spectacular.
Regions
Brittany has four different county-like divisions, which are called departments:
Finistere is a rigged area with a lot of granite moorland. It has a mild climate with a thriving agriculture. The coast has a number of very picturesque fishing ports such as Douarnenez and Concarneau. The largest city in this department however is Brest (urban area population about 300,000), one of France's most important naval ports.
Cotes d'Armor has a very scenic rocky coastline with many small islands. The most attractive parts of the coast are the Emerald coast, and the Pink Granite coast.
Morbihan is on the south coast and is famous for its mild climate. The coast offers many sandy beaches and small fishing ports. Fishing, boat-building and agriculture are among the department's major industries, along with tourism.
Ille et Vilaine is in the East of Brittany. Agriculture and farming are the main industries here.
Activities
One thing that many people like to do in Brittany is to spend a day exploring one of the many islands surrounding Brittany's coast. Many of these islands have historical architecture dating to the 1500's or earlier.
You could also go spend a fun day at one of Brittany's many beautiful beaches. While the water doesn't get as bathtub-warm as the Mediterranean, it's crystal clear and the beaches are some of the most pristine in all of Europe.
You could also check out a Rance Riverboat tour. The Rance River has many magical and hidden little nooks and crannies that can only be seen from the river, and it should definitely be a part of your Brittany itinerary. Dinan is a good starting point for these tours.
Food and Dining
Since Brittany is surrounded by the sea, there are many seafood options in the area. Brittany's main drink of choice is Cider, which is served either in a cup or a bowl. Brittany is the second largest Cider producer in France. A couple of dining options that are traditional and popular in the area are crepes, which are usually served as desert, and galettes, which are usually made of buckwheat and are a salty alternative to the sweeter crepe. These usually replace bread as basic food and can be served with any number of filling ingredients.
Here are a few great restaurant choices in the Britanny region: La Criee, which is a great place to experience some of the amazing seafood options Brittany has to offer,
Chez La Mere Pourcel
, which is an excellent option for traditional French cuisine, and La Roscanvec, which is a great place to try innovative and experimental cuisines..
Transportation
There are no real major international airports in the Brittany Region, but there are several regional airports where you can fly in from places like the UK or Ireland for fairly low rates. The biggest of these airports is the Nantes Atlantique Airport. Since Brittany is surrounded by water on three sides, the Ferry is another option for getting to the region if you are coming from Ireland or the UK. But if you'd rather fly into France and get to Brittany from there, renting a car or taking the excellent rail system in the area are your best options.
The train also connects the four corners of Brittany and is a good way to get around while in the region. The bus system there is also very extensive and provides a great option for getting around to the different areas of Brittany. And, of course, there is always the option of a rental car.
Train and Bus Prices
The best prices for buses and trains in France
can be found on Omio
(formerly
GoEuro
). They let you search across all train, bus, and plane routes throughout the region.