Corsica On a Budget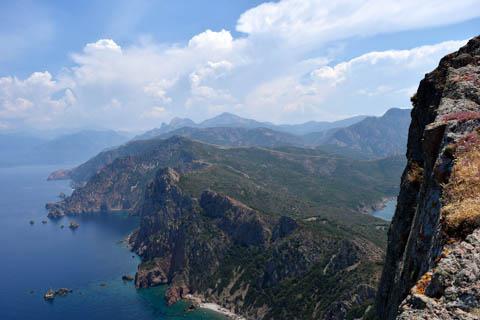 Corsica is an island in the Mediterranean Sea west of the Italian Peninsula and southeast of the French mainland. It has officially been part of France for more than 200 years, but it has a much different feel to it in everything from customs and cuisine to language and character, which is part of what makes it such a unique and interesting place to visit. Corsica resembles a miniature continent, with incredibly diverse geography. Within half an hour, the landscape morphs from gleaming bays, stylish coastal cities and fabulous beaches to craggy, rugged, sawtooth peaks, awe-inspiring valleys, dense forests, and mysterious hilltop villages. Holidays in Corsica will therefore be incredibly varied: from hiking and canyoning to working your tan, enjoying a leisurely cruise, delving into the island's rich history and sampling local specialties. It is known as an outdoor lovers playground because of its many hiking trails and natural beauty.
Sights
The natural surroundings provide some of the most spectacular and breath taking sights in Corsica, and you can find them almost anywhere you go on the island, but there are many other things to see as well.
Drive the Col de Bavella Pass to see the overlooking silhouette of the sharp points of the Aiguilles de Bavella.
Go see a citadel or two in Bonifacio or Calvi. Both Citadel's are located on the coast and provide a striking view.
Or go visit some of the Prehistoric structures in Corsica like Filitosa, which is Corisca's most prominent prehistoric sights. They are a collection of extraordinary carved Bronze Age menhirs were discovered in 1946.
Regions
Because Corsica is an island, it has its own regions, each of which has its own highlights and characteristics:
In the North-East region, you will find many of the major port towns, the Cape Corse Peninsula, which includes some of the most secluded areas on the island, and the remote beaches in the Desert des Agriates, which is the only region in Europe is classified as a desert.
In the North-West region, you will find a lively resort area with an extensive citadel, exciting harbor, and widespread sandy beaches. From here, you can also go more inland and visit some of the quaint villages hidden in the hills.
The West region offers a large port city with an extensive historic center and is close to some major attractions and beaches. This area is best known for its scenery and has some of the most dramatic coastline on the island.
The South is the best region to see prehistoric monuments as well as some of the best and most beautiful beaches on the island. You can also find a scenic mountain pass with huge cliffs looming overhead.
Central Corsica is the region where you will find the most dramatic mountain scenery. Part of this area consists of the Natural Forest Reserve that takes up a third of the island. This forest is home to many scenic spectacles and hundreds of protected species of plants and animals.
The East region of Corsica has less developed towns than the rest of the island. This is where you will find the majority of the forested area.
Activities
There are plenty of things to do in Corsica, from hiking through the forest, to exploring canyons, or just sitting around at the beach. In addition to these things, you can explore the Bonaparte museum, take a cruise out on the ocean, and visit the coastal cities, but for a couple other ideas, you could also try a sea and snorkel dive in the beautiful ocean waters, or go for a horseback ride between the sea and the mountains, or even try your skill at windsurfing.
Food and Dining
Food and Drink is something taken very seriously in Corsica. Here are some of the most popular dishes common to the area to watch for: Civet de sanglier (Wild boar casserole), Veau aux olives (Veal with olives), or Agneau Corse (Corsican lamb).
Though there are many excellent restaurants in Corsica, here are just a few suggestions to give you an idea: Auberge de la Restonica, for some classic Corsica cuisine, La Piano Chez Toinou, for traditional Mediterranean cuisine, or Le Nicoli, which is a more traditional French cuisine.
Transportation
Corsica has four international airports: Ajaccio Napoleon Bonaparte Airport, Bastia-Poretta Airport, Calvi-Saint Catherine Airport, and Figari-Sud Airport. You can find some direct flights into these areas, but many also fly through Paris and connect to these airports through regional flights.
Being an island, there are no roads to get into Corsica, however, since is so close to both Italy and France, there are plenty of Ferries that run between the island and the mainland's if you would like to drive there. Corsica has an excellent rail system, which many of the local's use as well as it connects many of the cities on the island, so this could be a good option for traveling using public transit, but if you prefer to do things at your own pace, a rental car might be a good option for you.
Train and Bus Prices
The best prices for buses and trains in France
can be found on Omio
(formerly
GoEuro
). They let you search across all train, bus, and plane routes throughout the region.