Rhone-Alpes On a Budget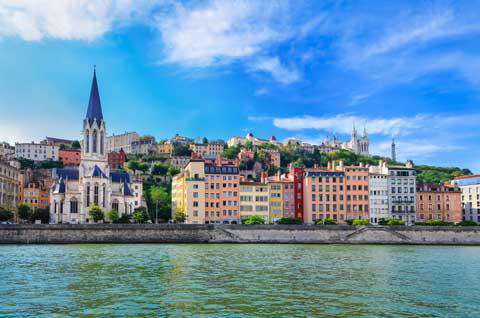 Rhone-Alps is part of Auvergne-Rhone-Alps, a new region in France, located along the Eastern border towards the south of the country. The region was named after the Rhone River and the Alps mountain range. The capital city, Lyon, is the second largest metropolitan area in France behind Paris and Rhone Alps has the sixth largest economy of any European region. The Rhone-Alps is a beautiful region, bordering Italy and Switzerland to the east, Burgundy to the north, Auvergne to the west and the Provence region to the south. The area features much of the greatest scenery in France, from the high Alps of the Savoy region to the lavender fields of the Drome and the stunning Gorges de l'Ardeche. A great outdoors destination!
Sights
There are so many things to see in this region that you will never run out of things to do. One of the most spectacular sights is the Alps range, specifically Mount Blanc, which is the tallest mountain in France. The Alps beauty is something you don't want to miss if you're anywhere nearby.
You could also check out the Gorges de l'Ardeche, which is a beautiful series of gorges that has often been referred to as the European Grand Canyon.
In the capital city of Lyon, you could also visit the Fourviere hill where The Golden Virgin resides in the Basilica of Fourviere and the locals have built the Tour Metallique, which they built to rival the Eiffel Tower.
Regions
The Rhone-Alps includes eight French departments (county-like areas): Ain, Ardeche, Drome, Isere, Loire, Rhone, Savoie and Haute-Savoie.
SAVOY ALPS, THE HAUTE-SAVOIE DEPARTMENT:
This is high Alps country, including the highest mountain in France, Mont Blanc. Also in this department, you will find Lake Geneva and the towns along its southern shores.
SAVOY ALPS, THE SAVOIE DEPARTMENT:
In this area you will find lots of outdoor activities and outdoor beauty, but there is also a great spa in this area that is popular with tourists.
ISERE DEPARTMENT:
This department is located to the east of Lyon and has a mix of environments from tall mountains to big city.
DROME AND THE SOUTH:
This area is best known for its lavender fields and quiet market towns.
LOIRE DEPARTMENT:
This area has exceptional charm has a wide variety of scenery and a large number of medieval and cultural sites to visit.
RHONE DEPARTMENT:
This area features France's second largest metropolis area, Lyon, which has a great historic center worth visiting.
AIN DEPARTMENT:
This is the northernmost department in the region and has a variety of environments from spa towns to small, pretty villages, to medieval villages.
ARDECHE:
This department is popular for its "villages of character" and magnificent natural beauty. It is a great outdoor destination.
Activities
There are many things to do in this region. Many of them are great for outdoor enthusiasts, such as hiking, mountain climbing, skiing, and cycling. Skiing is one of the highlights here, and for anyone who likes to ski, this is a great place to visit. Cycling is also very popular here as many of the Tour de France routes cover parts of this region.
You could also try taking the famous cable-car which will give you great views of the surrounding city area as well as stunning views of the Alps mountains.
Food and Dining
The Rhone-Alps region has many great options for dining. There are some specific foods which are local to the area and are definitely worth a try. Once such dish is Bugnes, which are little pieces of dough, twisted and fried in hot oil, then sprinkled with sugar. Another dish is Ravioles de Royans, which are like miniature ravioli, filled with a mixture of cheese and herbs. Another popular local dish is Rosette Sausage, which is a specialty of Lyon and a firm favorite among the French.
Though there are many restaurants to choose from, here are a few for some ideas: Le Sud, which is a great place for traditional French food, Restaurant LePaellou, which serves a spectacular Fondue menu, and Le Bistrot de Lyon, which is a great place for some seafood.
Transportation
The Rhone-Alps region has three international airport options for flying into the area: Lyon, Grenoble, and Saint-Etienne. Rhone-Alps is a major transit hub for the rail network in Europe, with the TGV running through Lyon from Paris and the north, to the Mediterranean. A high-speed rail link is also planned from Lyon to Turin.
With its extensive rail network, public transit can be a great option for getting around in the Rhone-Alps region, but if you prefer doing things at your own time, there are many motorways in the region so renting a car is a good option. Millions travel along its motorways in summertime from Paris to holidays at the sea. The E15 Euroroute (Britain to Spain) runs through the region.
Train and Bus Prices
The best prices for buses and trains in France
can be found on Omio
(formerly
GoEuro
). They let you search across all train, bus, and plane routes throughout the region.