I LOVED ECO HOSTEL! The daily tours are amazing, the staff are superb, and the rooms are so clean and comfy! The dinners at night are a great way to meet the staff and the other travelers and they never disappoint! I've enjoyed every aspect of my stay here and I cannot recommend this place enough! Thank you eco hostel for being one of the best highlights of my trip :) - Natalie
What sets them apart?
This hostel's friendly staff and daily activities make it a favorite of visitors to Granada.
Hostel Personality
Who's staying here?
This is a social hostel with a true community feel. They have daily activities for guests and an inclusive environment that welcomes everyone. The hikes and tours are popular with anyone who wants to get outside and have an adventure.
Insider Tip
Ask about the daily activities. These are not to be missed and a great way to meet people.
ECO Hostel
ECO Hostel is a a favorite of visitors to Granada. The staff are great, the activities are fun, and the rooms are comfortable and clean. You can enjoy affordable dinners at night and join in any of the daily tours they offer. There are local walking tours and hikes to nearby sights. It's really the perfect way to experience Granada.
If you need a day to relax, there's a TV room with movies and Netflix. This is a popular hostel, so there are usually other guests around that you can chat with.
The Facilities
Dorms
Dorm rooms sleep either four or six people. There are female only and mixed rooms available. The rooms are kept clean and the mattress are firm but comfortable. The top bunks can be a bit high for some, but most guests get by without a problem.
Private Rooms
There are also twin and triple private rooms available, and dorms can be reserved in their entirety if you're traveling with a small group. This is a great way to enjoy the hostel atmosphere without having to share a room with strangers if that's not your thing.
Bathrooms
All of the rooms have ensuite private bathrooms. They're kept clean and there's plenty of hot water.
Restaurant
This hostel has a cafe downstairs that serves delicious dishes for a reasonable price. Many guests take advantage of the cafe because it's food is good and the service is convenient.
Common Areas
This hostel has lots of indoor common space where guests can relax. In addition to the cafeteria, there are lounge areas with sofas and tables around. There's also a cinema room that has a television, Netflix, and movies that guests can choose. The shared kitchen is also well furnished and the perfect place to make a meal if you're trying to save some money.
The Location
Granada City Center
What's Nearby?
ECO Hostel is located in a historic building in the middle of the city center. It's right on one of the city's main avenues and is near many popular sights including Plaza de la Trinidad, Mirador Ojo de Granada and Jardines del Triunfo. It's also near Paseo de los Tristes, Albaicin, and Alcaiceria.
Nearby Transportation
This hostel is about half a mile from Granada Train Station and 13 miles from the airport.
Activities
This hostel is all about the activities. There are daily tours that visit popular and off the beaten path locations. There are hiking tours that take you to scenic spots and walking tours that explore the local neighborhood. There are also cooking courses where you can learn to make paellas or gazpacho. Dinner is also served in the evenings in the cafeteria.
Amenities
This hostel has some great amenities available including laundry facilities, a shared kitchen, and bike rental. There's all kinds of travel information and tour bookings that guests can take advantage off. All available are the standard amenities like Wi-Fi access, bed linens, and security lockers.
Staff
The staff here really go out of their way to make sure the activities are fun and the guests are enjoying themselves. The hostel has a friendly vibe, and that can be credited to the staff that keep things running smoothly.
Heads Up
Most guests love it, but some expressed concern that it could be cleaner. Overall, there is little to complain about here.
ECO Hostel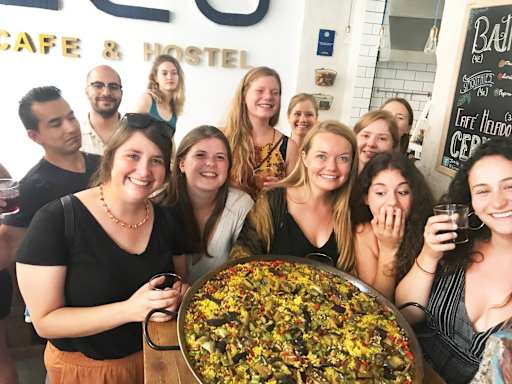 Do you have a favorite hostel that you would like to review? Let us know!