This hostel was super close to everything you would want to do in Granada and the breakfast was well worth the extra charge. This was one of the bigger hostels I stayed in and it was very clean. - Anonymous
What sets them apart?
This hostel is convenient for visiting Alhambra. It's a large hostel with lots of people hanging around at any given time. It's clean and comfortable at an affordable price.
Hostel Personality
Who's staying here?
This hostel appeals most to young backpackers who are looking for an affordable price. The atmosphere can be hit or miss as sometimes they organize a variety of activities, but other times there's little opportunity to meet other guests.
Insider Tip
Inquire early about organized activities because these events can be hit or miss.
White Nest Hostel - Granada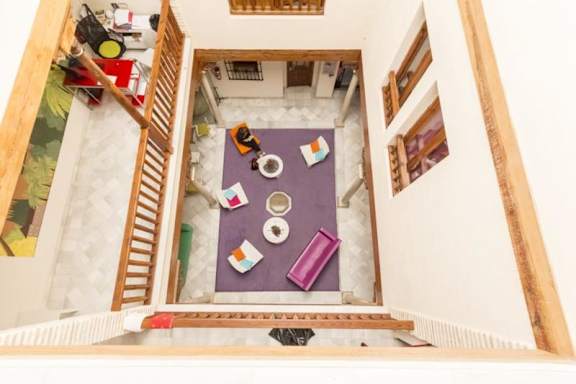 White Nest Hostel is a large and colorful hostel that offers easy access to Alhambra. It's an affordable place to stay that brings in a crowd during peak season. The staff organize some great activities for guests like pub crawls and walking tours, but the activities are more common during the peak season.
The rooms here are clean and the beds are comfortable. If you're looking for a large and affordable place to stay, then this is a good option.
The Facilities
Dorms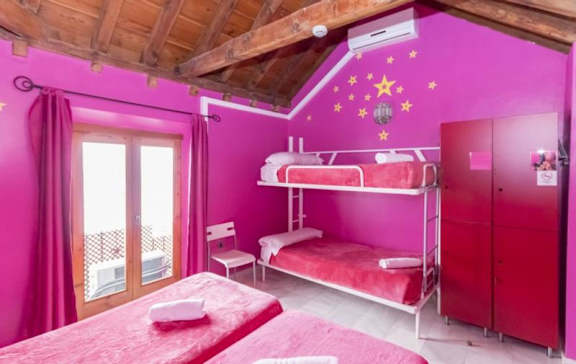 This hostel has dorms that sleep four, six, or eight people and are either mixed or female only. The rooms are brightly colored and surprisingly large. There are security lockers that fit backpacks as well as wardrobes available. Guests are also provided with bed linens as well as a bath towel, which is unusual for a hostel. Some rooms even offer impressive views of Alhambra.
Private Rooms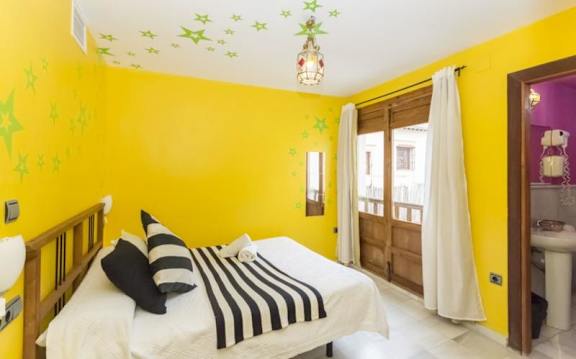 If you're traveling as a couple with with friends, you'll likely appreciate the private rooms. There are twin, double, and quad rooms available that are perfect if you want some space to yourself. You can even pay a bit more for a view of Alhambra.
Bathrooms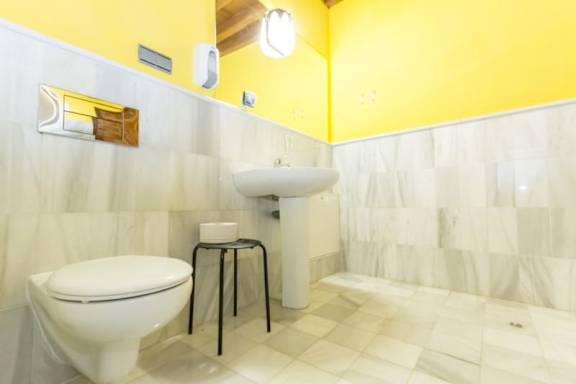 There are rooms with ensuite bathrooms available as well as rooms that use the shared bathrooms. If you choose a room with a shared bathroom, there's usually one shower and toilet per floor. This can get a bit crowded at times, but the staff are really good about keeping things clean.
Common Areas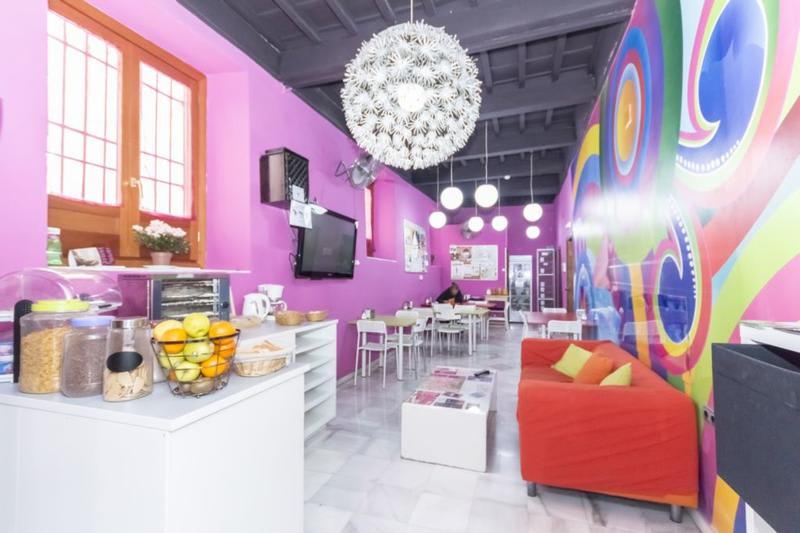 This brightly colored hostel has a central common area that is surrounded by the spiral stairwell and the rooms. It has some comfortable seating and a television where you can relax with a book or watch a show. There's also a shared kitchen and a cafe area where you can grab a bite to eat.
Outdoor Space
If you want to spend some time outside, grab a cold drink and head to the courtyard terrace. This is a great place to unwind after a busy day exploring the city.
The Location
Albaicin
What's Nearby?
This hostel is located in the medieval neighborhood of Albaicin. You can easily walk to the main street of Gran Via in about five minutes. The hostel is also easily accessible to the Alhambra palace.
In the immediate neighborhood around the hostel you'll find plenty of tapas bars and delicious restaurants. The cathedral is not quite half a mile away.
Nearby Transportation
The hostel is easily accessible from the airport. You can take bus 245 to Gran Via stop 1 and then it's a ten minute walk to the hostel.
Activities
The organized activities are hit or miss at this hostel. During peak times they offer tapas tours, pub crawls, and walking tours, but at other times there seem to be less opportunities to meet other guests. Ask when you arrive if there's anything happening during your stay.
Amenities
This hostel offers a simple breakfast every morning for a small price. There's also a laundry service available, a shared kitchen guests can use, and a book exchange if you're looking for something new to read. If you just want to relax for a bit you can play a board game or check out the Wii.
Staff
The staff here are friendly and helpful, but at times seem to get overwhelmed by the large number of people passing through. You may have to wait a bit to check in and on occasion beds end up double booked. These issues are generally resolved quickly though.
Heads Up
This hostel gets mixed reviews. There seem to be organizational struggles as several guests complained about beds being overbooked. The hostel is also bit removed from bars and restaurants, but is convenient for visiting Alhambra.
White Nest Hostel - Granada
Do you have a favorite hostel that you would like to review? Let us know!