Lovely familiar hostel with a great common room and clean rooms. Most nights there is something going on like sangria nights or tapas tours. - Luise
What sets them apart?
This hostel's great activities (Flamenco shows, tapas tours, and family style dinners) along with the chill atmosphere and inclusive setting make this a favorite hostel for visitors to Granada.
Hostel Personality
Who's staying here?
There's plenty of opportunities to meet other guests so this hostel is a great option for solo travelers. It has a relaxed vibe and really feels inclusive to everyone, so most people staying here really love it.
Insider Tip
Definitely check out the activities offered by the hostel. It's a great way to meet other guests.
El Granado Hostel
El Granado Hostel offers a wonderful community vibe with plenty of activities for guests to enjoy. There's a family style dinner served most nights for a very reasonable price. There's also free flamenco shows and tapas tours that are worth checking out.
The common areas are well laid out and guests often gather and hang out playing board games. This hostel definitely isn't a party hostel and guests enjoy a more wholesome and authentic experience.
The Facilities
Dorms
This hostel has 3, 4, 6, and 8, bed dorms that are either mixed or female only. There's a decent sized locker available to every guest in the dorm rooms and sheets are provide. The hostel is in an older building and the layout makes it feel a bit like separate apartments, but the heating is good in the winter and air conditioning is appreciated in the summer months.
Private Rooms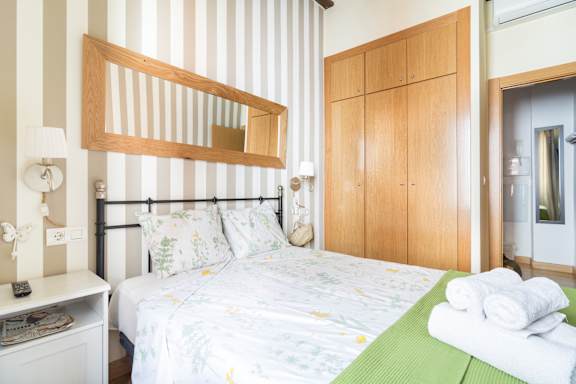 If you want a little space to yourself you should choose a private room. They feel a bit like a boutique hotel and some rooms even include a television. If you want even more space and amenities, check out the apartment.
Bathrooms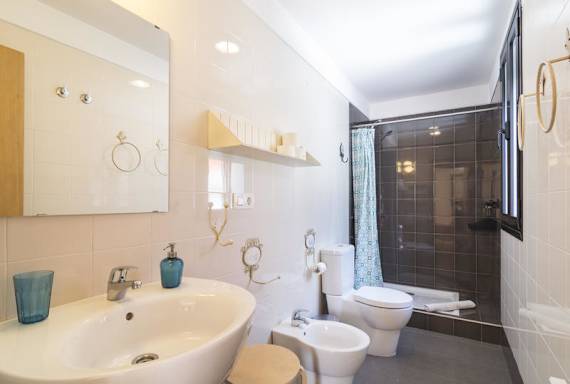 Rooms have either shared or ensuite bathrooms. They are decent quality and generally modern and in good condition.
Common Areas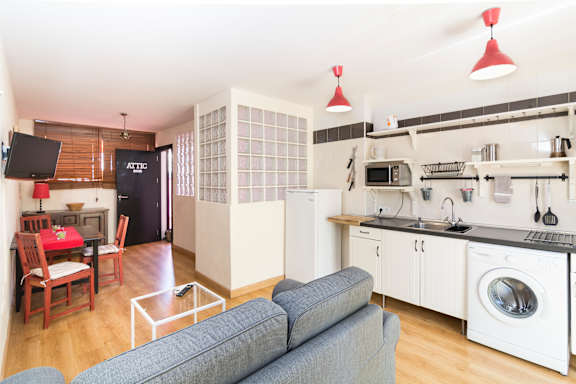 Inside there's a nice common area with tables, board games, a television, and even musical instruments that guests can use. There's also a shared kitchen available and a public computer if you need to catch up with friends and family back home.
Outdoor Space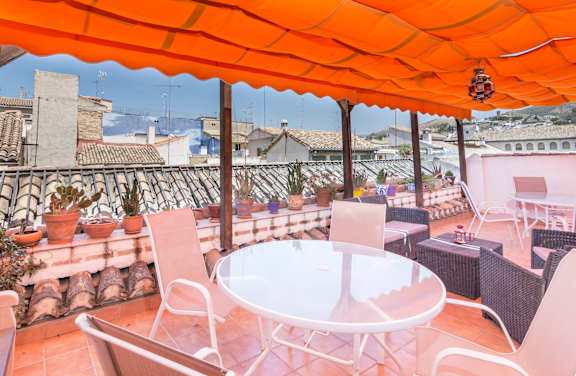 The outdoor terrace is a great place to relax and unwind. There's plenty of shade and tables you can sit at. There's also a hammock, which is the perfect place to lie down with a good book.
The Location
Granada City Center
What's Nearby?
Located in a charming historic building, this hostel has a lot of character. It's right in the heart of historic Granada and is less than a ten minute walk from the cathedral. Nearby there are some nice restaurants, bars, and shops. It's a great area to explore. A 20 minute walk will take you to the medieval Moorish district of Albaicin.
Nearby Transportation
The city's main train station is just a 15 to 20 minute walk away and the main bus station is about two miles away. If you're arriving by plane, you can take the Aero-Grana bus for half an hour to Granada Av Constitucion li. Then it's about an 8 minute walk to the hostel.
Activities
This hostel has some great activities for guests, including sangria nights, tapas tours, and free flamenco shows. Also make sure you join them for their family style dinners. It's a great way to meet other guests. Activities happen almost daily, but only if enough people sign up. This typically isn't a problem though so you'll likely have plenty to do and plenty of opportunities to meet other guests.
Amenities
This charming hostel has some great amenities for guests including board games, movies, a book exchange, and PlayStation. There's also car and bike parking available. Other standard amenities include Wi-Fi access, luggage storage, travel information, and hair dryers.
Staff
The staff here are friendly and helpful. They're knowledgeable on the city and can offer great suggestions on how to get around, where to eat, and what to do.
Heads Up
Some guests say the hostel lacks a social vibe, but most enjoy the daily activities and atmosphere of the hostel. If you're looking for a party hostel, this isn't the place. The building is a bit older, but most guests have few complaints.
El Granado Hostel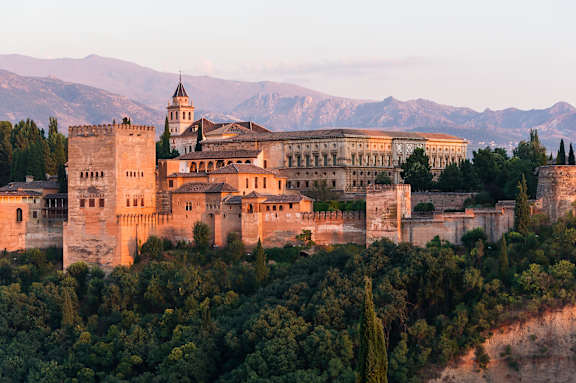 Do you have a favorite hostel that you would like to review? Let us know!