You have all you need here, location, facilities, good prices....The best option in Malaga City, definitely!! - Maria
What sets them apart?
This hostel's cocktail bar, party atmosphere, and well furnished apartments make it a fun option for travellers.
Hostel Personality
Who's staying here?
The low price and diversity of room types mean a diversity of people stay here, but there's also a party vibe that appeals to younger backpackers and solo travellers.
Insider Tip
Check out the bar and brewery next door.
Feel Hostels Soho Malaga
Feel Hostels Soho is a favorite for travellers two Malaga who are looking for a good time. The cocktail bar is the place to hang out and party, while the rooms offer comfortable beds and a bit of privacy. Some of the rooms are newer with updated features, while others are still feeling their age a bit.
The staff here are fun and responsive and the location is lively and interesting. This is a nice place to base yourself if you're looking for fun in Malaga.
The Facilities
Dorms
This is a large hostel, with a large number of rooms. Some of the rooms are older and more dated while others are newer with upgraded features. The dorms rooms are relatively clean and the beds are comfortable.
There are also a wide variety of room sizes. Options include rooms that sleep four, six, eight, or ten people. The larger rooms tend to get pretty loud, particularly if they're close to the bar, so if you want a quieter night's sleep you'll do better with a smaller room.
Private Rooms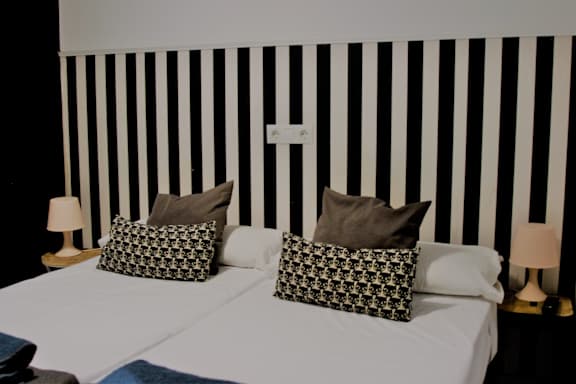 This hostel has some nice apartment options if you're traveling with a few friends. Apartments sleep either three people or four people. The three person apartment has a full sized bed and a twin bed, while the four person apartment has two twin beds and two sofa beds. The apartments are very nice and include balconies, kitchens, televisions, and sofas.
Other private room options include twin rooms, triple rooms, and double rooms.
Bathrooms
Guests can choose between rooms with en-suite bathrooms or shared bathrooms. Like the rooms, some of the bathrooms are a bit older and could use a few upgrades. The water pressure is pretty good though. Also make sure you keep the door closed as the water tends to puddle on the floor.
Bar
The on-site cocktail bar is the place to be if you want to take advantage of the hostel's party atmosphere. They have their own stage with live music that continues late into the night. The parties are at their best on weekends and during the peak travel season, so if you're all about the party, make sure you come on a weekend the things are the craziest.
Common Areas
The hostel's lounge area and television room is the perfect place to recover from a late night or catch up with friends back home on a public computer. Grab a book and rest for a while or plan your next day's adventure.
The hostel's shared kitchen is also a convenient place to cook some meals and meet other travellers. This is a large hostel, so you'll likely make some new friends while you're prepping your food.
The Location
Soho
What's Nearby?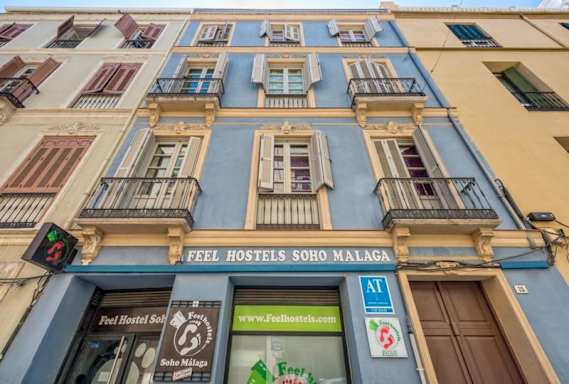 This hostel is in the Bohemian neighborhood of Soho. It's a trendy, artsy area with some great bars and shops nearby. Make sure you explore some of the art galleries that are nearby and check out the famous street graffiti while you're here.
The hostel is about a fifteen minute walk from the city center and is about a twenty minute walk from Playa de la Malagueta Beach. Head across the street to the bar and brewery as well, which is a fun place to hang out.
Nearby Transportation
Feel Hostels Soho is about a five minute walk from the Malaga Centre Mall train station and from there you can reach Malaga Airport in just 25 minutes. Also near the hostel are plenty of bus stations, so everything is fairly accessible.
Activities
The hostel's cocktail bar is where you'll find the most fun. The party starts early and goes late into the night. There's often live music on the stage and guests can enjoy free sangria and popcorn every night.
Amenities
As it is quite large, this hostel has some great amenities. A decent breakfast is available for a small price, or you can use the kitchen to cook your own meals. There's laundry facilities, travel information bike and car parking as well as bike rental. You can also enjoy the board games, books, and computers that are available to guests.
Staff
The staff here are friendly and helpful. They keep things fun, but they're responsive if you have any concerns or complaints.
Heads Up
Some guests felt the hostel could be a bit cleaner and the bathrooms could be upgraded. This is a party hostel, so you can expect it to be loud late into the night and attract a crowd looking to have fun.
Feel Hostels Soho Malaga
Do you have a favorite hostel that you would like to review? Let us know!