This was my 2nd stay here for a reason: good location, clean rooms/bathrooms, 3 euro dinner, free sangria after 8pm, helpful information at the reception area such as the train to the airport (google maps only shows the A Bus, take the C1 train instead!!), trivia games at the dinner table, and the chill vibes. Also my room had a cute balcony! - Anonymous
What sets them apart?
This hostel's location and attention to detail make it a favorite for travellers to Malaga.
Hostel Personality
Who's staying here?
This hostel has a variety of activities for guests and a social atmosphere, so it's popular with backpackers, independent travellers, and anyone hoping to relax in a comfortable setting.
Insider Tip
It's worth paying for the breakfast and group dinner as they're both cheap, filling, and a fun way to meet other guests.
The Lights Hostel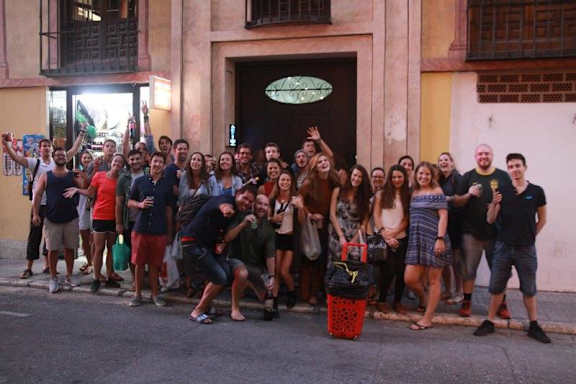 This hostel offers guests a convenient location and a fun atmosphere with lots of activities and opportunities to meet other guests. For a very reasonable price you can enjoy breakfast and dinner with other guests. There's also free sangria available after 8 pm.
Guests love the rooms which all have their own balconies. The large kitchen is the perfect place to prepare your own meal, as it's very big and fully stocked. This is a hostel that pays attention to the little things, so you can be assured they've thought of everything.
The Facilities
Dorms
The dorms at this hostel are a step above the rest. They have comfortable beds that offer a bit of privacy, a reading light, and an outlet that you can use to charge your electronics. Every room also has it's own balcony, many with views of La Alameda Principal y Torregorda Street and the city center, so it's the perfect place to check out the many festivals throughout the year. Each room also has some basic furnishings and on the cooler winter nights you get a warm extra blanket.
The dorms sleep four, six, eight, or ten people, and there are both co-ed and female only rooms available.
Bathrooms
Bathrooms at this hostel are excellent. There are separate bathrooms for men and women on every floor and, like the rooms, they're kept very clean. The fixtures are modern and reliable and there's even "rainfall" shower heads that offer great hot water and good water pressure.
Common Areas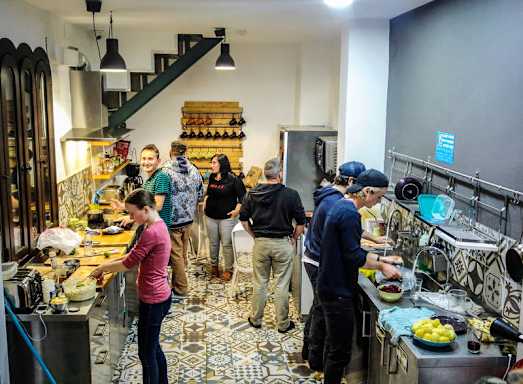 This is a fun hostel and it's not hard to find people hanging out in the common rooms playing games or just chatting. The indoor commons room is the perfect place to relax, read a good book (check out the book exchange if you need something new!) or enjoy some music. There's also plenty of time to hang out on the spacious rooftop terrace, as this is where many of the hostel's activities take place.
Outdoor Space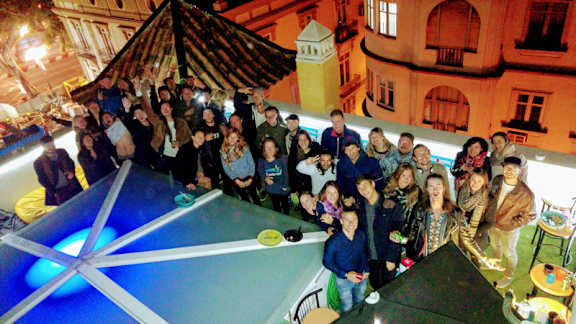 The rooftop terrace is the place to be if you want to meet people. There's a bar where you can grab a drink, and there's plenty of seating and lots of activities. From the group dinners to the morning breakfast, there's always something going on. And definitely don't miss out on the free sangria!
The Location
Malaga Centro
What's Nearby?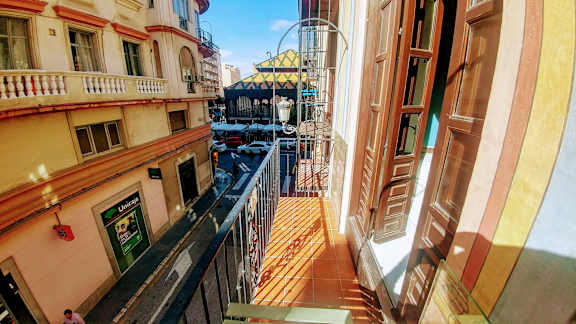 The Lights Hostel is located in a beautiful Andaluz building near many sights and attractions. The hostel is a quarter mile from Malaga Cathedral and Carmen Thyseen Museum and just a ten minute walk from La Alcazaba, the city's impressive 11th century fortress. It's even closer to the famous Calle Larios Street and is right across the street from the Malaga Central Market. It's fun to explore the market and it's a great place to pick up supplies to cook your own meals.
If you're headed to the beach, it's a leisurely half hour stroll to Playa de la Malagueta, which is one of the best beaches in Malaga. This is the place to be at night when the beachfront bars come to life and you can try excellent seafood.
Nearby Transportation
If you're arriving by plane, you can easily catch the C1 train which will take you to Centro Alameda Station. Then it's just a five minute walk to the hostel.
Activities
This hostel has all kinds of activities for guests. There's a low priced breakfast in the morning and a very affordable family style dinner in the evening. There's also free sangria every evening for guests. Don't be surprised if the staff pull out some board games that you can enjoy before or after your meal. They also organize walking tours, tapas tours, and a number of other events where guests can hang out and enjoy the city.
Amenities
In addition to all of the standard amenities (Wi-Fi, air conditioning, luggage storage, and security lockers), this hostel has an impressive shared kitchen, bicycle rental, an elevator, and more.
Staff
The staff here keep things moving smoothly, from the easy check in process to the activities that organize daily. It's a friendly group, so don't hesitate to ask them any questions about where to go, what to see, or how to get around. They'll go out of their way to help you out.
Heads Up
Some guests have expressed concerns about the cleanliness of the hostel. Others encountered some grumpy staff members that weren't particularly helpful.
The Lights Hostel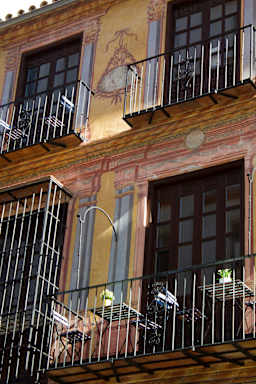 Do you have a favorite hostel that you would like to review? Let us know!