Should you visit Indonesia or Malaysia?
Indonesia and Malaysia are two countries in Southeast Asia with similar cultures, sights, and attractions. Dpending on the specific destination to be visited, the two countries are quite comparable in price.
Indonesia is a relatively inexpensive destination known for beautiful tropical beaches, exotic jungles teeming with wildlife, and large urban areas full of culture and markets. Visitors to Indonesia are often surprised at the number of activities to do and places to visit, as once they step away from the beach, they find historic temples, eco-tourism adventures, jungle and mountain hiking, and more.
Malaysia offers a great deal to visitors from gorgeous beaches, crystal clear waters for snorkeling and scuba diving, exotic jungles, cooler highlands with agricultural landscapes, and delicious cuisine.
In general, Malaysia's economy is less driven by tourism than many other countries. This makes it easier to have a more "authentic" experience in Malaysia, as one can mingle with the locals to see how they live and work, as well as vacation along side them instead of having them provide a service for you in the tourism industry.
On the flip side, many locations in Indonesia are entirely dependent on tourism (such as the Bali region). Other destinations, however, rarely see tourists.
When is the best time to visit Indonesia and Malaysia?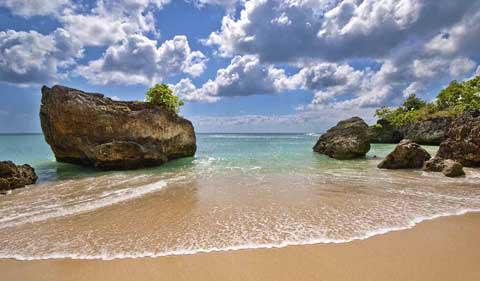 Much of Indonesia is very close to the equator and quite tropical. Therefore, the seasons are divided between wet and dry depending on seasonal winds. The dry season is from May to September, while the wet season is from October to April. A few places have an exception to this (such as Sumatra), but you can expect warm tropical temperatures everywhere in the country.
Malaysia stays hot and humid throughout the year. Due to shifting seasonal winds, the wet season on the eastern coasts is between November and February, while the wettest months on the western coasts are April and October. These wet seasons are usually not to be of any concern, as the rains are not so bad that they would ruin a vacation. However, scuba diving enthusiasts should take note because the water visibility is dramatically affected during the rainy seasons.
Why is Indonesia more expensive than Malaysia?
Indonesia's economy is growing, as it is the world's fourth most populated country. While the cost of living is generally cheap compared to other Asian nations, the large population means that demands for goods and services is on the rise. Imported goods from China, Australia, and other larger countries can be pricey, as can imported food. While budget travel options are very affordable, luxury services can get expensive, especially in more touristed areas such as Bali.
Malaysia's economy is much less dependent on tourism than some of its neighboring countries. Therefore, visitors usually depend on the same general infrastructure and transportation system as the locals. Public transportation is modern, efficient, and cheap. Accommodation also tends to be better in quality for a lower price in Malaysia due to the overall pro-business economy, and a diverse range of restaurants keeps prices for food competitive throughout the country.
In both countries, the activities that you choose to engage in can significantly affect your travel budget.
Scuba diving is popular in both countries, but can add to your cost, as this is one of the most expensive tourism-related activities in the region. So can visiting the more popular beach resort areas, and the wildlife and jungle tours.
What are the most expensive and cheapest cities and regions in Indonesia and Malaysia?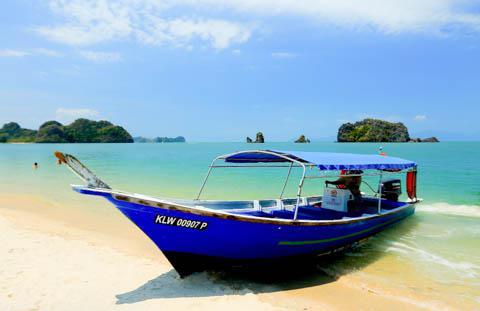 Tourism has driven up prices in some areas of Indonesia, namely Bali, Lombok, and some of the surrounding islands known for their beaches and scenery. If other travelers are flocking to an area, then expect prices to be higher. However, many "backpacker" areas are still quite affordable. So, while the overall prices (or highest possible price) might be rising, it is still possible to visit such locations on a tight budget.
Bali is one such area where the high-end resorts are extremely expensive, but the low-end hostels are extremely cheap. Research specific options before committing to a budget.
In the larger cities of Indonesia, it's possible to find a wide range of accommodation, restaurants, and activities at a variety of prices. Budget hotels and hostels are often found not far from high-end luxury hotels. If you want luxury, you can expect to pay a fair amount more for it, but it is still usually of good value and quality.
In the countryside, prices can be very cheap, especially in off-the-beaten path locations.
Prices in Malaysia are relatively cheap throughout. As the capital city, prices in Kuala Lumpur can be a bit more expensive than in rural areas, but budget options are still plentiful.
If you visit the most popular areas for tourists, such as some of the islands or the Cameron Highlands, you might pay a bit more for a rental car or a tour. Also, public transportation in some touristy areas can be a bit limited, leaving you to take a taxi or rent a car.
Compared to peninsula Malaysia, Borneo can be quite expensive. Although budget accommodation and cheap food are available, most people in Borneo choose to do a variety of activities. This is where the price starts to climb (but is well worth it). Depending on what you choose to do, Borneo can quickly become one of the more expensive places to visit in the area.
How you can save money when visiting Indonesia and Malaysia?
Eat the street food. In Indonesia, small eateries known as "warungs" are everywhere in urban areas. They offer delicious food at a cheap price. Also, buying food at local markets is significantly cheaper than at restaurants or larger stores.
Flying between the islands of Indonesia can get expensive. Likewise when flying to Borneo from peninsular Malaysia. Instead, pick just a few destinations and stick to them, or look for the less expensive ferry boats. Use public transportation whenever possible.
Slow down. If you're rushing through the area you're going to spend more money. Transportation costs can be expensive so the more places you visit, the more money you're going to spend.