The staff and volunteers made me fall in love with Sevilla. It felt like home during my stay there. Family dinner was my favorite since it's a very inclusive atmosphere where staff interact genuinely with guests. - Anonymous
What sets them apart?
This hostel's central location, friendly staff, and daily activities make it the place to stay if you want to meet other guests and be in the center of the action.
Hostel Personality
Who's staying here?
The staff and guests alike are young and fun. This hostel attracts an international crowd and it's a great option for solo travelers, backpackers, and small groups of friends who want to meet new people.
Insider Tip
Bottom bunks have a privacy curtain, which can help if you're a light sleeper.
Hostel One Centro
Another branch of the popular Hostel One chain, Hostel One Centro does not disappoint. This hostel offers guests daily activities including a free family style dinner, pub crawls, walking tours, and all kinds of organized activities. The hostel itself is a bit dated, but the staff and friendly and fun and the atmosphere can't be beat.
The hostel has a kitchen and several common areas. It also has great wi-fi that is strong throughout the building and public computers that guests can use.
The Facilities
Dorms
The dorm rooms here are small and simple, but reliable. There are bunk beds and the lower bunk has a privacy curtain. The mattresses aren't the most comfortable, the rooms themselves are nice.
The dorms range in size from two beds to ten beds. There is only one ten-bed dorm and it's on the main floor. There are also female only rooms as well.
Private Rooms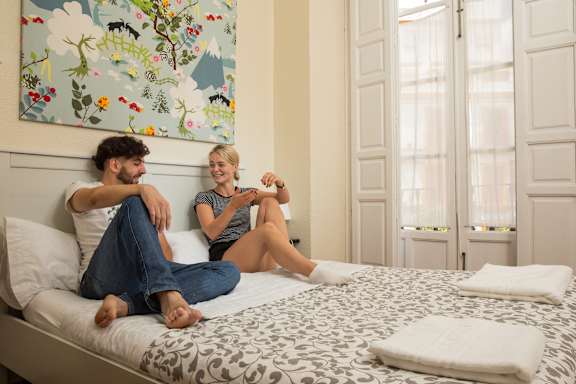 The private rooms are nice and well furnished with a full sized bed. It's a great option for couples who want the social atmosphere of a hostel but still want their own personal space.
Bathrooms
All of the dorms have private bathrooms so you can avoid the walk down the hall to shower every morning. They can get crowded during the peak morning hours so be prepared for a bit of a wait. They're kept relatively clean for a shared bathroom and the facilities are good.
Common Areas
This is a social hostel, so you'll find plenty of people hanging out in the common areas, particularly during the group dinners. There's also a shared kitchen if you want to prepare your own meals. If you want to just chill and relax on a sofa there's space for that as well. This is a popular hostel, so there are often guests around, but you might find things a bit quieter during the low season.
The Location
El Centro
What's Nearby?
This hostel's location can't be beat. It's located in a traditional Andalusian building and sits in a central plaza (San Andres Square) where you'll find great local restaurants just outside the door. The hostel is also walking distance to the city's major attractions. Alcazar Palace is just a ten minute walk away and Plaza de Armas is just half a mile away.
Nearby Transportation
Seville is very walkable, and this hostel is centrally located so you'll likely walk to most destinations. It's about 20 minutes from the Seville Airport as well.
Activities
This hostel is all about the activities. They host nightly group dinners (for free!) which are popular and fun. There are also nightly activities such as pub crawls or flamenco shows every Saturday night. During the day there are walking tours of the city and occasionally they organize day trips to explore local attractions.
Amenities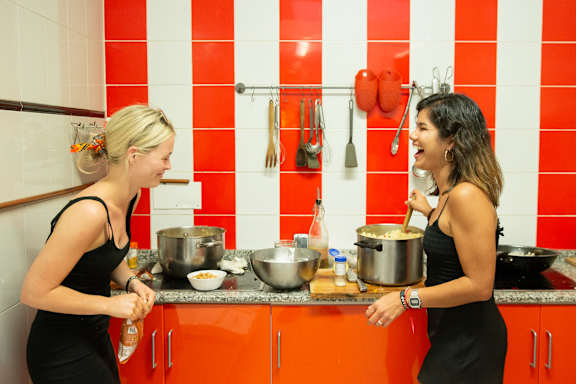 This hostel has some great amenities for guests, including a shared kitchen, bicycle rental, security lockers, and easy accessibility. There is all kinds of travel information and the staff are knowledgeable on the city and sights around town.
Staff
The staff here make the place. They create a fun and inclusive environment where it's easy to meet people and relax and have fun. They staff and volunteers are young international travelers themselves and they're interact with the guests in a natural and relaxed setting.
Heads Up
The mattresses in this hostel aren't the most comfortable, but the privacy curtains are a nice touch. The rooms are a bit small and some guests feel things could be a bit cleaner.
Hostel One Centro
Do you have a favorite hostel that you would like to review? Let us know!