Great hostel with even better location, right under the Setas. The staff was very friendly and good with recommendations and the free city tour was very helpful and informative. The hostel has a rooftop bar that offers a really good happy hour with cheap drinks. - Kirk
What sets them apart?
This hostel is in a great location with friendly staff, a rooftop terrace, and even a pool where you can cool off on a hot summer day.
Hostel Personality
Who's staying here?
This hostel's location and affordable price make it popular with backpackers and budget travellers. It's a good option if you're travelling with friends and want to have a pool to hang out with everyone.
Insider Tip
The bunk beds are high, so if you're tall you'll probably be more comfortable on the bottom bunk.
Oasis Backpacker's Hostel Sevilla & Coworking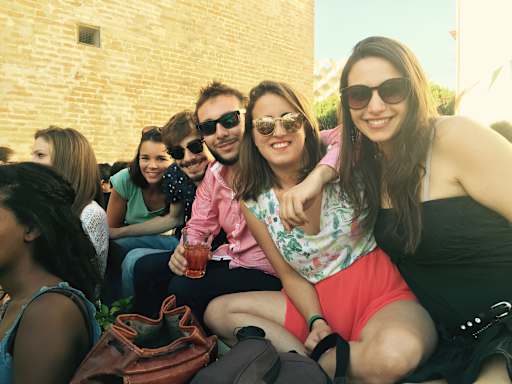 Oasis Backpackers' Hostel is a popular choice for budget travellers who want a great location and an affordable price. The staff here organize activities for guests and you can take advantage of the pub crawl, walking tours, and more. Many of the activities are combined with the hostel's
sister location (the Palace)
, so you can meet travellers from other hostels as well.
The Facilities
Dorms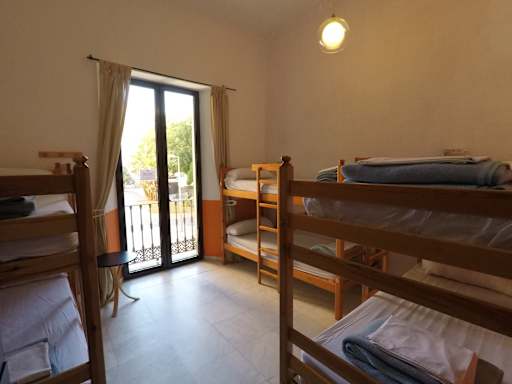 Dorm rooms sleep either four, six, or eight people and are co-ed. The rooms are basic but the beds are decent. The rooms with less beds tend to be smaller in size and can feel a bit cramped. All rooms have an en-suite bathroom and the rooms are kept clean.The temperature is kept warm in the winter months and cold in the summer months.
Bathrooms
All of the rooms have en-suite bathrooms, which is a nice convenience. Everything is cleaned regularly and well maintained.
Bar
The rooftop terrace has its own bar, which is a great place to hang out and meet other guests. They have nightly happy hours and the drinks are reasonably priced, which is good because you're not allowed to bring your own drinks onto the terrace. This is a great place to start your night before heading out with the pub crawl.
Common Areas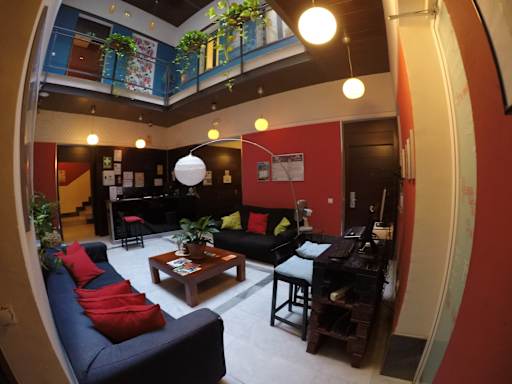 Most guests hang out on the terrace by the pool, but if you want a relaxing indoor place to pass the time, there's a common area with sofas and chairs. This is a good place to relax with a book or plan you day's adventure. There's also a small shared kitchen where you can cook up some delicious meals.
Pool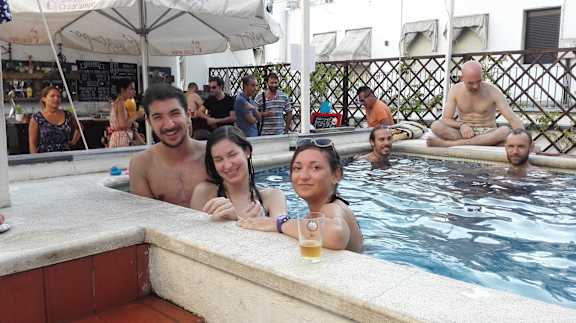 Yes, they have a pool! It's a great place to take refreshing dip on a hot summer day. The water is cool and the setting on the rooftop is nice. Many guests enjoy hanging out by the pool after a long day exploring the city. For many guests, this is a favorite part of their stay and a big reason they choose this hostel.
Outdoor Space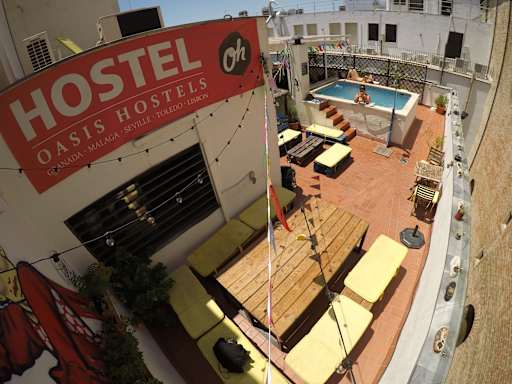 The rooftop terrace is the place to be if you want to soak up the Spanish sun. With a pool, bar, and plenty of seating, this is the best place to hang out at the hostel.
The Location
El Centro
What's Nearby?
Oasis Backpackers Hostel is all about location. It's under half a mile from Seville Cathedral and the Giralda Tower in an area with great tapas bars and plenty of local restaurants. Within walking distance you'll find Torre del Oro, the Real Alscazar, Barrio de Santa Cruz and Plaza de Toros.
Nearby Transportation
This hostel's central location means you really won't have to depend on public transportation much at all, but if you do need a bus, there are plenty around.
Activities
This hostel is all about the activities. They often join with partner hostels for walking tours, pub crawls, and other great events. Some of the best events are the impromptu gathering on the terrace by the pool, so head upstairs if you're hoping to meet other guests. Dinners are available nightly (for a reasonable price) and this is a great way to meet other guests.
Amenities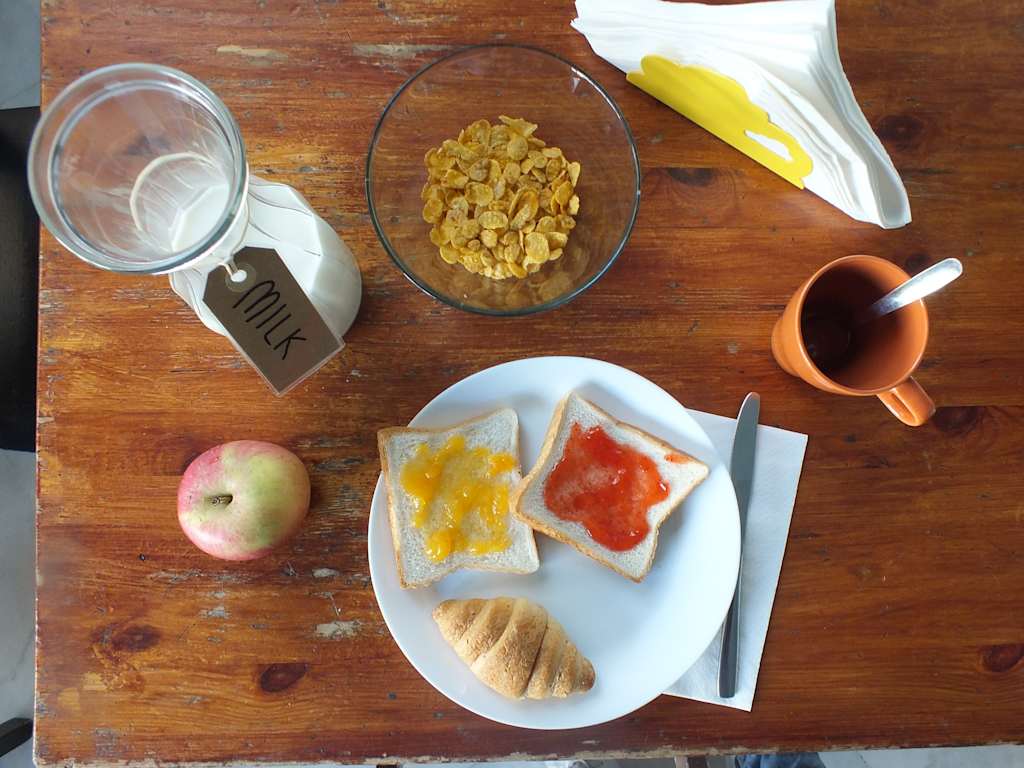 This hostel has some great amenities (like the pool mentioned above). They also have laundry facilities, bicycle rental, an elevator, and all kinds of great travel information. Breakfast is free every morning, but it's really just a simple toast and jelly. If you want something more, you can use the shared kitchen to prepare your own meal or head out to the nearby cafes. The kitchen is small but functional and gets the job done.
Staff
The staff here are great, and they're responsible for organizing he activities are keeping things moving smoothly. Most of the staff live on-site, and are here because they love travel, Seville, and meeting new people.
Heads Up
The biggest complaint about this hostel is the noise. It's central location means it can stay noisy late into the night, so bring earplugs! Some rooms are also very small and cramped, which bothers some guests.
Oasis Backpacker's Hostel Sevilla & Coworking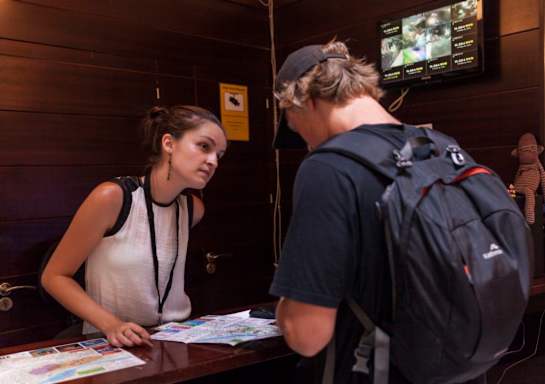 Do you have a favorite hostel that you would like to review? Let us know!