Koh Tarutao On a Budget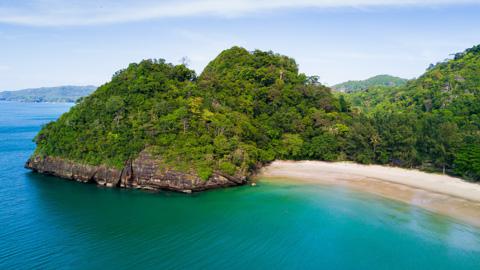 While much of Thailand has been built up into a tourist destination of hotels and resorts, there are spots that are still untouched and covered in the beauty of this part of the world. The unspoiled regions of the Ko Tarutao Marine National Park is 51 islands of rainforest ready for visitors. Established in 1974, the park is the second oldest in the country, and was the setting for the 2002 season of the reality television show Survivor. The park includes stunning coral reefs, pristine white beaches and wildlife of all shapes and sizes. Trek through and keep your eyes out for mouse deer, wild pigs, sea otters, tree pythons, sea eagles, hornbills, reef egrets and so much more.
If you'd like to stay on these islands, the main accommodations are small, government-run cabins. There has been a big push to build resorts, but those have mostly gone ignored. If you're looking to have the Thai resort experience, one island, Ko Lipe, has what you're looking for. Its communities of chow lair (sea gypsies) make them exempt from the zero development laws so you'll likely see more development on Ko Lipe.
Sights
Since you're literally surrounded by protected, national forests, the whole area is a sight to see. However, here are some highlights:
Just above Ko Lipe is the island of Ko Adang. This island of dense forests, sandy beaches and magnificent coral reefs is always buzzing with new sights to see and experiences to explore. Trek through the jungle to Pirate's Falls where pirates once filled their canteens, or climb the Chado Cliff to watch the green turtles laying eggs on Son Bay. While you're nearby, make a stop at Luu Doo Waterfall. It's the only waterfall in the park and the underwater rock formations are stunning. Luu Doo is certainly a spot for anyone interested in studying trees, flowers or animals.
Ko Rawi is the spot for large limestone hills and thick jungles. Get permission from the local government to pitch a tent and spend a night in nature. Take a dip under the ocean to see the uniquely striped pebbles of Ko Yang and Ko Hin Ngam. Don't touch, though. Legend has it these stones are cursed and if you take them, you'll have bad luck until they're returned.
If tents aren't your thing, take a trip to Pantaemaraka Gulf. This very popular spot in the Tarutao National Park is known for its charming pine trees and pure white beaches. Here you'll be able to signup for home stays or even house boating.
For arguably the best view in the park, head to Ao Pante Malacca, take the ultra steep, twenty-minute trail through the jungle to the top of Toe-Boo Cliff. It's a challenging hike, but the view across Ko Tarutao and Ko Adang is simply breathtaking.
Another worthwhile trip is out to Crocodile Cave. You'll need to take a long-tail boat out there, but on the way you get to see the beautiful mangrove forest.
Neighborhoods
The Tarutao National Marine Park is split into two island groups - the Tarutao section and the Adang-Rawi section. In this area there are essentially nine notable islands. Ko Tarutao is in the Tarutao Archipelago, and is the largest of the islands covered mostly in forests. Ko Klang, Ko Khai and Ko Ta-Nga are all a part of the Klang Archipelago located approximately 38 kilometers off the coast of Thailand. In the Adang-Rawi section you'll find Ko Adang, Ko Rawi, Ko Butang, Ko Lek and Ko Lipe.
Food and Dining
As this is a national park, there are fewer options available for dining on the islands. There is a restaurant that serves a good range of dishes from fried noodles and quality local meats. There is also a smaller convenience stores should you want to stock up on snacks, soft drinks and bottled water for your days of trekking through the forests.
Transportation
Each island is worthy of a walk or trek, but if you're looking to travel between islands, you'll want to hire a water taxi. Your best bet is to locate on Ko Lipe operated by one of the local chow lair people. There is a reliable taxi boat stand on Hat Sunrise.
Related:
Partying in
Chiang Mai
or other parts of
Thailand
?
Going to the
Full Moon Party in Koh Phangan
?
Hitting the beach in
Koh Samui
?