New York City On a Budget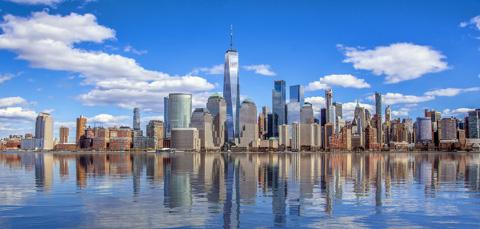 The most populated city in the United States, New York City, sits at the mouth of the Hudson River and encompasses both the island of Manhattan as well as the surrounding land on Long Island, most of which is known as Brooklyn. It's a cultural, culinary, theatrical, and art center that has much to offer domestic and international travelers alike. The city covers an area of 305 square miles and has a population of about 8.2 million people in the city proper with 18.7 million in the metropolitan area.
New York is very expensive. Generally, it's the most expensive city in the U.S. for both travelers and residents. Making a trip to New York on a budget can be a real challenge, but it can be done. Food can be found for cheap prices, and transportation around the city can be cheap if you use public transportation. However, expect to pay a lot for accommodations as well as tours and activities.
The city is where you will find the famous Ellis Island, which is the historical gateway for immigration to the United States. New York City's influence touches commerce, finance, media, art, technology and entertainment globally. It is also a center for international diplomacy and a financial capital for the world.
New York has a humid continental climate with long and cold winters and warm summers with high humidity.
Sights
There is no shortage of sights and attractions in New York City. After all, this is usually the start of many people's
U.S.A. travel bucket list
. You can't expect to fit everything into one visit, but there are a few places that you must see. The
Statue of Liberty and Ellis Island
is truly a fascinating experience. Also make sure you visit the memorial at the sight of the World Trade Center. The New York Stock Exchange is worth a stroll, and the views from the top of the
Empire State Building
are quite impressive. Of course, these are just the most famous of the
many things to do in New York City
.
A trip to New York isn't complete without a trip to Times Square and an evening at a
Broadway Show
. There are some great options to
pick up discount tickets
if you book ahead online, or get a last minute ticket in person.
Also make sure you allow yourself some time to visit the city's excellent museums,
such as the Met
, which are unmatched.
Neighborhoods
The metropolitan New York City area has many boroughs, with Manhattan being the most famous and frequently visited. Brooklyn is the largest borough outside of Manhattan and is home to Coney Island as well and a great art and music scene. Queens has the city's two international airports and is one of the most ethnically diverse areas. The Bronx has the famous zoo, as well as botanical gardens and the popular Yankees baseball team. Staten Island is more suburban in character.
Within Manhattan, notable neighborhoods include Inwood, Harlem, Mornigside Heights, Upper East Side, Upper West Side, Midtown, Gramercy Park, Madison Square Park, Times Square, Chelsea, Union Square, East Village, Greenwich Village, the Meatpacking District, NoHo, SoHo, Chinatown, Little Italy, Lower East Side, and Lower Manhattan.
Activities
New York City is all about entertainment. The theaters are among the best in the world, so you must check out a show. Shopping is also excellent as are the concerts and street fairs. Parades are very common so don't be surprised if you stumble into one. If you're interested in a walking or bus tour, they are also available almost everywhere. Ask at your hotel or at any of the booths that are near tourist attractions.
New York is full of activities and energy any time of the year. Summer is a busy season with plenty of outdoor festivals and concerts in Central Park. Or spend time outdoors enjoying the multitudes of famous
street art in New York City
.
But the holidays are busy, too. Check out the
best Christmas markets in New York City
, or the Thanksgiving Day Parade, or the iconic New Year's Eve celebration.
For more ideas of things to do and what to see, check out
this great 5-day New York City itinerary
for your next trip.
Food and Dining
There are thousands of restaurants around New York that are for all styles, cuisines and budgets. The city is known for its diversity of ethnic cuisines so wander around and if you see a place that looks interesting, check it out. Of particular interest for visitors are the famous New York delis, street food, pizza, hot dogs and cheesecake. Or dine at one of
NYC's many rooftop restaurants
. Also make sure you grab a bite in Little Italy, and pick up some dim sum in Chinatown. New York pizza is also some of the best, so find a hole in the wall restaurant and pick up a slice, or read this amazing
New York Pizza restaurant guide
. For more information, see this
guide to where to eat in New York City
.
And if you're looking to treat yourself to something nice, check out
afternoon tea in New York City
, too!
Transportation
In general, NYC is laid out like a grid. Streets run east and west while avenues run north and south. It's relatively easy to find your way once you understand the system. Streets are numbered increasing to the north. Avenues are numbered east to west.
The subway system in New York City, while old, is generally efficient and a good way to make your way around the city. If you're only traveling a short distance, walking is definitely the way to go though. Taxis seem abundant, but in a crunch it can be difficult to flag one down. They are also quite expensive and best avoided if you're on a tight budget.
If you plan to ride the buses or subway then you should buy a MetroCard. You can buy these cards at station booths, vending machines in the subway stations, at grocery stores, news stands or online.
Related
Looking for a
party hostel in Las Vegas
or
San Diego
? Traveling alone to
NYC
or
LA
? Want a budget hostel in
San Francisco
?