Boston On a Budget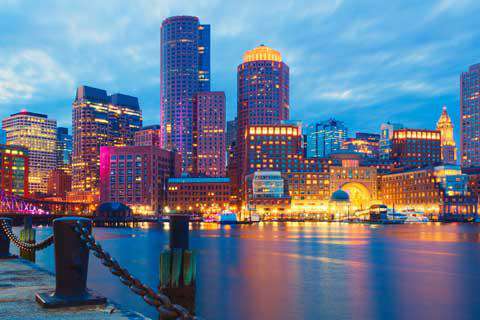 Boston is one of the oldest and most historic cities in New England. It is also the capital of the state of Massachusetts and the largest city in the region. The city proper covers 48 square miles and has a population of more than 600,000. The Greater Boston area has 4.5 million people and is the tenth largest metropolitan area in the country.
The city itself is quite beautiful, particularly during the fall months when the leaves on the trees turn to beautiful, bright colors. Spring is also beautiful, after the snow melts and the flowers come into bloom. The city's beauty and rich history make it one of the most popular tourist destinations in the area. It gets an estimated 16.3 million visitors a year.
Boston is also home to many famous colleges including Harvard, MIT, and Tufts University. The large number of universities mean the general population in Boston is actually quite young. As such, this means there are endless activities and events you can attend as a visitor.
Sights
There are a large number of museums throughout Boston including the
Boston Children's Museum
, the
Museum of Fine Arts
, the Harvard Art Museum, the Harvard Museum of Natural History, the Institute of Contemporary Art, MIT Museum, and the impressive
New England Aquarium
. Also be sure and head to Faneuil Hall and Quincy Market, which are two of Boston's oldest markets. Today they are primarily geared toward tourists. There are also some wonderful walking tours you can take in Boston. Do the Freedom Trail, which will take you by some of Boston's most famous historic sights and landmarks and offer you a basic history lesson.
Neighborhoods
Boston is a city of neighborhoods. Back Bay is an upscale area popular for shopping. Beacon Hill is famous for its gas-lit street lanterns. Charlestown is home to the Bunker Hill Monument. The Downtown area has the majority of the tourist attractions including Faneuil Hall, the Freedom Trail, Boston Public Garden and Boston Common. North End is the city's Italian neighborhood. It has some excellent restaurants. Chinatown has great Asian restaurants and herbalists. South End has many of the famous Victorian brownstones and South Boston is a residential area with a waterfront. It also has the Boston Convention and Exhibition Center. Other notable neighborhoods include Dorchester, East Boston, Fenway-Kenmore, the Financial District, Jamaica Plain, Mission Hill, Roxbury.
Activities
There is no shortage of festivals in Boston throughout the year. Some of the most famous are the St. Patrick's Day events, the Boston Marathon, Boston Pride, The Feast of St. Anthony, and the Head of the Charles Regatta.
Food and Dining
Food in Boston is great, but expensive. Some of the cheapest restaurants tend to be bars which offer standard bar fare including burgers and sandwiches. If you want something more interesting, particularly the city's famous seafood, you will definitely have to pay more, but it is well worth it. Seafood specialties include cod, lobster and clam chowder. For ethnic restaurants head to the neighborhoods of Chinatown, Allston, North End and Coolidge Corner. The North End has some of the area's best Italian eateries.
Transportation
Boston Car Rental Prices
Compare prices across all major rental companies:
You should really avoid driving in Boston as the streets can be crowded and confusing. Parking is also expensive and frustrating. Boston is really quite walkable within its neighborhoods and you can travel between neighborhoods on the "T", which is the city's public transportation system. It includes a subway, bus system, water shuttles and a commuter rail. The subway has four color-coded rail lines that efficiently travel through most of the city. Do take note that "Inbound" means toward Park Street or State and "Outbound" means away from Park Street or State.
Taxis may be your only option late at night, but remember they can be quite expensive and may even reach $30 for trips that are no more than a few miles. Traffic and construction can cause the price to rise unexpectedly high.
Related
Check out this
itinerary for 2 days in Boston
.
Looking for a
party hostel in Hawaii
or
Miami
? Traveling alone to
LA
or
New Orleans
? Want a budget hostel in
NYC
?
Train and Bus Prices
The best prices for buses and trains in United States of America
can be found on Omio
(formerly
GoEuro
). They let you search across all train, bus, and plane routes throughout Europe.