Cappadocia On a Budget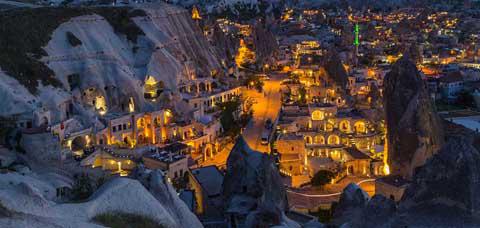 Cappadocia is in Central Anatolia, between the mountains Erciyes, Melendiz and Hasan. It is famous for its underground cities, fairy chimneys, and caves. The landscape of the area is some of the most unique you'll ever see. The fairy chimneys are bizarrely shaped rock outcroppings that have evolved from the unique geography in the area. There are hiking trails through the series of valleys that make up the area. It's a great place to explore for outdoor enthusiasts and adventure seekers.
Cappadocia is located in inland Turkey at a high altitude. This gives the area a continental climate with hot and dry summers and cold and snowy winters. In general rainfall is sparse and the area is semi-arid.
Sights
There are some great underground cities you can visit in the area. If you're short on time and hope to see several things in one day, it may be best to visit the underground cities on a tour. If you're looking for a more independent experience, it's easy to catch a dolmus and make your way there on your own. In the end, the price of the two options is somewhat comparable, so it is best to decide how you want to visit instead of looking at price alone.
Other sights include the old Greek houses in Sinasos, the Goreme Open Air Museum, Ihlara Canyon and Gumusler Monastery.
Neighborhoods
Cappadocia is a region that includes several interesting towns. Goreme is the most popular town in the area. It is also centrally located and offers many opportunities to stay in cave hotels. It's central location makes it easy to reach the many nearby hikes. It's easy to arrive by bus and find accommodation after arrival, but if you're traveling during peak season your options may be more limited. If you have your heart set on staying in a cave hotel, you should likely make reservations in advance. The town's bus station in right in the middle of town. You'll also find a handful of restaurants and shops, as well as a market where you can buy food for a picnic lunch if you're planning on doing some longer hikes.
The nearby towns of Ortahisar and Uchisar have rock castles worth visiting. Two of the more popular hikes are Guvercinlik (Pigeon) Valley and Rose Valley. Nevsehir is the main province in Cappadocia and Urgup is the largest town. Avanos is a pottery town and Mustafapasa is an old Greek village.
Activities
Hiking is the most obvious activity in Cappadocia. There are many different hiking trails through the different valleys in the area. Hiking in this area is breathtaking and completely free of charge. Make sure you grab a map before you head out so that you can pick a trail that meets your needs. Popular valleys for hiking include Guvercinlik, or Pigeon Valley and Rose Valley. Pigeon Valley is located between Goreme and Uchisar. There's a four kilometer trail that can be picked up near the Ataman Hotel on the southern side of Goreme. Rose Valley is a beautiful green valley that also has some great trails.
Other interesting activities include going to the underground cities and visiting castles. If you're looking for a splurge, a popular activity is to take a sunrise hot air balloon ride over the area.
Food and Dining
Restaurants in Cappadocia are generally concentrated in the towns and cities. Goreme offers visitors a good selection of reasonably priced restaurants, and many of the hotels also have meals available. Popular dishes include dried apricots and grapes, Manti, which is a ravioli made with minced meat and served with yoghurt and garlic sauce, Testi Kebap, which is meat and vegetables prepared in a clay pot, and pastirmali kuru fasulye, which is white beans with spiced meat. Kebab and pide dishes are also widely available.
Transportation
Cappadocia is a large region and many of the attractions are spread out. If you're hoping to explore many different parts of the region then hiring a car may be your best option. Public transportation is generally limited due to the low population density of the area. A Dolums (minibus) service operates between many of the towns. From Goreme there is hourly, or every other hour connections to most of the larger towns such as Avanos or Urgup. Often the buses stop in the late afternoon so make sure you consult a schedule before beginning your trip. Tour packages also take visitors around the region and are reasonably priced. The price includes transportation, and this is probably the most efficient way to get around if you are short on time.
Related:
Looking for a party in
Athens
or
Istanbul
?
Traveling alone to
Athens
or
Santorini
?
Train and Bus Prices
The best prices for buses and trains in Turkey
can be found on Omio
(formerly
GoEuro
). They let you search across all train, bus, and plane routes throughout the region.