Quebec On a Budget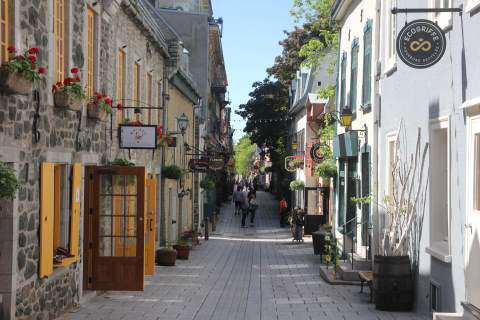 The culture and history of Europe is alive and well in North America. The largest province in Canada, Quebec, was a French colony from the time of Jacques Cartier in 1534 until 1760. Today, it is the only province in Canada where French is the official language. With the second largest population in the country, approximately 6.4 million, or 80% of the people speak French as their native language.
Most of the people in this province live near the St. Lawrence River in the southern portion of the province, and they all experience all four seasons. To see each season the way it was intended, visit Quebec. The summers are hot, the fall leaves are stunning, the winter sees blankets of snow for skiing and the spring shows bright colors of flowers blooming.
Sights
Quebec has twenty-two different provincial parks to visit and explore. Some are small and easily accessible preserves. Some are giant areas of remote wilderness. Some fall somewhere in the middle.
The culturally rich city of Montreal has tons for any visitor to see. Old Montreal is home to stunning, historical buildings from the 17th to 19th centuries. Get a walking map of the city from the Tourist Office to see the highlights of this charming town, and do it again at night to see the buildings light up. Montreal is also world famous for its amazing street art. Walk along the Saint Laurent Boulevard to see the impressive murals.
If old towns really are your thing, Quebec City has a rather impressive one, too. The upper part of this town is surrounded by a stone wall built by both French and British armies. Today, visitors can enjoy small boutiques mixed with original, historical structures.
Regions
Quebec is split into several regions. Outaouais sits on the Ottawa River with mountains, forests and lots of outdoor attractions. Montreal and Southwest Quebec is home to the culturally rich city of Montreal, while Quebec City and Central Quebec is the heartland of the province. The region of Saguenay-Lac-St-Jean is very distinctive with its own culture and lifestyle. Southeastern Quebec is home to the rugged coast with small towns and villages along the shore. Northeastern Quebec runs along the coast from Saguenay River north to the St. Lawrence River, and is famous for whale watching. Lastly, Northern Quebec is the sparsely inhabited area with logging and mining towns living next to Inuit and Native communities.
Activities
If sailing the open waters is your idea of a perfect vacation, look into one of the many cruises in Quebec. There are whale-watching opportunities, cruises along the St. Lawrence River and rides along other waterways.
For the winter months there are plenty of possibilities for snow sports – especially skiing. The Plains of Abraham, for example, offers skiing and snowshoeing free of charge in one of the most stunning areas right along the St. Lawrence River.
During the summer, however, tourists can make a trip to the Villages Vacances Valcartier. This water park is complete with go-carts, and even stays open for tubing and ice-skating in the winter.
Food and Dining
While you'd expect to find a solid foundation of French cuisine in Quebec, there are other influences that make Quebec truly unique. While visiting be sure to sample all of the maple products available, as well as culinary specialties like shepherd's pie, pouding chomeur (sponge cake with maple syrup), baked beans and cretons (a pork spread with onions and spices).
You simply cannot visit Quebec without sampling this signature poutine. Made of french fries covered in gravy and cheese curds, this local tradition is found in almost any restaurant in the whole province. Try it.
Transportation
Getting around the province of Quebec is pretty easy given all the transportation systems available.
If you're looking to travel to the northern parts of Quebec, you'll have to look into air travel because there are no highways of railways serving this part of the province. The main way to travel between cities is the bus. The system in Quebec is well developed, but be sure you buy tickets and reserve seats early. Tickets tend to sell out especially for Friday evenings and holidays.
Renting a car is also a very reasonable option. With toll-free and well-maintained highways, getting to and from cities in Quebec is simple. The rules of the road are pretty similar to those in Europe so visitors shouldn't have much problem feeling comfortable.
Related:
Looking for a
party hostel in Montreal
or
Vancouver
?
Traveling alone to
Toronto
or
Montreal
?