Banff On a Budget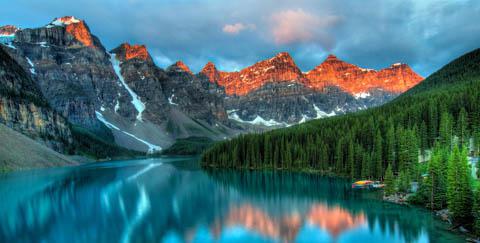 Nestled in the pristine and gorgeous mountains of the Alberta Rockies is the popular town of Banff. This town sits right in Canada's Banff National Park and is part of a UNESCO World Heritage site.
While the surrounding nature may give the impression of a quiet, little town, Banff is typically crowded with tourists. The beauty of this area is irresistible for travelers from all over the world. This may not be the place for solitude or even an authentic, country experience, you'll still find an unforgettable vacation.
Sights
If you'd like to see where it all began, be sure to visit the Cave and Basin National Historic site. This spot is home to the hot sulphur springs and where Canada's National Park system was founded. Take a stroll along their short nature trails or stop by the site of the original bathhouse from 1887.
While wildlife sightings are a pretty common and frequent occurrence in Banff, you may not always get to see the creatures you hoped for. In that case, make a visit to the Banff Park Museum National Historic site. Bear sightings are guaranteed.
The greatest sight, however, in the whole of Banff is the whole of Banff. A trip up the Banff Gondola gives visitors the most stunning views of the Canadian Rockies. As you rise over seven thousand feet, you won't believe the amazing sights in store for you. At the top of the trip, you'll find a restaurant, gift shop, boardwalk and observation deck. Have your cameras ready for the marvelous views at the summit of Sulphur Mountain.
Activities
Depending on the time of year you decide to venture to Banff, you'll have your pick of incredible activities. Should you travel during the winter, remember that Banff is home to some of the most exceptional ski resorts in the world. Between the Lake Louise Mountain Resort, the Sunshine Village and the Ski Norquay, take your pick of which hill to tackle first. Bear in mind that all the hills are busier on the weekends. And if you're dying to ski like the locals, you'll wan to select Ski Norquay as your destination.
After a full day of skiing, it might be time for something a little different. The icewalks offered around the park are a perfect opportunity to see a true winter wonderland of frozen waterfalls and rivers. Wrap yourself up and join in on one of the evening tours – complete with hot cocoa and a campfire at the end.
Should you decide the colder months aren't for you, Banff has plenty to do during those warmer summer months. Numerous hiking trails are accessible from the main town along with tours for horseback riding, white water rafting, and so much more.
Not far from the Banff city center are the Blue Canoe docks. Hop into a canoe for a peaceful and serene getaway trip down the Bow River. There's also plenty of canoeing options available on Lake Louise and Moraine Lake.
Wildlife sightings are popular in Banff. Keep your eyes out for a number of different creatures roaming the area in the summertime. While wildlife watching can be a fun activity, please keep your distance. The people of Banff would like to keep their animals wild, and some can be very dangerous. If there are certain animals on your bucket list, it is recommended you book a tour with a guide who knows the area.
Food and Dining
Because this region is so heavily populated with tourists and transient workers, you won't have a problem finding the food you crave. This town is full of pubs, fast food and expensive fine dining. Since you're in Alberta, you'd be missing out if you didn't try at least one steak.
For lengthy hikes, be sure to stock up on snacks and water at the local convenience stores.
Transportation
Banff Car Rental Prices
Compare prices across all major rental companies:
Banff is a small town meaning every destination is likely within walking distance. The walks are typically pretty easy and let you discover random adventures around the river, through the forests and up the mountains.
Bicycling is also a popular option given there are several trails leading to fantastic lake and mountain views.
Banff also has a broad public transit system that runs through the town. The routes connect all the area hotels and attractions.
Related:
Looking for a
party hostel in Montreal
or
Vancouver
?
Traveling alone to
Toronto
or
Montreal
?