Montreal On a Budget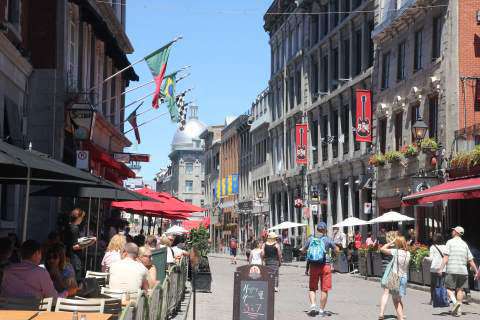 While Quebec City is the political capital of Quebec Province,
Montreal
is the economic and cultural capital. It's also the second largest city in Canada, with a population of about 1.9 million and 4 million in the metropolitan area. It's the second largest French speaking city in the world behind Paris.
Montreal is a very trendy and vibrant city with an active nightlife and countless activities to enjoy. It's located on an island in the St. Lawrence River and has a humid continental climate. There are four distinct seasons. Summers are warm or hot and humid. Spring and fall are mild and winters are cold and snowy. You can expect about 2 meters of snow every year, but there are also more than 2,000 hours of sunshine annually.
Sights
There are plenty of places to visit in Montreal, but it is highly recommended you head to some of the city's parks where you can relax and soak up the atmosphere. This is particularly appealing if you are in the city during the summer months when the weather is most pleasant. Popular parks worth visiting include Square Saint-Louis, Parc Jean Drapeau, Parc Maisonneuve and Jardin Botanique de Montreal, but there are countless more that are popular with locals and tourists alike.
Many of the city's historical sights are found in Old Montreal. Many of these buildings are from the 17th-19th centuries. This is also where you'll find a high concentration of museums such as the
Montreal Archeaology and History Complex
.
If you're interested in seeing some of the city's famous street art then walk along Saint Laurent Boulevard between Sherbrooke and Laurier metros. There you will find impressive murals and interesting works.
Neighborhoods
The city of Montreal is divided into several districts. Most of the neighborhoods of interest to travelers are in Central Montreal. In the Ville-Marie borough you will find Montreal's downtown area with it's many skyscrapers and museums. In the Old Montreal area you'll see most of the city's historic buildings, and Quartier Latin-Le Village is popular for its restaurants and shopping. Outside of Central Montreal you'll find a few other neighborhoods of interest to travelers. The Little Italy area is known as Rosemont-La Petite-Patrie. The Olympic Park is in Hochelaga-Maisonneuve, and in the South West area you'll find Lachine canal and Atwater Market, which is definitely worth a trip.
Activities
If you're in Montreal during the cold winter months then you can enjoy cross country skiing at many of the city's parks. Ice skating is also available at a variety of places.
During the summer months you can enjoy water sports such as kayaking or even river surfing. River surfing has become a popular activity along the Saint Lawrence River, which is frozen solid for many months of the year. There are two main spots where you can river surf: Habitat 67, which is close to the bridge between Montreal and Ile des soeurs, and Montreal Casino.
Also do some research ahead of time and find out if there is a festival going on during your visit. There are a number of interesting festivals and it's a great way to experience some of the city's wonderful and diverse culture.
Food and Dining
As a large and culturally diverse city, Montreal has an excellent restaurant scene. The city has everything from diners and cafes to ethnic restaurants, fast food, or fine dining restaurants. Check out this
guide to the best restaurants in Vieux Montreal
so that you don't get caught eating bad food at an overly touristy restaurant. There is a large Jewish population that has influenced dining options with local specialties including large beef brisket sandwiches and excellent bagels. You can also find local favorites such as split pea soup and
poutine
. Being such a large city, a variety of other diverse cuisines are also available as well. Plenty of
Vegan restaurants can also be found in Montreal
, as well as Asian, European, and even Latin inspired establishments.
If you're on a tight budget, there are many markets where you can buy ingredients to prepare your own meals. The public market at Jean-Talon (7075 Avenue Casgrain) is excellent and has good produce. It's also surrounded by many Italian restaurants and markets. The Atwater Market is also excellent. Although it is smaller, there are many good butchers and a great selection of cheese, fish, and produce available.
Transportation
Getting around Montreal is relatively easy for a larger city. The streets are easy to navigate, and in the more compact areas the most efficient option is simply to walk. You can see a lot of the city by wandering around on foot and simply exploring the neighborhoods.
If you're looking to visit destinations that are farther apart, there's a good public transit system that includes a metro system and buses. As a tourist you can buy full day passes and multi day passes that will save you a significant amount of money.
Related
Looking for a
party hostel in Montreal
or
Vancouver
?
Traveling alone to
Toronto
or
Montreal
?