Ottawa On a Budget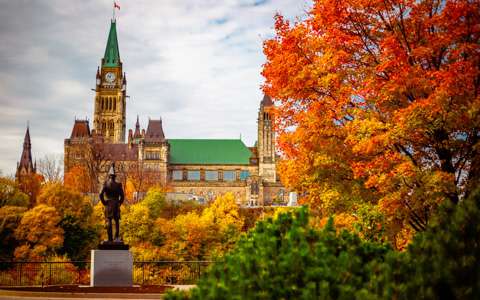 Ottawa is the capital city of Canada, located on the Ontario side of the Ottawa River. A city of many ethnic populations, Ottawa is uniquely bilingual with English as the first language of the population's majority and French as a close second.  It is best known as the nation's capital, which is centered on Parliament Hill, an architectural landmark as well as the seat of government.
Sights
The primary attraction for most visitors to Ottawa is Parliament Hill. Not only is it a striking monument of Gothic revival architecture, but it is also the home of Canada's national government and the setting for national celebrations year-round. Various tours are available to different parts of Parliament Hill, while visitors also flock to see the daily Changing of the Guard ceremony at 9:00 AM, as well as the Sound and Light Show held daily at 9:30 PM until September.
Ottawa is also home to a vast array of museums and galleries showcasing the nation's story in art, history, nature, at war, in aviation and space, agriculture and food, science, and technology. A few of the more popular museum attractions include the Canadian War Museum, Canadian Museum of History, Canadian Museum of Nature, Science and Technology Museum, and the Canada Agriculture Museum.
Other must-see sights include the historic ByWard Market and the Rideau Canal, as well as its many performing arts venues like the National Arts Centre, the Great Canadian Theatre Company, Ottawa Little Theatre, and The Gladstone.
Neighborhoods
A few of Ottawa's many distinctive neighborhoods include Bank Street, ByWard Market, Chinatown, Downtown Rideau, Glebe, Preston Street (Little Italy), Sparks Street, Wellington West, and Westboro Village.
Bank Street
is the downtown center of commerce, government, culture, and leisure
.  ByWard Market
, founded in the 1820's, is home to unique shops, fresh produce and artisan stalls, restaurants, and nightclubs.
Chinatown
is a thriving business and residential area that offers dining, shopping, and entertainment infused with Chinese, Korean, Thai, Vietnamese, Indian, Philippino, Spanish, Lebanese, French, and Middle Eastern cultures.
Downtown Rideau
makes up the arts, fashion, and theatre district. The
Glebe
is a relaxed and historic neighborhood of shops, restaurants, and pubs.
Preston Street
is the heart of Little Italy, reflecting Italian heritage in its tree-lined streets, award-winning Italian and international cuisine, and independent boutiques.
Sparks Street
is home to a mix of long-established local business, unique architecture, and Canada's first pedestrian mall. And finally
Wellington West
and
Westboro Village
are both urban villages 5-10 minute's-drive from Parliament buildings, each of which features more than 200 shops, restaurants, and businesses.
Activities
There are plenty of tours and sightseeing options available for experiencing the city of Ottawa-from options on foot, bicycle, or bus, to boat, plane, or helicopter. Tours can be booked on any mode of transportation to experience any unique part of the city by location, history, culinary preference, and more.
Alternatively visitors can explore galleries and museums, experience the music and theatre culture, or venture on the outskirts of the city for some outdoor excursions like whitewater rafting on the Ottawa River.
Food and Dining
Since Ottawa's culture is a reflection of the thousands of immigrants who now call the city home, ethnic foods from around the world are available at a wide variety of restaurants and street vendors. Additionally, there is a hub for each kind of cultural cuisine. Chinatown area, for example, has plenty of Chinese and other Asian food restaurants and is located along Somerset Avenue between Bronson Avenue and Preston Street.  For Italian eats, Little Italy runs along the length of Preston Street, from Carling Avenue to Albert Street. Additionally, the ByWard Market area has a wide selection of different cuisines-from breakfast diners and lunchtime delis to ethnic Mexican or Indian eats. One local novelty, however, is the beavertail-a large, flat doughy, deep-fried pastry usually topped with cinnamon and sugar. Also popular, and located on just about every street corner, is the Tim Horton's fast food chain, best known for its coffee and donuts.
Transportation
Ottawa's main airport is Macdonald-Cartier International Airport, which offers regular arrivals and departures from most major Canadian and many American cities.  Services outside North America are limited to a daily flight to London Heathrow and a daily flight to Frankfurt with Air Canada, as well as seasonal services to London Gatwick.  Shuttle bus services are available between Ottawa and Montreal (2-hour ride) via Air France, KLM, and Swiss International Airlines, which facilitate connections with their flights operated from Trudeau International Airport. Via Rail also operates a free shuttle bus from the Dorval train station to nearby Trudeau International Airport.
To reach downtown Ottawa via public transit from the airport, take the #97 bus (the only bus at the airport) and get out at the Mackenzie King stop (14 stops away) at the Rideau Centre shopping mall.