Vancouver On a Budget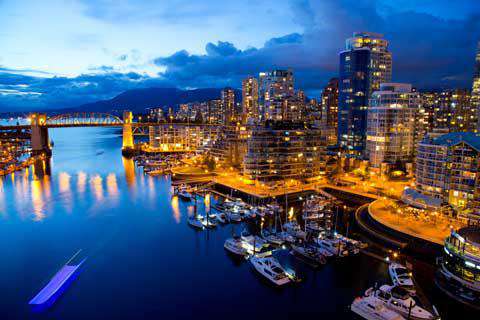 Vancouver is a beautiful and cosmopolitan city in Western Canada. It is also the largest city in British Columbia, and is dramatically positioned between the coast and mountains. It's a very international city, with a high level of energy and countless activites that you can enjoy while you're in town. In addition to offering all of the activities and entertainment of a modern city, it is also in jumping off distance to any number of outdoor activities.
Vancouver's climate is temperatue and oceanic. It is Canada's warmest city during the winter months and one of the coolest during the summer months. Summer highs are in the low to mid 70s Fahrenheit and winter lows hover around freezing. The summer season is dry while the winter season can be very damp. There are about 11 snow days a year, but snow does not linger long.
Sights
Vancouver is a city that's fun to explore. The city is quite beautiful and the neighborhoods are unique and diverse. If you're looking for specific sights and attractions, there are a good number of cultural or outdoor places that you can visit. Popular attractions around town include the Museum of Anthropology, the Vancouver Art Gallery, the Vancouver Public Library, the Contemporary Art Gallery, the Telus World of Science, the BC Sports Hall of Fame and the
Vancouver Aquarium
. Canada Place, the Marine Building, and the old luxury railway hotel of the Hotel Vancouver all have interesting architecture. Interesting parks and gardens include Stanley Park,
VanDusen Botanical Garden
, Queen Elizabeth Park, Nitobe Memorial Garden, and UBC Botanical Garden.
Neighborhoods
The city itself is divided into three main districts: downtown, the westside and east van. The downtown area is where you will likely spend most of your time as a tourist. It has most of the city's attractions, the most architecturally beautiful buildings, and restaurants and shopping that is world class. You'll also find neighborhoods here such as Chinatown, and Stanley Park.
Westside is another popular destination because of it's markets on Granville Island, the beaches around town, and the many museums and restaurants.
East Van is a predominantly residential district. You'll find a large number of ethnic restaurants along Commercial Drive. The area also has a very artsy and eclectic vibe with plenty of independent coffee shops.
Activities
Vancouver is a city where people love to be outdoors. There are any number of places where you can walk, run, or rollerblade. There are also a large number of cyclists in the city, and the design is very inviting for bicyclists. If you head outside of the city you'll find a number of places that are popular for skiing or snowboarding as well. And if you have a few days, check out this great
two-day itinerary for Vancouver
.
If you'd like to attend a sporting event your options include hockey, Canadian football, soccer, baseball, and even roller derby.
Famous festivals in the city include Chinese New Year, the Dragon Boat Festival, EAT! Vancouver, the Vancouver International Film Festival, Theatre Under the Stars, and Khatsalano Music and Arts Festival.
And if you're looking to get away from the city for a little while, plenty of destinations await. Grouse Mountain, Victoria, and Whistler are a few of the more popular places. For more ideas, see this
list of day trips from Vancouver
.
Food and Dining
Dining in Vancouver is an experience in and of itself. You'll find a range of restaurants that are wonderful and include many different ethnic options. If you're looking for a cheap bite to eat, at lunch you can enjoy "all you can eat" sushi places for around twelve dollars. Street food has also taken off in recent years. There are food carts and trucks around the downtown area that offer unique and affordable options. There's also no shortage of seafood throughout the city, but be warned that prices can vary dramatically. It is best to avoid the touristy areas where prices are much higher, while quality is dramatically lower.
There's a large number of restaurants in Kitsilano or the West End. High end restaurants are concentrated in the central business district along Robson Street. There are also some great options within the nicer hotels. For ethnic restaurants head to East Van. Dim sum is a popular option in Vancouver. The city has some of the best dim sum restaurants in the world and reservations are recommended.
Transportation
Vancouver has an
excellent public transit system
and this is really your best option for traveling around town. The system is run by a regional transportation authority and includes buses, rapid transit (SkyTrain), and a passenger ferry (SeaBus). The buses have the most comprehensive coverage and travel along most of the city's larger streets. The SkyTrain connects the city's downtown area with the southern and eastern suburbs. The Expo line goes through Burnaby and New Westminster to King George station in Surrey. The Millennium line splits from the Expo line at New Westminster and loops back through Burnaby into Vancouver before stopping at VCC/Clark. The Canada Line connects downtown with Richmond and Vancouver Airport.
The SeaBus is a passenger ferry that travels between Waterfront Station in downtown Vancouver and Lonsdale Quay in North Vancouver. There are departures every 15 minutes during peak times.
Vancouver is also a great city for cyclists. There are popular bike routes around town that go along Stanley Park, False Creek, and Kitsilano. There are also routes that connect through most of the city and maps are provided by the City of Vancouver.
Related
Looking for a
party hostel in Montreal
or
Vancouver
?
Traveling alone to
Toronto
or
Montreal
?