Halifax On a Budget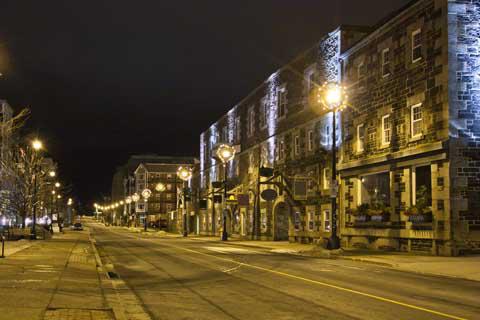 The quaint and charming coastal town of Halifax, Nova Scotia has an interesting personality. While it caters to travelers from all over the world, it maintains the pace and lifestyle of a small town.
Steeped in maritime history, Halifax is the capital of Nova Scotia, and one of the world's greatest natural harbors. This busy seaport serves as the economic and cultural hub of Eastern Canada.
When planning your trip keep in mind that this city has a climate like other coastal cities. Summers are nice with the occasional humidity. Winters are mild, but still full of snow and wind. The best time of year to visit is most certainly the fall.
Sights
Any sea lover will love simply wandering around Halifax. If you're looking for specific attractions, however, you may want to start with the Halifax Citadel. Located on top Citadel Hill, this star fort is a Canadian National Heritage Site. It gives visitors the best view of the Halifax Harbor, and has daily reenactments from guides in period costumes – complete with a ceremonial cannon fired everyday at noon.
Try to trace your ancestry at Pier 21. Recently renamed the National Immigration Museum, this is Canada's equivalent of New York's Ellis Island. This spot once processed over one million immigrants, and today it is a museum with detailed exhibits on Canadian immigration history.
For a touch more nautical history, head over to the Maritime Museum of the Atlantic. Located on the waterfront the museum includes exhibits about the sinking of the Titanic and the 1917 Halifax explosion. You can also get a close up look at the hydrographic survey ship built in 1913, the CSS Acadia.
Activities
For a quiet but entertaining stroll through Halifax, visit the waterfront. This boardwalk is full of shops, restaurants and other entertainment like Theodore Tugboat, a WWII Corvette and other interesting ships along the harbor.
If you're up for a little more adventure, rent a canoe and sail up the Northwest Arm. Along this route you'll see the historic Dingle Tower in Flemming Park. Watch the sailboats and regattas float past you, and just try to take your eyes off the stunning mansions that line the coast. If you're feeling super daring, canoe all the way up to Point Pleasant Park. This is where the Northwest Arm meets the Halifax Harbor. While it may be tempting to take a dip, it's not recommended. The sewage treatment plants aren't always operational, so swimming may lead to serious illness.
Another day trip involves hopping on the McNabs Island Ferry to sail out to the massive island in Halifax Harbor. This expansive land is full of sand and cobblestone shores, salt marshes, abandoned military forts and mysterious forests. As soon as you arrived, your guides will provide you with maps of roads and trails for hiking and biking. Camping is also an option if you contact the Department of Natural Resources.
Halifax has several boat tours operating from the harbor. These tours include nature and whale watching, deep sea fishing, historical guides and dinner cruises.
Food and Dining
Halifax, and Nova Scotia as a whole, is so rich in diversity, there's no real cultural cuisine. Most restaurants you'll find here will serve a menu full of seafood. You'll particularly want to sample the mussels and scallops. If you see the "sea pie," fish and chips or seafood chowder offered, it's a safe bet that those are going to be delicious.
Transportation
Halifax has a great public transit system, but it is more focused on local commuters than tourists. To do anything outside of the downtown shopping, a car rental is your best option.
Traveling through Halifax is fairly simple. Streets are narrow, but most drivers are relaxed and patient. Remember that pedestrians rule the roads in Halifax, and people will often cross the road in the middle of the block with cars stopping for him.
There are several one-way streets in downtown Halifax, so be careful not to take the wrong turn. Rush hour is very real on the peninsula with the main pain points at the harbor bridges connecting Dartmouth and Halifax.
Parking isn't too expensive and can usually be found free downtown. Watch the signs as some street parking is prohibited during rush hour.
Related:
Looking for a
party hostel in Montreal
or
Vancouver
?
Traveling alone to
Toronto
or
Montreal
?