Victoria On a Budget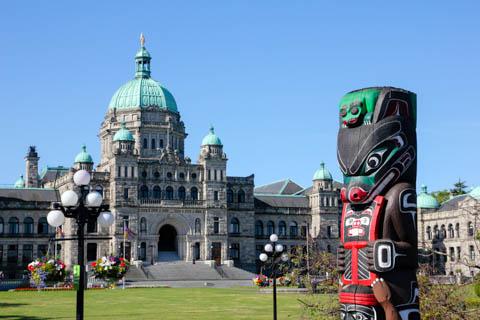 The capital city of British Columbia, Canada, Victoria is positioned near the southern edge of Vancouver Island. It's a wonderfully pleasant city and has been nicknamed the Garden City because of its vast green space and public gardens. There is a population of just over 80,000 in the city proper and almost 350,000 in the greater metropolitan area. Dating back to 1843, it's also one of the oldest cities in the Pacific Northwest. As such, it has many historic buildings and beautiful architecture. It also has the second oldest Chinatown in North America, following San Francisco's.
Victoria has a temperate climate. The winters are mild and wet while the summers are cool and dry. During the winter months the average daily high is about 46 degrees Fahrenheit and the average daily low is just under 40 degrees Fahrenheit. The summers have an average high of about 68 degrees Fahrenheit and an average low of just over 50 degrees Fahrenheit.
Sights
There is no shortage of sights around Victoria. There are many beautiful parks and gardens in the area, with some of the most popular and impressive being Beacon Hill Park, Butchart Gardens, and Abkhazi Gardens. If the weather isn't ideal, there are many museums around town as well. These include the British Columbia Aviation Museum, the Royal British Columbia Museum, Craigdarroch Castle Historical Museum, Miniature World, and the Victoria Bug Zoo. The Legislative Buildings are beautiful to see as well and light up at night with over 13,000 lights.
Neighborhoods
The oldest part of Victoria is the Inner Harbour. The city spreads north and east from there, with some growth in West Victoria. The Inner Harbour is where most visitors spend most of their time. The area has impressive architecture, horse drawn carriage rides, and double decker tour buses.
Downtown Victoria, also called Old Town, is the commercial and social center of the city. It's also one of the most popular areas to visit with many museums, shops, restaurants, and old buildings.
Chinatown is interesting but small. It covers two square blocks and is the second oldest Chinatown in North America.
James Bay, Ross Bay, Rockland, and Oak Bay were the areas where aristocracy once retired. Today they're beautiful residential areas with homes that have views of the surrounding area. Fernwood is another quaint residential area with much character. It has tree lined streets, great restaurants, and boutique shops. Victoria West was once the city's industrial zone, but has become one of the city's trendiest areas for young professionals. Saanich is in route to the ferry terminal and is a suburban residential area that is a pleasant place to live.
Activities
There are also some wonderful activities you can enjoy on Vancouver Island and in the city of Victoria. Some of the more popular options include whale watching, wine tasting, hiking, and boat cruises.
The city's nightlife is really centered around the downtown area where you'll find the highest concentration of bars and clubs. Taxis are usually reasonably priced, so if you can't walk to your destination, they offer a good option later at night.
Food and Dining
Dining in Victoria is an experience in and of itself. The city has the highest number of restaurants per capita in North America. You'll find no shortage of options with everything from pubs, seafood restaurants, international fare, and outdoor cafes available. Whatever your style and budget, you're likely to find something absolutely delicious and uniquely Victorian. It's a microcosm of the west coast restaurants in Canada.
Transportation
Most people head to Vancouver Island and Victoria via BC Ferries. There are ferries that depart from Tsawwassen, to the south of Vancouver, and arrive at Swartz Bay, which is a half hour drive from Victoria. It is best to make reservations in advance during the peak season, although it is not always necessary.
Most people explore Victoria on foot, particularly the downtown area, which is compact and pleasant to walk around. There are buses that travel around the town and island. They are reasonably priced and offer a good option if you don't have access to a car and aren't open to walking. Victoria is also one of the most accommodating cities to bikers in Canada. Biking is a great way to experience much of the city.
Related:
Looking for a
party hostel in Montreal
or
Vancouver
?
Traveling alone to
Toronto
or
Montreal
?