Alberta On a Budget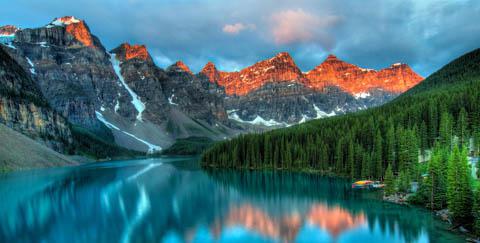 If you ever wanted to visit a place where all the beauty of nature is centrally located, you will want to make a trip to Alberta, Canada. With part of the Canadian Rockies, the prairies and the wilderness of forests, Alberta has something for everyone. As the home to Canada's oil industry, this is also the richest province in the country.
Sights
One of the most breathtaking sights you can see in Alberta is the drive from Calgary west towards British Columbia. The Rockies spike dramatically and quickly from the earth. The routes through Banff, Jasper or Glacier National Park are also quite stunning.
If you plan to take a stop, consider Kananaskis Country. This section of the Alberta Rockies region includes Peter Lougheed Provincial Park with a ski resort and golf course. Book a tee time early, as these are the busiest courses in North America. If it's winter, enjoy the cross-country skiing and skate trails. If it's summer, hop on an ATV and cruise around.
Another stunning stop is Lake Louise in the middle of Banff National Park. Surrounded by snow-capped mountains with a large glacier at the far end, this isolated area is perfect for a luxurious resort. Be sure to explore the vibrantly colored glacial lakes like Lake Louise, Moraine Lake, Bow Lake and Peyto Lake. Another must-see is Victoria Glacier.
Regions
Alberta is split into several regions. The Alberta Badlands are located in the southeast of Alberta, and is home to valleys and plains full of fossils. The Alberta Rockies region includes the beauty of Banff, Lake Louise and Jasper. The Calgary region contains Alberta's largest city, Calgary, and a rapidly growing population. Central Alberta is the most rural region of the province with rolling hills, prairie and forests. Eastern Alberta is mostly forests and farms while Edmonton Capital contains the capital city of Edmonton. The Peace River Valley has breathtaking forests with small towns, and Southern Alberta is the windy region with several wind farms and regular farms.
Activities
Between all the ski resorts in Alberta – Jasper National Park, Sunshine Village, Lake Louise and Norquay – you will find slopes for every level of experience. The hardcore skier will find new challenges to intrigue them, while the novice can enjoy the leisurely runs through the greens.
For the experienced hiker, the Rockies can be an interesting challenge. With a few lakes for boating, jet skiing and other water sports, you will get the entire nature experience in a landlocked province.
For a truly unique experience, visit the Dinosaur Provincial Park just a couple of hours southeast of Calgary. Admission for general camping is free, but to see the restricted areas, you have to pay for a guide. The park is full of trails and hoodoos for climbing, and the scenery is amazing. A large percentage of the world's dinosaur bones have been found in this park, hence the name, and it is not unusual to find small bone fragments on the ground. You'll have to put them back for others to find, however, because taking them with you us against the rules. Keep your eye out for several common dangers of this park – rattlesnakes, scorpions and black widow spiders live here, as well.
Food and Dining
Given that many parts of Alberta are so isolated, there is a surprising variety in the restaurants to choose from – especially in the major cities. From simple diners to fine dining, Alberta is ready to offer travelers whatever meal they're looking for. The region is particularly known for its beef, and the steak is considered the regional dish for the province.
Transportation
Greyhound Canada offers services along almost all the major destinations in Alberta. Keep in mind, Greyhound does so-called "milk runs" where they stop at almost every location to drop odd and pick up passengers.
Given that Alberta is so large, however, car travel is basically a must. Most towns have grown vertically instead of horizontally so unless you plan on staying in Calgary or Edmonton, where walking is an option, you're going to want a car. Road regulations are the same as Canada as a whole. Keep your eyes open, as critters love to dart into the road.
Related:
Looking for a
party hostel in Montreal
or
Vancouver
?
Traveling alone to
Toronto
or
Montreal
?