Should you visit Greece or Portugal?
Greece and Portugal are both beautiful countries in Europe that appeal to travelers from around the world. Each country has it's own beaches, towns, and cities as well as unique histories, art, and architecture. The prices in Greece and Portugal aren't dramatically different, but in general you can expect to spend more on a vacation to Greece than you would in Portugal.
Greece is a top tourist destination in Europe and it doesn't disappoint with its many famous islands, fascinating history, and world renowned archaeological sights. Greece is also known for its cuisine and nightlife scene, so whatever your interest, you'll likely enjoy your time in this country.
Greece was once considered a cheap European destination, but those days are gone. The country's popularity with cruise ships and tours mean that the prices have climbed, but it's still possible to visit Greece without spending too much. There are hostels in the larger cities, and if you get away from the major tourist areas you'll likely find some affordable restaurants
Portugal is slightly more affordable than Greece, and it also has a lot to offer visitors. It has a very diverse landscape that includes mountains, beaches, and almost desert like settings. There are vibrant cities like Lisbon and Porto, and natural areas where you can enjoy a more peaceful setting. Portugal has a lot to offer, whether you're interested in hanging out on the beach, sipping some wine, or playing golf.
When is the best time to visit Greece and Portugal?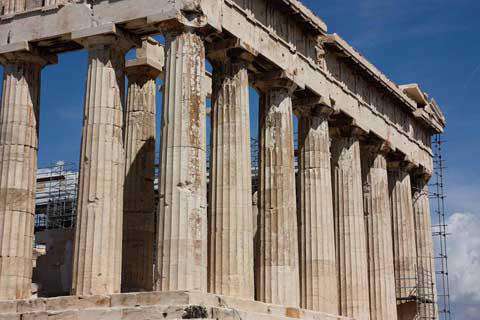 Like much of southern Europe, both Greece and Portugal are best visited during the late spring/early summer and fall months. If you have some flexibility with timing, it is best to avoid the peak summer months, when the temperatures are hot, the crowds are overwhelming, and the prices are high. Spring and fall offer a cooler and more comfortable time to visit the region. If you do end up visiting either country during the summer months, it is best to make reservations well in advance to ensure the greatest number of options for the best prices.
During the winter months Greece can be a bit difficult to visit because there are far less ferries traveling between islands and many restaurants and hotels close for the season. Also take note that hotels can fill up quickly during the week of Easter, particularly in and around Athens.
Winters are relatively mild in most of Portugal, but the northern areas do experience snow and cooler temperatures. Rain is more common during this time as well.
Why is Greece more expensive than Portugal?
Greece and Portugal aren't dramatically different in price, but in general you can expect to spend a bit more in Greece. It's popularity with tours and cruise ships make it a slightly more expensive destination. Many independent travelers to Greece also make use of the ferry system, which can get a bit expensive.
Portugal is one of the more affordable countries to visit in Western Europe. It has a lower cost of living than many places, and there is a wide diversity of accommodation types and restaurants to choose from. Whatever your travel style, there is likely an affordable place to stay that meets your needs. Hostels, hotels, and budget guesthouses are all common throughout the country.
What are the most expensive and cheapest cities and regions in Greece and Portugal?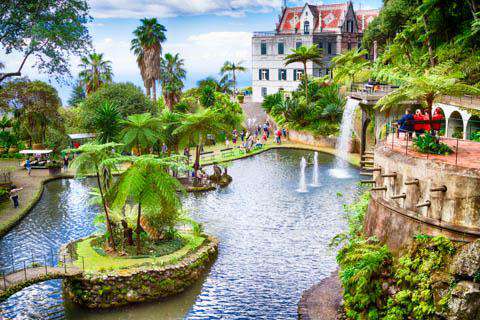 Greece is a popular travel destination for its beautiful islands and nice beaches. Some of the most popular island destinations, like Mykonos and Santorini, are usually more expensive than Athens. Hotels and hostels on the islands are pricier, as are restaurants. Cruises more frequently visit these islands as well, which can drive up the price of food and shopping. While cruise passengers do visit Athens, the city is quite large, so their impact on pricing is still minimal. Traveling to and from the Greek Isles can also be expensive, increasing the entire price of your trip.
In Portugal, Lisbon and the coastal towns are usually the most expensive places to visit. Prices are subject to seasonal changes in Portugal so if you're traveling during the peak summer months you'll likely to pay significantly more for a room.
How you can save money when visiting Greece and Portugal?
Travel during the shoulder seasons of fall and spring. Prices in both Greece and Portugal are heavily impacted by the season, so choose your timing wisely if you want to get the most bang for you buck.
Only visit a few destinations if you want to save some money. Ferries in Greece can get expensive so limit the number of islands you go to and explore those islands in depth to save some money.
Spend time walking around the city or town you're in. Take advantage of the area's natural beauty and free activities, so you don't spend too much money on entertainment costs.
Stay with a local. It's possible in some places to rent a room in someone's home. This can be a fun and interesting way to experience the country so research your options in advance.