Should you visit South Korea or Indonesia?
South Korea is a much more expensive travel destination than Indonesia. While Indonesia offers beautiful beaches and some amazing jungle adventures for a very low cost, South Korea has a more luxurious and high-tech travel industry.
South Korea is a moderate to expensive Asian nation with modern luxuries and a diverse number of attractions and activities. Despite its relatively small size on the map, South Korea has plenty to see and do. Here you can experience the urban core of Seoul and other large cities, visit the rural countryside, hike in the beautiful mountains, wander through unique national parks, and rest on relaxing beaches. Plenty of modern, western conveniences are all around, and they are in a price range that is a noticeably cheaper than Europe or North America, but still more costly than some of the other nearby countries in Asia.
Indonesia is a fairly inexpensive country to visit. It is best known for specific destinations such as Bali, but more generally it is famous for having beautiful tropical beaches, exotic jungles, and several large urban areas that are chock full of vibrant culture, interesting history, active nightlife, and chaotic markets. Travelers arriving in Indonesia are often surprised at the diversity of sights and activities to see and do, as well as the many places to visit, as once they step away from the beach, they find historic temples, eco-tourism adventures, jungle and mountain hiking, and more.
When is the best time to visit South Korea and Indonesia?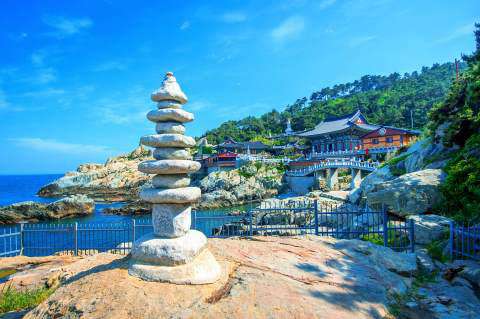 Just like many other countries, South Korea has four seasons, with hots summers and a cold winer with a decent amount of snow. Don't let winter scare you away, though, as skiing in the mountains is quite popular. However, with warmer summer temperatures, South Korea's peak travel season is from May to September. Expect more crowds in the warmer months, and higher prices as well, but also more comfortable temperatures and more activities to engage in.
On the other hand, Indonesia sits along the equator and has a tropical climate. The seasons are divided between wet and dry depending on which way the seasonal winds are blowing throughout the year, and the geography of some of the larger islands can also affect the weather. The dry season is from May to September, while the wet season is from October to April. A few places have an exception to this (such as Sumatra), but expect warm tropical temperatures everywhere in the country, with a few cooler spots at higher elevations.
Why is South Korea more expensive than Indonesia?
For tourists, the strong economy and higher cost of living translates into higher prices but at a good value, as modern conveniences are readily available. Since the war in the 1950's, South Korea's economy has been growing steadily for many decades, and this has led to both an increase in luxuries as well as a higher cost of living. Hotels and hostels are spread throughout the country, but a strong demand from tourists, both foreign and domestic, has led to higher overall prices compared to some of its Asian neighbors.
On the other hand, Indonesia has a low cost of living combined with low wages and a massive population. This has left the tourism industry with plenty of competition, especially compared to other countries in the region and around the world. this means that Indonesia can be that dream destination for a cheap price for For western travelers from the U.S., Australia, or Europe once you pay for an expensive plane ticket, though. With some of the most beautiful tropical destinations in the world available for extremely low prices, it's easy to see why Indonesia is a popular destination.
What are the most expensive and cheapest cities and regions in South Korea and Indonesia?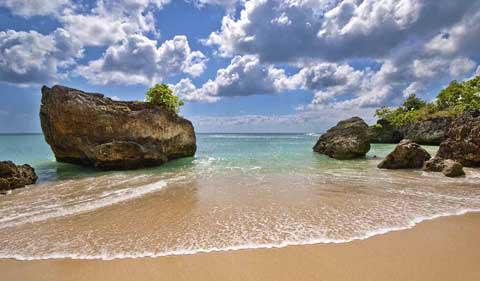 By far, the most costly areas for travelers in South Korea are the resort destinations. In the winter months, skiing and snowboarding in mountain resort areas such as Pyeongchang can get very expensive, as hotels, restaurants, and entrance tickets can all add to the total budget of travelers. In the summer, various beach resort areas can experience similar price increases as demand for services goes up along the coast.
Likewise, in Indonesia, tourism has raised a broad range of prices in some of the more famous resort-oriented regions of Indonesia. Destinations such as Bali, Lombok, and some of the surrounding islands which are known for their beaches and scenery can be much more expensive than the rest of the country. Luxury resorts in these areas are often as expense for travelers as similar resorts would cost in their home countries. If other travelers are flocking to an area, then expect prices to be higher.
Seoul and other large cities can be expensive if you desire luxury. Although, as with any urban area, a range of options are available. So, inexpensive establishments for sleeping, food, and fun activities are plentiful. Just shop around if you're on a budget, or look online, as good values can be found at any price range.
Likewise, in the crowded and massive cities of Indonesia, it's possible to find a wide range of accommodation, restaurants, and shops that fit into every budget range from high to low. Budget hotels and hostels are often found close to more expensive luxury hotels. If you want luxury, you can definitely expect to pay more for it, but it will still often be a good value and of good quality.
In the countryside and rural areas of both countries, prices can be cheaper, especially in off-the-beaten path locations. South Korea's rural and wilderness areas offer a good chance to view gorgeous mountains or rolling hills at a very affordable price. Many smaller cities and towns are cheaper while still providing plenty of fun activities and an authentic Korean atmosphere.
How you can save money when visiting South Korea and Indonesia?
In South Korea, booking ahead for a hotel or hostel can save you money, especially if you look online. Locally owned places are not always cheaper, but do tend to have more interesting charm and culture.
Eat with the locals at restaurants which serve Korean food. These places tend to be much cheaper than restaurants which serve western meals. Korean restaurant owners have discovered that many travelers don't really like a lot of Korean dishes, and they price their western menus to take advantage of people's fear and taste preferences. This means higher prices for tourists who are not willing to eat the local food choices. Taste different options to find some Korean dishes that you like, and don't be afraid to experiment. Your tummy and your wallet will like it!
Eat the street food, especially in Indonesia. Small eateries known as "warungs" are everywhere in urban areas, offering various foods at a cheap price. And buying food at the chaotic markets is significantly cheaper than at restaurants or larger stores, too.
Use public transportation whenever possible. In South Korea, it's cheap, fast, and clean. In Indonesia, buses go everywhere both in and between cities.
Flying between the islands of Indonesia can get expensive. Instead, pick just a few islands and stick to them, or look for the less expensive ferry boats.