Yakushima On a Budget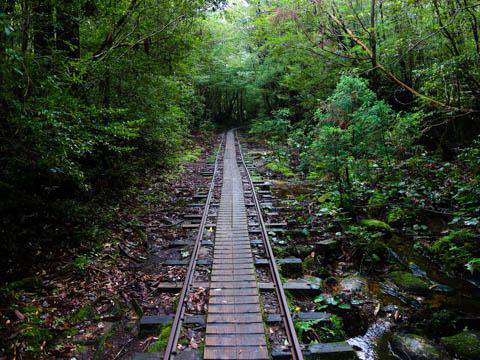 Yakushima, Japan is a UNESCO World Heritage island located north of Okinawa and off the south east of of Kyushu. The island is well-known to Japanese tourists but not so much to international ones, making it a bit of a hidden gem to international tourists. This also means that English isn't spoken as much as in larger cities, so make sure to brush up on your Japanese and bring a dictionary.
Yakushima's terrain is very mountainous and tends to attract a lot of rain; so much so that over half of the year sees measurable rain pour making it one of the rainiest areas in Japan. The rainy season runs from June to mid-July, and a month later, typhoon season begins lasting until early October. Don't let this scare you off though, the Island is not always covered in rain and sees many days of sunshine, especially in August which is considered tourist season. If you prefer a better chance at staying dry, October and November are great times to visit while still being warm enough to hike the mountains.
Sights
The Island itself is a sight to behold, especially with the ancient cedar trees and huge forests. Before you head out for a hike though, check out the Yakusugi Museum which has photos and hands-on exhibits that explain the Island's natural beauty and history of the logging industry. The museum even has a section of a 1,660-year-old yakusugi cedar tree that you can touch!
There are two gardens to explore on the Island as well: Yakushima Fruit Garden and the Shitogo Gajumaru-en Banyan Garden. The Yakushima Fruit Garden is, as you could have guessed, a garden filled with fruit trees and plants. Seasonal fruit here includes papayas, mango, guava, and star fruit, all of which are available to eat or drink. The Shitogo Garden is home to 300-year-old Banyn trees and sub-tropical plants placed in a park setting, making for a great picnic spot.
Neighborhoods
Seeing as the population is fairly small, around 14,000 people, the Island does not have many large towns. There are two main port cities on the island, Miyanoura and Anbo, where you'll find many restaurants, accommodations, and car rentals. The city of Yakushima on the north east side of the island is another popular destination with restaurants and accommodations. Yakushima is also home to the tourist office on the island, called Yakushima English Services, or YES.
Activities
Yakushima is famous for their terrain that has been almost entirely untouched by mankind, creating a woodland wonderland enclosing the walking trails. The forests even acted as inspiration for animator Hayao Miyazaki's epic Princess Mononoke. Most people take advantage of this beauty by taking long hikes throughout the mountains. There are a variety of hiking trails ranging in difficulty, the top three are: Jamon sugi, Shirantani Unsuikyo, and the trails of Yakusugiland. Jamon sugi is by far the most difficult and most famous, primarily for being home to the oldest tree on the island. The Shiratani forest and Yakusugiland trails are fairly easy and far more picturesque than their more famous counterpart.
Aside from hiking, there are a few white sand beaches on the Island, it is recommended that you only swim where life guards are present. If you choose otherwise, swim with caution as currents can be quite strong in some areas. There are also some good scuba diving spots, especially off Nagata-no-hama beach which has a small reef system. You can also canoe down the huge rivers that run through the Island.
Food and Dining
The specialties on Yakushima are flying fish and tankan and ponkan oranges. You'll also find plenty of fresh seafood options, ranging from sushi to rice bowls. A popular spot for locals is Kamogawa restaurant which offers an English menu that includes a great fish dinner. The area is also known for their shochu production, especially the Mitake brand which is offered in 25% and 32% options.
Transportation
In Japan, trains are one of the fastest and lowest cost means of transportation. Getting a
Japan Rail Pass
can save you money if you plan to stay for several days or more. Regional and nation-wide passes are available, usually for the number of days of your choice.
Plane or ferry are the best ways to get onto the island. Due to the small population, the bus options here are few and far between. Your best option is to rent a car or scooter, though international licenses are required to rent anything with a motor. Having a car with be extremely helpful when trying to navigate through the Island and can take you to some destinations that would otherwise be difficult to reach on foot.
Related:
Looking for a
hostel in Japan
? In search of a
party in Tokyo
? Traveling alone to
Osaka
or
Tokyo
?