Yamaguchi On a Budget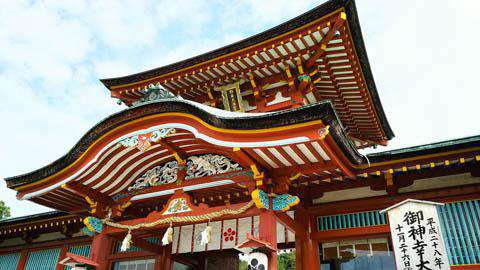 Yamaguchi, Japan is the capital city of the Yamaguchi Prefecture, located on the Western tip of Honshu, Japan. During medieval times, Yamaguchi City flourished and was essentially the capital of Japan when Kyoto was demolished by the Onin war. After 1551, the city lost this standing, although evidence of its precious prosperity can be found in the architecture and even in the planning of the city.
The climate in Yamaguchi tends to be at its best in the Spring and Fall, this is when temperatures are most comfortable and there is less rain. The summers tend to be hot and rainy and winters are much colder.
Sights
Rurikoji is a Buddhist temple, famous for their five story pagoda that was built in 1442 and is ranked among the top three pagodas in Japan. After seeing the pagoda, you can walk the temple grounds, also known as Kozan Park. This area houses a small museum, main hall, and is the burial site of medieval lords.
Experience a painting come to life at the Sesshutei garden located on the grounds of the Joeiji Zen temple. Sesshutei garden was built by Zen Buddhist monk, painter, and garden designer Sesshi almost 500 years ago. The garden is a recreation of one of Sesshu's paintings and can be viewed from the main temple building.
The Xavier Memorial Church is a more recent addition to Yamaguchi; it was built in 1950 but after being destroyed in a fire, was rebuilt in 1991, giving it a much more modern flare. The church is dedicated to St. Francis Xavier who went to Japan in 1549, originally intending to stay in Kyoto, but fell in love with Yamaguchi and stayed for an entire year. The first floor is a museum while the second floor is where mass is held.
Neighborhoods
Due to Yamaguchi being quite large it is split into seven districts: Old Town of Yamaguchi, Ouchi, Shin-Yamaguchi, New Town of Yamaguchi, Aio, Ajisu, and Tokuji. The majority of the districts are home to residents and local businesses. Old Town is home to the majority of tourist destinations including Rurikoji and St. Xavier's Church. It is also where you'll find the main shopping district and Yamaguchi Station. Right in between Shin-Yamagushi and New Town is where the Shin Yamaguchi Station is located-this station has a bus linking the city directly to the Yamaguchi Ube Airport.
Just outside of the Yamaguchi city center is Chomonkyo Gorge where you can take a scenic walk through the deep forest. The gorge has been designated a place of scenic beauty and has been named one of Japan's top 100 famous views. Chomonkyo has a clear stream, waterfalls, and is known for its strangely shaped rocks. The gorge is easily accessible via the JR train line from the city center.
Activities
On August 6th and 7th, Yamaguchi holds their annual Star Lantern Festival, a 600-year-old tradition. During the festival the city center is adorned with bright red lanterns, creating a tunnel of light where a parade of historical figures walks through as the city around them truly comes to life.
Enjoy the natural beauty of Yamaguchi with a stroll along the Ichinosaka-gawa River where you'll find cherry blossom trees in full bloom in the spring. Bring along a picnic and relax by the shores of the river. Spend a day at the Yamaguchi Center for Arts and Media (YCAM), a cultural-arts complex that holds everything from stage performance to film screenings and even houses an exhibition center.
Food and Dining
Yamaguchi is known for three things: Fugu Ryouri, blowfish, Fugu Sashi, thinly cut sashimi, and Shirou Ryouri, which is Ice Goby. Test out local restaurants to try unique takes on each of these specialties.
Have a cup of tea and a traditional dessert at Toshiro Sakura-an, a delightful little restaurant where you can enjoy your food next to stunning gardens. For a full meal, head to Yamaguchi City Saikotei, a traditional restaurant where both politicians and writers are known to frequent.
Transportation
In Japan, trains are one of the fastest and lowest cost means of transportation. Getting a
Japan Rail Pass
can save you money if you plan to stay for several days or more. Regional and nation-wide passes are available, usually for the number of days of your choice.
Transportation is made easy thanks to the JR Yamaguchi Line, a train that runs through the entire city. Depending on your travel plans, you can purchase a JR pass that can take you throughout the city or even throughout the country. There are also buses that run from the airport to Shin-Yamaguchi Station and a few local buses that run throughout the city's districts.
Related:
Looking for a
hostel in Japan
? In search of a
party in Tokyo
? Traveling alone to
Osaka
or
Tokyo
?