I'm VERY glad I stayed here. It was my first solo trip outside of the states and was unsure what hostel life would be like. However, when I got there, the staff was amazingly friendly and helpful. Easily offering me information, suggestions and kindness at every turn. The hostel itself was great offering tons of things to do each night and day. What was my favorite part of the hostel, is it made you feel like you part of a family. It'll be the standard I hold all other hostels t - Matt
What sets them apart?
Sungate One hostel is part of the Hostel One chain, which is known for its friendly staff, social atmosphere, and evening activities. If you're looking to meet other guests, have a good time, and party into the night, then this is the hostel for you.
Hostel Personality
Who's staying here?
Here you'll find one of the the most social hostels in Madrid. It's popular with solo travelers, partiers, and small groups of friends who want to have a good time and explore the city's nightlife. Whether you're a first time traveler or have been on the road for awhile, this hostel offers a comfortable and refreshing stop where you're guaranteed to make some new friends.
Insider Tip
Make sure to sign up for the free dinner by 6:30 and let them know any special dietary needs (vegan, vegetarian, allergies, etc). The staff will do their best to accommodate you.
Sungate One
Sungate One is part of the Hostel One chain. Like the other members of this chain, it offers a social and fun vibe with friendly staff and lots of activities. Although the hostel itself is relatively small, they often team up with their nearby partner hostel,
Hostel One Madrid
, for activities, tours, and parties. There's always a crowd and it won't be hard to meet other guests.
The staff here are among the best. They're outgoing, fun, and friendly, and they're responsible for the fun atmosphere that's a constant here. You'll enjoy drinking games, walking tours, pub crawls, and free group dinners that make this hostel one of the most popular in Madrid.
The Facilities
Dorms
With dorms that sleep between four and eight people, the larger rooms are slightly more affordable. Both female and co-ed rooms are available. One thing that sets this hostel apart is that none of their rooms have bunk beds. You'll enjoy sleeping on a simple twin bed without the worry of a bunkmate tossing and turning through the night or having to climb up a ladder. The mattress could be a bit more comfortable, but the air conditioned rooms are nice and the security lockers are convenient. Every bed has a little shelf and a reading light as well.
Private Rooms
If you want a bit of space to yourself then a private room is a good option. The prices are significantly more than the dorms, but you'll enjoy the quiet room and comfortable beds. You can choose between twins, doubles, or three bed rooms, all of which use shared bathrooms.
Bathrooms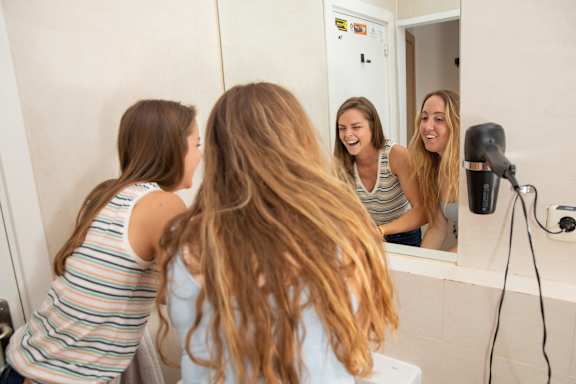 All rooms use shared bathrooms in this hostel, whether you're staying in a dorm or a private room. The bathrooms are clean and the water is hot, but the showers are a bit small. As this is a small hostel, even with the small number of bathrooms you likely won't wait for more than a few minutes for an available shower.
Common Areas
This hostel has plenty of space for guests to gather and socialize. There's a large common area with a sofa and places to lounge. Many guests enjoy relaxing here. There's also tables and a shared kitchen. It's not uncommon to find guests preparing food together, either for themselves or to help out with the nightly group dinner. Musical instruments are also available for impromptu jam sessions.
The Location
Centro
Centro, or downtown Madrid, offers visitors a central location, lively plazas, plenty of shopping, and no shortage of entertainment. The area is filled with people, both local and foreign, who are exploring the neighborhood's great restaurants, hitting up some of the most popular shopping streets, or simply soaking up the atmosphere of street performers and a colorful atmosphere.
What's Nearby?
Sungate One Hostel is conveniently located right in central Madrid. It's in a popular tourist neighborhood and is near many great restaurants, shops, and bars. It's just 700 feet from Puerta del Sol and about a third of a mile from Plaza Mayor Square. You can walk to many nearby places in a matter of minutes. The Royal Palace of Madrid is just half a mile away and you can walk to the Prado National Museum in about 15 minutes. Nearby you'll also find a number of supermarkets, which is very convenient if you're planning to cook in the hostel's kitchen.
Nearby Transportation
Situated in central Madrid means that you are easily connected to all types of transportation. Nearby metro stations include Sol Metro Station (Lines 1, 2, and 3), Callao Metro Station (Lines 3 and 5), and Gran Via Station Metro Station (Lines 1 and 5), all of which are just a minute or two away. From these stations, you can get anywhere in the city in a short time.
You can quickly get to the Madrid Puerta de Atocha Train Station in just four stops on the metro. Madrid-Barajas Airport is 9.3 miles away.
Activities
The Hostel One chain is known for their group activities and this hostel is no exception. They'll often combine with Hostel One Madrid so you'll find a large group to hang out and socialize with. They host day activities that are fun and let you explore the city. Then there's a free group dinner every night where you can meet guests and enjoy some good food. Then there are nightly pub crawls, drinking games, or game nights that are fun and social. If you're looking for a social hostel with a lot of opportunities to hang out with other guests, then this is one of the best.
Amenities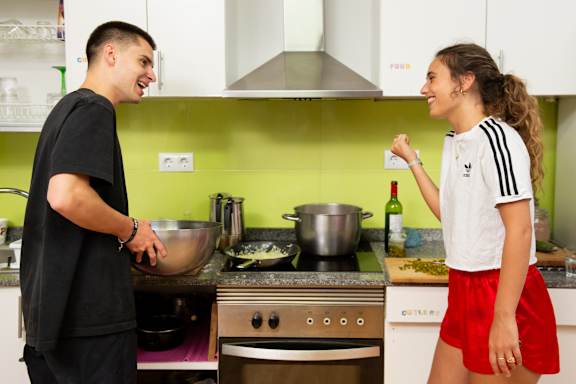 In addition to having all of the standard amenities like Wi-Fi, luggage storage,and travel information, this hostel also has a shared kitchen where you'll often find guests hanging out and cooking together. There are laundry facilities if your dirty clothes are overflowing and the hostel is air conditioned throughout, which is much appreciated on those hot summer days.
Staff
The Hostel One chain has a reputation of hiring the most fun and energetic staff and this hostel is no exception. They're always around and ready to organize an activity. Right when you arrive they'll help you plan your itinerary to make sure you see everything that Madrid has to offer. They really do go out of their way to help you feel welcomed and right at home during your stay here.
Heads Up
This is a social and fun hostel and there always seems to be a party. If that's what you're looking for then you're sure to have a good time, but if you want a more low key environment then this may not be your style.
Sungate One
Do you have a favorite hostel that you would like to review? Let us know!