Northern Ireland On a Budget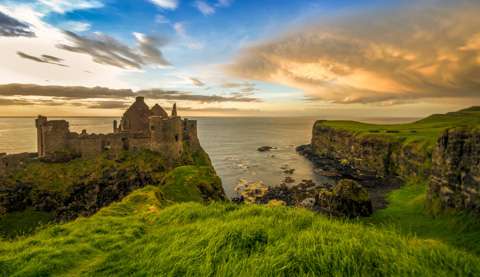 You may think you know Northern Ireland, but guess again. This once turbulent and dangerous country has calmed down and continues to pleasantly surprise visitors from all over the world.
Northern Ireland is a part of the United Kingdom, or Great Britain. Northern Ireland joins England, Scotland and Wales in the UK. This is still a point of controversy within this region depending on whom you are talking to. Unionists, or those who prefer being a part of Great Britain, will proudly call themselves British and try very much to differentiate themselves from their Irish neighbors. Republicans, or those who would prefer to be a part of the Republic of Ireland, call themselves Irish. Nowhere is this more prominent than in the historic city of Londonderry. That is what Unionists call the city, as the "London" was added after Northern Ireland joined the UK. On the other hand, you'll hear Republicans refer to the city as its original Derry.
Dress in layers, as it's not uncommon to experience every season in an hour in Northern Ireland. This part of the British Isles arguably receives more rain than anywhere.
More difficult than the weather, however, are the accents of the locals. While it may not sound like it at times, they are speaking English. Simply ask them to slow down so you can better understand their very thick accents.
Sights
Northern Ireland is home to some of the most awe-inspiring scenery in the world. On the top of that list has to be Giant's Causeway. This geological phenomenon features spectacular rock formations. Legend has it these little columns were placed there by giants trying to build a bridge from Ireland to Scotland. It's free to visit and the views will stay with you forever.
For you history buffs, Belfast is where the infamous Titanic was built. The head of the slipway where she was put together is now a multimedia experience for any tourist interested in the world's most famous cruise liner. Follow the history of the city and the ship through its interactive exhibits.
For more unique Northern Irish history, be sure to take a tour or experience the many
things to do in Derry/Londonderry
. Admire the astonishing 17th century city walls. Follow them around the 1.5-kilometers to get a brilliant tour of the city.
Regions
Among the Irish and Republicans, Northern Ireland is known as "The Six Counties," though it is not advised that you call them that. Nevertheless, the country is split into six different counties. County Antrim is the home of the capital city of Belfast and the stunning
Giant's Causeway
. County Armagh includes the Navan Fort, while Londonderry is in the aptly named County Derry. The coastal town of Bangor is located in County Down. Finally, County Fermanagh and County Tyrone are mostly rural with vast mountain ranges.
Activities
One thing you'll certainly want to do while in Northern Ireland is take a Black Taxi Tour in West Belfast. This is the region with all "the troubles." Today it is perfectly safe and stands as a living monument to the country's turbulent past. These taxi tours will drive you through the spectacular murals up to the Peace Line. Ride along as drivers provide history lessons and colorful commentary.
On the Antrim coast is a special experience not to be missed. Travel to the
Old Bushmills Distillery
for a tour and a taste. Licensed since 1608, this is the oldest legal distillery in the world. The whiskey is made with Irish barley, water and matured in oak barrels. Definitely worth a sip!
Food and Dining
One of the most popular dishes in Northern Ireland is the "Ulster Fry." You won't want to miss this dish of eggs, bacon, sausage, potato and soda bread all fried in a pan together. Also, of course, there's the classic "bangers and mash," or treat your taste buds to some sausage with champ - creamed potatoes and spring onions.
Transportation
Driving through Northern Ireland can be a very amusing experience given that the roads are extremely well maintained compared to their southern neighbors. However, car rentals are hard to come by in this area.
There is a reliable and modern public transportation system known as Translink. This includes buses and railways around the entire country.
Related
Traveling
alone to London
or
Edinburgh
?
Looking for a party and need a
hostel in London
?
Find a
Contiki tour
to Europe.
Train and Bus Prices
The best prices for buses and trains in United Kingdom
can be found on Omio
(formerly
GoEuro
). They let you search across all train, bus, and plane routes throughout the region.