York On a Budget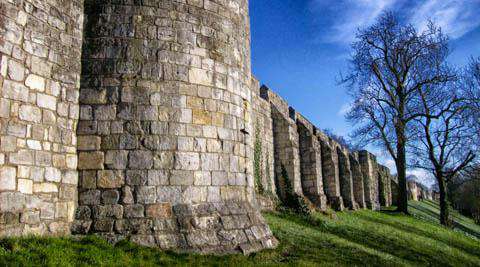 York, in North Yorkshire, England, is a city rich in history that dates back to before Roman times. It is an ancient cathedral city that still has some impressive historical buildings that make it easily worth a visit. It has some of the best preserved buildings and structures in all of Europe, so if you're a history buff, then this is the place to be. It is usually tied with Manchester as the second most visited city in England, after London.
The city itself has a population of about 180,000. It's a relatively small place and you can see most of the major sights in a few days time. There is a great atmosphere however, so if you have more time to spend, you won't find yourself bored. York is also a city of festivals. There are many cultural festivals every year, so if you find yourself in town during one, make a point of checking it out.
The climate in York is temperate and there are four distinct seasons. The city is drier and warmer than most of the Yorkshire, but it is prone to frosts, fog and cold wind during the winter. Spring and even the early summer can experience fog and cooler weather. High temperatures during the summer average about 22 degrees Celsius and average daytime temperatures during the winter are 8 degrees Celsius with it dropping close to freezing at night. Snow can fall anytime during the winter months but it usually melts quite quickly.
Sights
Popular sights in town include York Minster, which is the largest cathedral in northern Europe, the
JORVIK Viking Centre
, the York Castle Museum, the National Railway Museum, the Ruins of St Mary's Abbey, Clifford's Tower, and Merchant Adventurers' Hall among many others.
A great way to experience the sights is to take a walking tour of the city, which is just one of many options
for a tour in York
. There are many vendors who offer this option, and one interesting twist on the idea is to do a ghost tour. Ghost tours usually take place in the early evening and offer some insight into the city's history in an interesting, story telling fashion that appeals to adults and children alike.
Neighborhoods
Central York is where you'll spend a lot of your time as a visitor. It is one of the largest pedestrianised zones in Europe. The fountain on Parliament Street always has something going on, whether its a chess tournament, dance festival, or market. To the north of Parliament Street is the Shambles, which is a 14th century street. You'll also find the daily market in this area. East of the Shambles is Fossgate, which has many restaurants and pubs. St. Helen's Square is west of Parliament Street. There are some good shops in this area. The Latin Quarter, York Minster, and St. Williams College are in Minster Quarter. South of Parliament Street is Coney Street, which is a major shopping area. Finally, head to Micklegate for a good nightlife scene.
Activities
There are plenty of activities that you can enjoy in York. Make sure you take some time to walk around the city wall. It takes about an hour and offers some great views. Also explore the
Snickleways
, which are the famous medieval alleys that weave their way through the city. The theatre scene in York is excellent and you can go to the Grand Opera House for a variety of different types of shows.
York is a city of festivals. Popular ones throughout the year include the York Races, Mystery Plays, the York Festival of Food and Drink, the Viking Festival, the York Early Music Festival, the York Beer and Cider Festival, and the York Festival of Traditional Dance. For even more information, check out this great
guide to things to do in York
.
Food and Dining
Dining options are plentiful in York, and your cheapest options are likely to be the traditional pubs you'll find around town. They generally serve basic pub fare at a reasonable price. Another interesting option is to grab some food at the cafeteria in an old church by Whip-Ma-Whop-Ma-Gate. They offer affordable food which can be enjoyed on the grass outside.
Definitely visit Roots, an amazing restaurant by renowned chef Tommy Banks. Check out
this review of Roots in York for more info
.
If you have a little more money to spend, consider trying some of the curry or pasta options around town. For a more luxurious dining experience head to York's restaurant district on Fossgate and Walmgate where you can enjoy tea rooms or high end bistros which can be delicious and lots of fun.
Transportation
Your best option in York is to avoid driving, as the roads were not originally designed for cars. The old town area is pedestrian only during day time hours with an exception being made for disabled drivers and emergency vehicles. You can easily walk between sights, but do use caution after 4:00PM when the roads are opened back up to traffic. There's also a bus option that can take you elsewhere in the city. A day pass will set you back almost four pounds, but is well worth it if you plan on taking more than a couple of trips on the bus. York is also a very bicycle friendly city and this can be a fun way to explore the sights and get a feel for the town's atmosphere.
Related:
Traveling
alone to London
or
Edinburgh
?
Looking for a party and need a
hostel in London
?
Find a
Contiki tour
to Europe.