Scotland On a Budget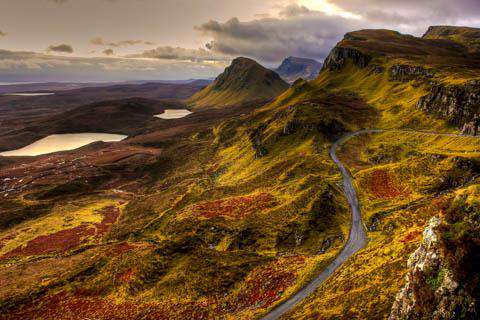 The enchanting country of Scotland is made of rolling hills, lush scenery, charming villages and pubs filled with think accents and strong pints.
This country is a part of Great Britain - also known as the United Kingdom - which includes England, Wales and Northern Ireland. So be careful not to refer to the Scottish as "British," and especially avoid referring to them as "English." Just being aware of the difference will make your trip much smoother.
This lively and friendly country has gained a reputation for being dreary and damp. Well, the latter might true, it doesn't stop the Scots from having a grand time. Still, prepare to experience plenty of rain on your trip.
With over 700 islands and 5 million people, you'll have no problem finding stunning scenery and delightful conversation.
Sights
Scotland's a place full of storybook scenes and dramatic castles at every turn. There is always something to see, but the main highlights should include:
The region known as the Great Glen is known for its historical, strategic importance – which is obvious in all of the castles and homes found there. It is a place of nostalgia, intrigue and mystery as this is also home to Loch Ness and its notorious monster.
There's no way to visit the city of Edinburgh without seeing the Edinburgh castle. This popular tourist attraction has dominated city's skyline for 800 years. Over the centuries, it has stood as a royal palace to a prison and today it stands as a national icon and the home to the Scottish Crown Jewels.
For a truly humbling moment with nature, travel to the Isle of Skye. With towering, jagged mountains, wild coastline, farms, waterfalls and a castle, you'll feel like the only thing missing from this fairy tale sight are the fairies.
And if getting in a bit of culture is on your list, make a visit to the National Gallery of Scotland in Edinburgh. This is truly one of the finest galleries in the world housing works from Raphael, Rembrandt, Monet and ore.
Regions
The country of Scotland is officially divided into 32 different counties. However, for the purposes of your visit, you'll really only need to know the different regions. The Borders region is sits on the border of England and is known for its rolling hills and former battlefields. The South West region is home to the Isle of Arran, while the Central Belt includes the largest portion of the population with Glasgow and Edinburgh. The Highlands are a popular area to visit for its stunning mountain ranges in the northwest. The North East Scotland region is full of scenic farmland, fishing ports, dramatic castles and the cities of Aberdeen and Dundee. The islands in the north west of the country are split into the three regions of Hebrides, Orkney Islands and Shetland Islands.
Activities
As Scotland is a popular destination for most travelers, there is no shortage of activities available around the country. However, there are some uniquely Scottish things to do while visiting.
If you're even a little bit interested in golf, you'll want to try to get a tee time at St. Andrews. People have been putting on these greens since the 15th century. Be sure to book in advance – months in advance - or risk leaving your chances up to the very popular lottery.
Scotland is the home to hundreds of brands of whiskey. Every village makes its own particular taste of whiskey, and with at least 50 distilleries open to visitors you'll have no problem making an afternoon of sampling the local flavors.
Any active traveler will want to take full advantage of all the hills to climb in this part of the world. Take a trip to the popular Westland Highland Way for a stroll, or pick up a copy of the National Tourist Board's free Scotland Walks guide showcasing all the walks available in the country.
Food and Dining
The Scots aren't exactly known for their cuisine, but there are many new restaurants bringing global influences to the country. Some Scottish dishes, however, are worth a try. Scotch beef, for example is some of the best in the world. A Scotch egg is a hard boiled egg surrounded by breaded sausage. Of course, you can't forget the traditional haggis made of the heart, liver and lungs of a sheep cooked in the stomach. End any Scottish meal with the joke-turned-tradition of a deep friend Mars bar.
Transportation
If you're looking to travel between major cities in Scotland, the simplest solution is by bus or rail. These systems are completely modern and very comfortable for travelers.
While a car will grant you greater access to small towns, the highlands or the mountains, beware that rural roads are very beaten up. If you plan on renting a car, keep a keen eye on the road, and remember they drive on the left in Scotland.
Related
Scotland is a large country with plenty of beautiful landscapes and wilderness to see. If you want to see everything,
read this 7-day itinerary for Scotland
Traveling
alone to London
or
Edinburgh
?
Looking for a party and need a
hostel in London
?
Find a
Contiki tour
to Europe.