Lake District National Park On a Budget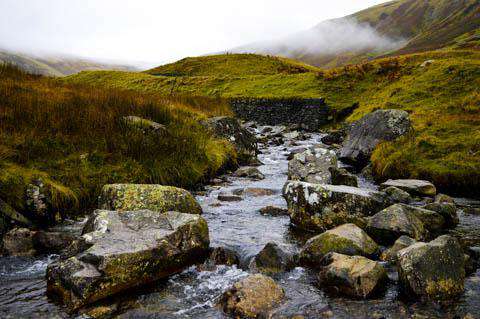 Believe it or not, there are many incredible places to visit in England other than just London!
Lake District National Park
is definitely one of them. Located in North West England, this area truly captures the beauty of the pristine English outdoors. Of all the national parks in the UK, the Lake District is visited the most, especially during the summer season. The tallest peak and the deepest lake in England are located here, and they are beautiful.
Sights
The
Lake District
is known mostly for its natural beauty, and of course, lakes. There are many great places to hike and camp as well. Wild camping, that is camping outside of a designated campsite, is common in the Lake District. Keep in mind that you must have permission of the landowner before setting up camp for the night.
Most of the sights to see in this area are natural ones, however, visiting the Muncaster Castle is definitely a sight not to miss on your visit in the Lake District. The castle is located in the town of Ravenglass, near the western coast. The castle sits upon the Esk River and offers breathtaking views of the surrounding mountains. Alternatively, the castle has more than just beautiful views to offer; there is an owl sanctuary there as well. If you're lucky, you may even get to meet the supposed ghost that tends to lurk around the castle grounds.
Fore more ideas, check out this
guide to things to do in the Lake District
for your next trip.
Neighborhoods
There are several different regions in the Lake District, so you'll want to narrow down which one(s) you prefer to see if you are on a time crunch.
Coniston Water - this lake rests at the base of The Old Man of Coniston peak and is a popular place to rent boats, canoes, and kayaks.
Windermere - visit the Lakes Aquarium, the Haverthwaite Railway, or choose to do something a bit more adventurous and book tickets to embark on a treetop ropes course.
Ullswater - be sure to visit the Aira Force Waterfall, with 70 feet of falls and a teahouse on site.
Langdale Valley - this valley is surrounded by the magnificent Langdale Pikes (English slogan for peaks). The Elerwater village is tucked away in the valley with a few traditional English pubs and shops.
Northern Lakes - this region is scattered with several peaceful lakes that is mostly visited by hikers.
Derwenthwater - this lake is located in the town of Keswick, there are hiking trails all around this area as well as a scenic cruise tour.
Wastwater - this is England's deepest lake and surrounding it is one of Britain's most impeccable views, with England's highest peak as a backdrop. There are many villages scattered about this area with historical pubs and cottages. This area truly encapsulates the essence of the English countryside.
Activities
The Lake District has many different kinds of activities, from leisurely walks around a quaint town, to intense trekking up England's highest peak. Throughout the year the park offers events like learning mountaineering skills, wildlife expeditions, and group led hikes. A lot of the events are free and can be found on the Lake District's official website.
For those intermediate to advanced hikers, make sure you bring your gear to tackle Scafell Pike. There is a campsite at the base called Seathewaite farm, it has toilet and shower facilities. Towering at 978 meters (a little over 3,000 feet) above sea level, this trek is full of outstanding natural beauty. Take care when planning to hike this, as there are many different routes to take (and ones that should be avoided). Approaching the summit gets a bit hairy at times as you find yourself climbing over loose rocks. The visitor center in Keswick has trail maps, knowledgeable staff, and seasonal information for the prospective climbers!
Food and Dining
If you are someone who needs a full, hearty before a day of exploring and hiking, then grab a traditional English breakfast. A top rated restaurant for this type of meal is called Brambles Tea Rooms and Cafe, and is located in Windermere. Fish and chips are a must eat while visiting the UK. The Kingfisher in Keswick has outstanding fish and chips at a reasonable cost.
Transportation
The best way to get around the Lake District is by car. There are tons of rental car agencies in the larger cities outside of the park where you can rent a car for your trip. Keep in mind that the majority of cars in England are manual. If renting a car isn't an option, there are other ways to get to and around the area. There are trains running from most large cities surrounding the Lake District (London, Glasgow, Manchester, Carlisle, etc.). Within the park, there are buses that connect you between most of the larger towns as well.
Related
Traveling
alone to London
or
Edinburgh
?
Looking for a party and need a
hostel in London
?
Find a
Contiki tour
to Europe.