Wales On a Budget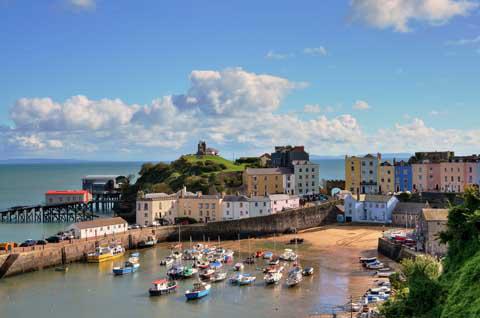 While it's not terribly full of people, Wales definitely has its fair share of castles. This beautifully landscaped country is practically covered in majestic castles. These castles, and the country's rich history, created a popular tourist scene in Wales after it's time in the coal industry faded.
This little country to the west of England is a part of the larger United Kingdom. The UK, or Great Britain, is made up of England, Scotland, Northern Ireland and Wales. Remember that those are four different countries when talking to the locals.
And the locals will want to talk. With a strong Celtic background, the Welsh are some of the funniest and friendliest people in the world.
With the rugged landscape and wild coasts, you'd never guess that this little country is only a two hour ride fro the bustling metropolis of London. The two areas are starkly different.
Sights
The rolling hills and stunning beaches should provide any traveler with enough sights to see for days. Some of these highlights are special to Wales and definitely should not be missed.
The gorgeous mountain range of Snowdonia includes 14 different peaks rising over 3,000-feet high. Hop a train to the peak of Snowdon for a 3,546-foot view of this grand area.
Another pleasant view can be found at the Haford Estate. These restored woodlands let visitors wander through 18th century gardens, waterfalls ancient trees and walled in gardens reminiscent of The Secret Garden.
Built in the 13th century, Caernarfon Castle is one the many castles in Wales. With thirteen towers and two gates, however, this one is one of the largest and most impressive. It is widely known as the best-preserved medieval fortress in the whole of Europe.
If the sea is just calling your name, make a trip over to Llandudno. This seaside resort town is known as the "Queen of the Welsh Resorts." Situated on the north coast, Llandudno is home to a truly unique promenade free of shops and cafes. When it was designed, they kept those buildings behind the seafront to ensure the Victorians would have a peaceful experience
For more ocean side charm, visit Anglesey Island. This island's 100 miles of coastline contains plenty of charming fishing villages, sandy beaches and landmarks like South Track Lighthouse. Be sure to stop and take a photo at the railway station sign for the world's longest town name:
Llanfairpwllgwyngyllgogerychwyrndrobwllllantysiliogogogoch
Regions
Culturally and geographically, Wales is divided into three different regions. North Wales is primarily rural with the highest mountain peaks in the United Kingdom. Mid Wales is lightly populated with mountains, moorlands, forests and a gorgeous coastline facing the Irish Sea. Finally, South Wales is the most urbanized region with two-thirds of the country's population living there.
Activities
With the highest mountain peaks in the whole of the UK, what else would any active traveler want to do but hike? There are great trails for hiking and climbing through the region of Snowdonia, and the Black Mountains in Brecon Beacons National Park is a 520 square mile park covered in caves and waterfalls.
The Devil's Bridge is a great destination for any traveler seeking a bit of advanced hiking. Just outside of Aberswyth, this area contains the Falls Nature Trail to Jacob's Ladder. This steep climb will take you to the oldest bridge in the country and a stunning view of the whole area.
And, of course, Wales is known for its many festivals throughout the year like the Brecon Jazz Festival, Hay Festival, Dylan Thomas Festival, and more. Check the dates and if you're visiting during one of these legendary festivals, plan to take a visit.
Food and Dining
Since turning into a large tourist destination, Welsh restaurants have found influences from all of their visitors. If you're looking for a truly Welsh experience, however, be sure to order a lamb dish during one of your meals. Or try Welsh Rarebit, a type of cheesy toast. (Here's a
great Welsh Rarebit recipe
.)
Transportation
Because of the topography of Wales, getting around the country is more difficult than you would think. Traveling between the north and south, through all of those mountain ranges can take at least four hours. It is full of breathtaking scenery, though. Beware if you're planning on renting a car, these roads can be busy and difficult to navigate if you're not used to them.
There is no true Welsh railway. There are simply three limbs of railways that extend into North Wales, one to Aberswyth in Mid Wales, and a main line to the South.
If traffic is agreeable, the buses are your quickest option for getting around in Wales.
Related
Traveling
alone to London
or
Edinburgh
?
Looking for a party and need a
hostel in London
?
Find a
Contiki tour
to Europe.
Train and Bus Prices
The best prices for buses and trains in United Kingdom
can be found on Omio
(formerly
GoEuro
). They let you search across all train, bus, and plane routes throughout the region.