Cardiff On a Budget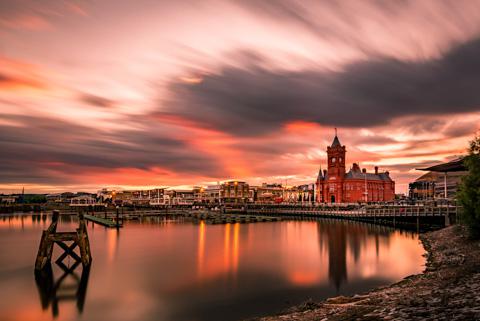 Cardiff is the capital city of Wales, and a major port on the country's southern coast. Though Cardiff boomed with the coal industry during the Industrial Revolution, the city began its history as a Roman fort on the River Taff-perhaps taking its name from a combination of the Welsh word for fort (caer) and the name of the river (Taff). The fort still stands today along with many other landmarks that attract tourists each year.
Sights
The fort where Cardiff takes its roots is at the heart of the city and is now known as Cardiff Castle. It features many interesting elements, including a Norman fort at its center, the Welsh regimental museum, excavated Roman ruins, and tours of a part of the castle that was once the household of the Marquis of Bute. Visitors can also learn much about the history of the area and greater Wales at the National Museum Cardiff, which showcases a vast collection of paintings, as well as archaeological and geological exhibits charting the history of the country. Another unique way to learn Welsh history is to visit St. Fagan's National Museum of History, an open-air history of Welsh life featuring reconstructed ancient buildings, beautiful gardens, and traditional crafters.
There are also plenty of modern landmarks around Cardiff. The Millennium Stadium, for example, (a.k.a. Principality Stadium) is the riverside home of Welsh rugby union, and hosts football, speedway, and concerts, with daily tours. The Wales Millennium Centre is another landmark of modern architecture, hosting free entrance to theatre, opera, ballet and music shows, and also features bars and dining.
Neighborhoods
Cardiff is divided into many districts, however, the main areas of interest include Cardiff city center, The Hayes, Cathays Park, Cardiff Bay, and Mermaid Quay. Cardiff city center is the central business district, home to the main railway stations as well as large shopping centers, arcades, smaller shops, and boutiques. Queen Street, St. Mary Street, and The Hayes are the main shopping thoroughfares here. The area around The Hayes is mostly pedestrianized and has an open-air snack bar. Cathays Park is also in the general vicinity and serves as the civic center of Cardiff, featuring Edwardian landmarks like the Temple of Peace, City Hall, the National Museum, and Gallery of Wales, as well as a central park area called Alexandra Gardens. Closer to the water, Cardiff Bay is home to icons like the Pierhead Building and encompasses the area known as Mermaid Quay, which is Cardiff's waterfront shopping and leisure district. Here visitors can enjoy a vast array of restaurants, bars, cafes, and shops.
Activities
Most visitors to Cardiff have three things on their to-do list: Cardiff Castle, Cardiff Bay, and City Centre shopping. The activities in these three locations encompasses a vast range of themes from historical sightseeing to waterfront enjoyment to commercial satisfaction. The city also offers cultural entertainment in the forms of theatre, dance, opera, music, art, as well as festivals mostly held during the summer months. Additionally, Cardiff features a large amount of green space both in and around the city. One of these beautiful natural escapes includes Bute Park, located along the riverside with an arboretum, Victorian gardens, and friary ruins. There are also opportunities to cruise the Bristol Channel, or enjoy boat rides in the Bay.
Food and Dining
Being a modern city, Cardiff's dining scene is rich and varied. There are plenty of pubs, serving classic pub fare that you would find in the UK-fish and chips, bangers and mash (sausages and mashed potatoes), stews, soups, and just about any kind of meat pie you could ask for. Wales also has a selection of traditional fare of its own. Any soup or broth is referred to as cawl, while Welsh rarebit involves a savory cheese sauce served over toasted bread or in a dish like fondue. Welsh cakes are a kind of flat-bread cooked on a griddle (sometimes including dried fruits and sugar), bara brith or speckled bread is a yeast bread (often flavored with dried fruits, tea, and mixes spices), and Glamorgan sausage is a traditional vegetarian sausage consisting of cheese, leeks, and breadcrumbs. Cardiff also has plenty of options for international cuisine as well, including anything from French, Italian, and Middle Eastern to Indian, Japanese, or Mexican.
Transportation
Cardiff International Airport is the main way of flight entry serving the city. It is located about 12 miles to the south-west of the city in the Vale of Glamorgan. The range of international flights, however, is fairly limited, so it might be best to fly to England and then travel to Wales by car, coach, or train. There are direct coach services to Cardiff via National Express from Heathrow, Gatwick, and Bristol Airports.
Cardiff Central railway station is also a hub for transport services. By train, it is about two hours from London Paddington station.
Train and Bus Prices
The best prices for buses and trains in United Kingdom
can be found on Omio
(formerly
GoEuro
). They let you search across all train, bus, and plane routes throughout the region.