Nottingham On a Budget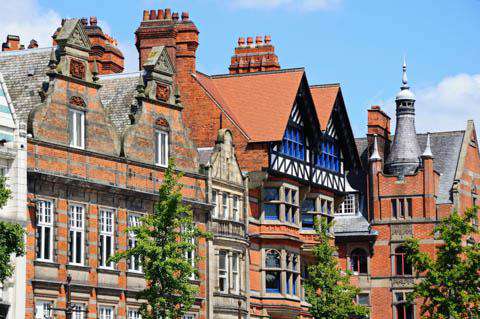 Nottingham, England is located in the Eastern Midlands of England and it is one of the most popular destinations in the East Midlands and is commonly known as the "Queen of the Midlands". It is most widely known for its link to the popular legend of Robin Hood. Nottingham is one of the 10 most visited cities in England and has a historic past with settlements in the area dating back to pre-Roman times. Nottingham's economy was once mostly based on their Lace making factories and coal mining industries, though not much of these industries still remain in the area. The economy now has shifted more to the service industry and tourism and is a popular shopping destination.
Sights
One of the top sights in Nottingham includes the Nottingham Castle. The castle has a complicated history, originally being built in the 1000's and having been destroyed and rebuilt several times. It holds a pretty impressive location, sitting at the top of a 130 foot cliff in a place known as "Castle Rock". The Castle operates as a museum and Gallery today and also has some interesting cave tours that are available.
Another sight worth a stop is the popular statue of Robin Hood, which is located just outside Nottingham Castle from what was once the moat. In connection with Robin Hood, another popular sight in Nottingham is the Sherwood Forest Park. The park extends over 450 acres with a variety of plant and animal life.
The Galleries of Justice Museum is another interesting stop. It includes the old courthouse and gaol (jail), and learn about the gruesome history of crime and punishment in the area. You can also journey into the caves under ground to see the cells and dungeons.
Neighborhoods
The Nottingham city center is the most popular area in Nottingham and is overall where most of the excitement, activities, and restaurants can be found. The Arboretum is also found here which is the only real park type area in the city center area.
The Cornerhouse/Trinity Square is another popular area and is located to the north of the city center. You can find Victoria shopping center here which is one of the bigger shopping destinations in Nottingham.
Activities
Sherwood Forest hosts an annual Robin Hood festival usually near the beginning of August. There are characters dressed in Robin Hood related costumes as well as jousting sessions, story time, music sessions, and other day and evening events in the forest. There is no entry fee, but there is a parking fee if you bring a car.
The City of Caves tour is a popular attraction. Tour guides/actors take you down far into the sandstone caves under the city and give you a historical and archaeological history of the caves.
If you're looking for something a little more extreme, check out Nottingham's Adrenaline Jungle. The Adrenaline Jungle has several adventure options from archery courses to off road vehicles, treasure hunts, laser tag, and various other adrenaline pumping activities including a blind folded 4x4 drive! Prices vary according to the activity, but they have lots to choose from as far as adventures and sporting activities.
Food and Dining
Nottingham has many pubs and restaurants available. If you're a fan of burgers, check out Annie's Burger Shack. Annie's is an iconic stop famous to both locals and visitors. It is so popular that there was a film made about it recently. There are interesting and unusual toppings offered here, and it's definitely worth a stop.
One of the most popular food choices in the area is roast, and the best place to get it is at Larwood & Voce. The meat here is said to be exquisite, tender, and juicy. The pub at this venue is also worth a stop.
Transportation
Nottingham's nearest international airport is Birmingham International airport, which is about 40 miles away. It is easy to get to Nottingham by bus or train as well. If coming from London, there is a main line train out of London going to Nottingham out of St. Pancras and the cheapest tickets are on the EM train. Nottingham also has two major bus stations which provide transport in and out of the city. Getting here by car is easy as well.
Getting around in the city is easy on Nottingham's public transit system as its bus route is one of the best in the country. It is said that Nottingham's public transportation is second only to London, so it is the easiest way to get around. The transit system is also the most economic way to get around. You can buy day passes which cover the entire day for a family, or one adult all day.
Related:
Traveling
alone to London
or
Edinburgh
?
Looking for a party and need a
hostel in London
?
Find a
Contiki tour
to Europe.
Train and Bus Prices
The best prices for buses and trains in United Kingdom
can be found on Omio
(formerly
GoEuro
). They let you search across all train, bus, and plane routes throughout the region.