It's official, San Diego is one of the most expensive cities to live in America. Take it from a local, you don't need to spend a fortune to visit America's Finest City. Our seven free things to do in San Diego could fill a weekend visit, or supplement a longer trip.
San Diego is a tourist mecca that draws millions of visitors every year for the Mediterranean climate, thriving cultural scene, and endless beaches. Here's how you can explore the best of Southern California without spending a dime.
Balboa Park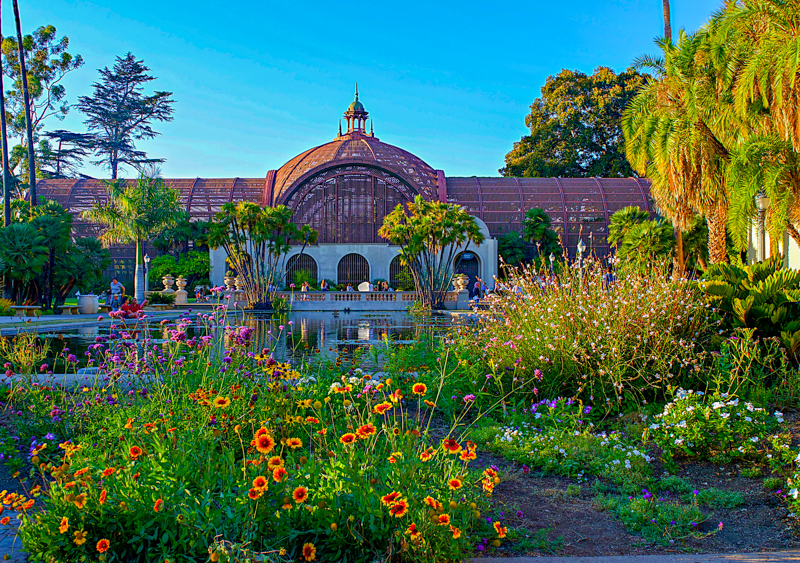 Balboa Park is the crown jewel of the San Diego Park system. It's home to the world-famous San Diego Zoo and several top-notch museums like the Museum of Man, Fleet Science Center, San Diego Air & Space, and Natural History. Amongst all of these paid attractions are dozens of free museums and gardens.
We like to start our free day at Balboa Park at the Zoo because it's the largest (free!) parking lot available and we can always find a spot with families coming and going. We walk past the historic carousel and gigantic Morten Bay Fig Tree on the way to El Prado, the main drag through Balboa Park. We explore the rose and cactus gardens, take a few shots of the Bea Evens Fountain and then stroll leisurely down El Prado to the Cabrillo Bridge that crosses high over 163 and Sefton Plaza. On the way back, we explore the Plaza de Panama and the Botanical Building.
This route has about three miles of walking and will take a couple of hours to complete. On many weekends, Balboa Park offers free festivals and concerts that could easily fill an entire day with free activities.
Coronado Island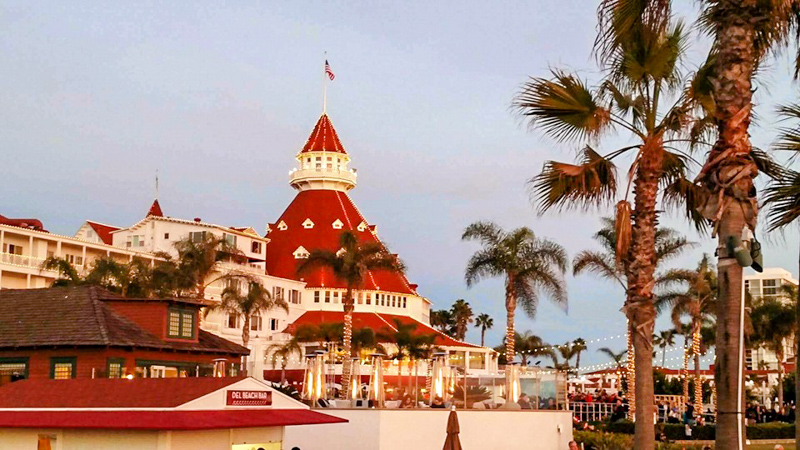 On the subject of crowns, Coronado Island is our next stop on the free tour of San Diego. Ok, maybe not entirely free since the westbound toll is one dollar, but you get to cross over the Coronado Bridge, which had to be curved so it would be high enough to let warships pass underneath to the Naval Beach San Diego. Parking is a little challenging too, but we've always been able to find free parking on the interior surface streets.
The historic
Hotel Del Coronado
dominates the beach scene. Hotel Del is one of the few surviving Victorian beach resorts and the second largest wooden structure in the United States. You can enter the Hotel Del for free and check out its gilded charm and play on the soft sandy beaches in front of the grand hotel. The ferry landing on the other side of the island offers shops, galleries, and outstanding views of the San Diego skyline. Exploring Coronado Island gives you the amities of a five-star stay without the sticker price.
Old Town
San Diego traces its heritage to Old Town, a small Mexican farming village along the banks of the San Diego River. Today, Old Town is a neighborhood with 12 art galleries, 27 historic buildings and sites, 32 restaurants and hundreds of specialty shops.
Our typical day at Old Town starts with us searching for parking and hoping not to walk in from the Old Town Transit Center lot. Once we have boots on the ground, we head to the free museums in the Old Town San Diego State Historic Park and shop for Mexican curios until we get hungry.
We have three go-to restaurants in Old Town, depending on our mood. The freshly made tortillas of Coyote Cafe are some of the best in San Diego, and you can't beat the free happy hour spread at Casa Guadalajara and $5 margaritas. No matter what, we save room for street tacos and live entertainment at Fiesta Del Reyes. You get to visit the old west and Mexico for free on the same day, and all you have to do is find parking.
Ocean Beach
We wrote our
Ocean Beach guide
to introduce people to this eclectic little hippy surf community just south of the commercialized strip of Mission Beach. Here you watch surfers, walk the O.B. Pier or cruise the coastline of Sunset Cliffs without in-your-face beach vendors and chain restaurants.
Ocean Beach is quiet and quaint, but if you want more action, you should check out their special events. Monday nights the famous Grateful Dead tribute band, The Electric Waste Band, performs at Winston's for a mere $7 cover. Wednesday nights, the O.B. Farmer's Market takes over Newport Avenue, and of course, there are nightly sunsets at Sunset Cliffs. Some of Ocean Beach's signature parties are the Chili Cookoff, Kite Festival, and October Fest.
La Jolla Cove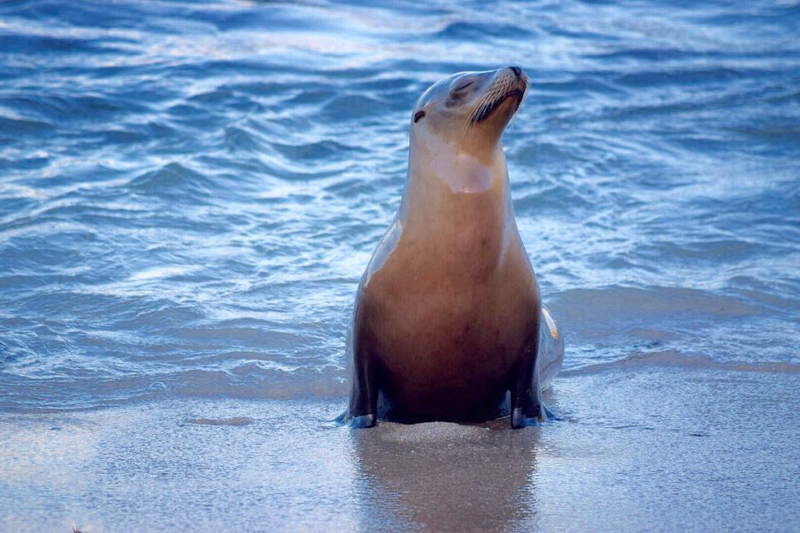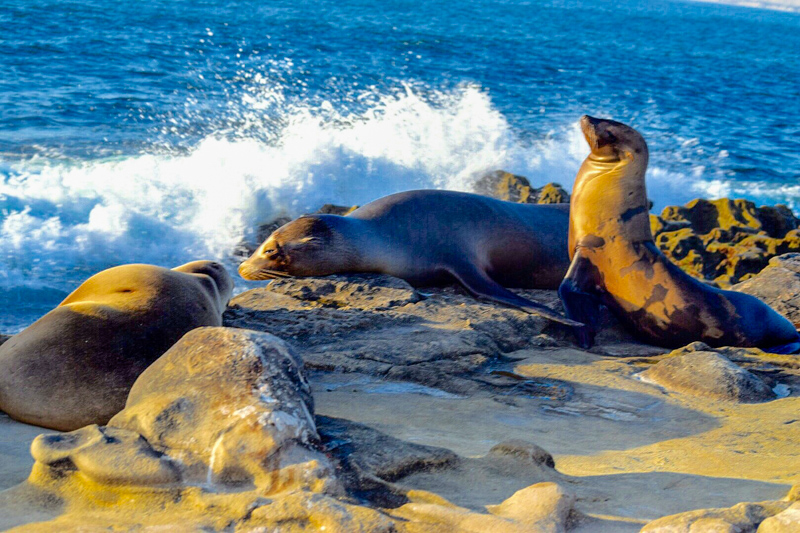 La Jolla is a beautiful little town just north of the city of San Diego. It's been a fishing village for centuries because of the deep ocean canyons the come right up to the shore along the Rose Canyon Fault. Today, it's a marine preserve, and the fishing is left to huge colonies of sea creatures that inhabit the rocky crags surrounding the cove. We love listening to the sea lions barking on their rocks, seeing harbor seals rolling on the sand, and cormorants diving for their dining.
Just off the cove is the Village of La Jolla, filled with art galleries and fine dining. You can find anything here from organic rooftop yoga to a Sunday farmer's market, but perhaps nothing epitomizes the La Jolla opulence more than the corner of Pearl St and Girard Ave where a Ferrari dealership sits across the street from a Maserati shop. It an expensive lifestyle but free to look.
La Jolla Shores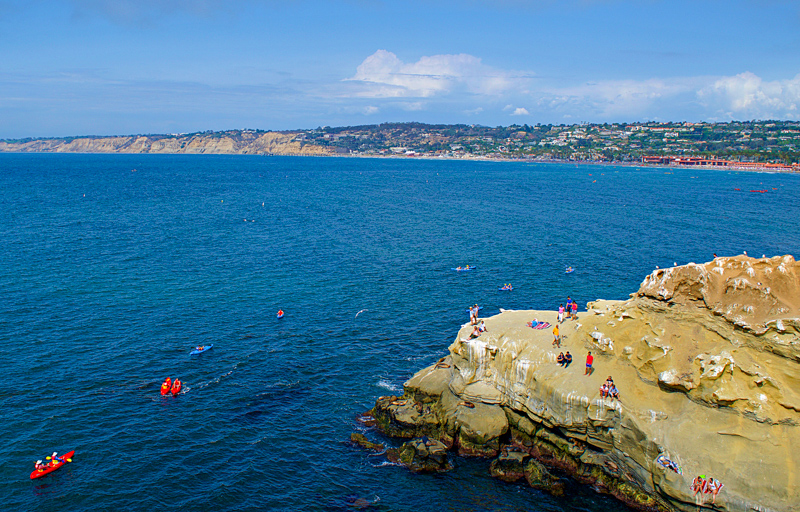 La Jolla Shores sits just up the road from La Jolla Cove. We love to explore the coast at La Jolla Cove and then enter the water at La Jolla Shores. If you have your own gear, all of these activities are absolutely free. If not, there are providers in La Jolla that can get you set up for a day of fun in the sun.
La Jolla Shores is famous for diving. Leaving from the beach at Kellogg Park puts you takes you to Vallecitos Point in 100' water with a short swim out. With just a mask and snorkel, you can swim with leopard sharks in front of the Marine Room. Just be sure to use the public beach access by Roseland Drive to bypass the private beach of the La Jolla Beach and Tennis Club. The kayak launch at the end of Avenida De La Playa lets you explore the La Jolla sea caves. With all of these options, you'll fill an entire day with fun eco tours, which is good because you will want to come early to find free parking.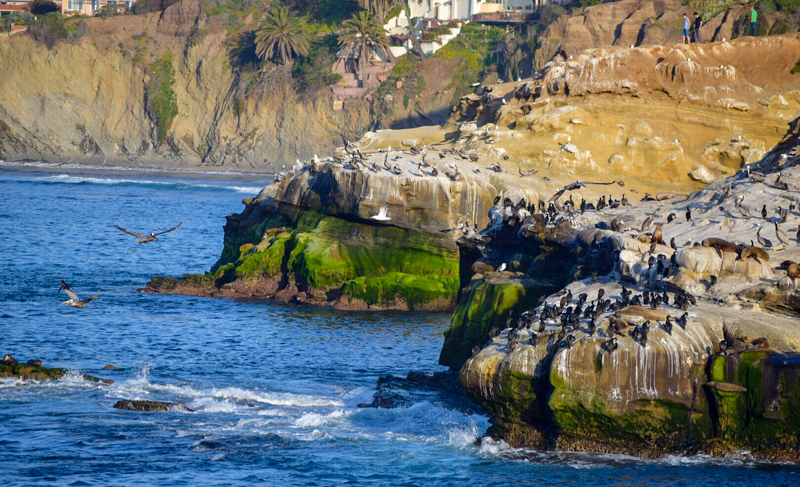 Mt. Soledad
Mt. Soledad is by far the shortest free tour on this list. You'll spend less than an hour at the top, but it's absolutely worth it. The perch high above La Jolla offers 360-degree views of the San Diego coast. Looking south, you'll see Mission Bay, San Diego Harbor, and on a clear day all the way to Mexico. Looking north, you'll see Torrey Pines State Park and the glider port. Needless to say, Mt Soledad is an excellent place to catch the sunset.
Mt. Soledad is also home to the Mt Soledad Cross you see driving up and down I-5 and the Mt. Soledad Veteran's Memorial. Be sure to take a little time to read the stories of the brave men and women who fought to keep our country free.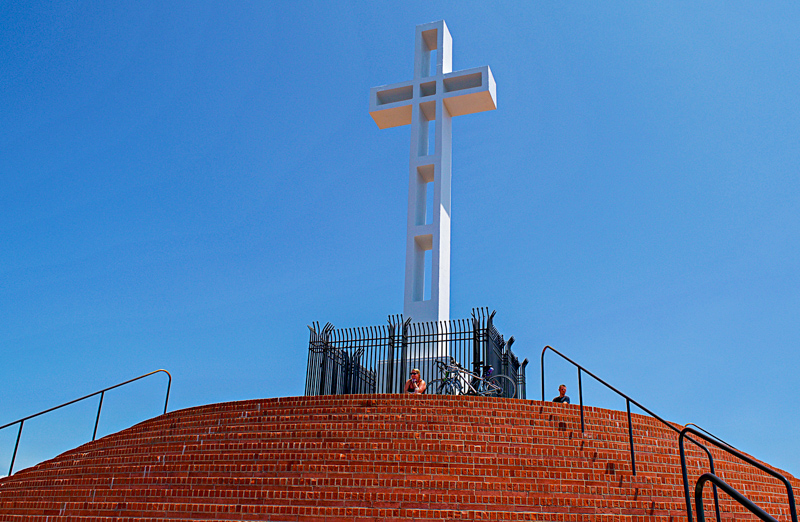 Final Thoughts
San Diego is thought by many to be an expensive travel destination, but it is actually filled with cheap and free activities. Our list of seven free things in San Diego is simply a start. Public beaches, festivals, parks, hiking, and cultural tours make San Diego a perfect destination for budget travelers. There's so much to do, and the weather is always spectacular!
If you have a limited amount of time for your journey, see our advice about how much time to spend here: Should I spend 1, 2, or 3 days in San Diego?, Should I spend 3, 4, or 5 days in San Diego?, Should I spend 1 or 2 weeks in San Diego? and Is San Diego Worth Visiting?