California On a Budget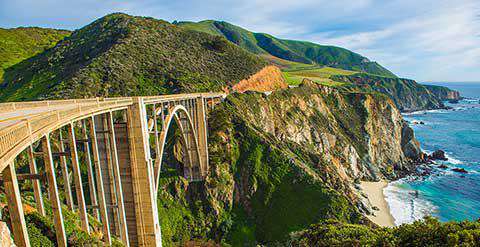 California is the most populous state in the U.S. and is known for a variety of attractions such as Hollywood, warm beaches, the San Francisco bay area, Redwood trees, and stunning mountain vistas. With a variety of locations and activities to offer, California has become one of the premier travel destinations in the world.
Sights
The city of San Francisco is unique in the U.S. with its European style streets, cable cars, and eclectic personality. Nearby are San Jose and Silicon Valley, the internet hub of the world. Not too far north is wine country, with Napa Valley and Sonoma at its heart. Just north of San Francisco are the Marin headlands, a natural protected area with rugged mountains, hiking trails, and Muir Woods.
In the far north of the state are several national parks, including Redwood National Park, famous for its massive and extremely tall trees.
Following the coast south from San Francisco will lead visitors to Monterey Bay, known for sea life and its aquarium. Nearby is Carmel, a nifty beach town with a long stretch of attractive coastline. Further south is a stretch of coastline known as Big Sur, which showcases mountainous landscapes with green hills that plunge into the blue sea. Occasional hidden beaches can be found in some of the inlets.
Los Angeles is one of the largest cities in the U.S. and has much to offer from Hollywood to the nearby beach areas of Santa Barbara and Long Beach, as well as Orange County, Beverly Hills, Disneyland and Knott's Berry Farm, and the list goes on.
San Diego, in the far south near the Mexico border, offers the warmest weather and scenic beaches as well as a historic downtown area (the Gaslamp quarter) and the world class San Diego Zoo.
Inland, California offers rugged terrain and national parks. Southern California has a wide area of desert, and visitors can visit Death Valley, Joshua Tree National Park, and the Mojave Desert. In central California, the Sierra Nevada range hosts Yosemite National Park, Sequoia-Kings Canyon National Park, Lake Tahoe, and other state and local parks.
Transportation
With multiple international airports in major cities such as Los Angeles, San Diego, San Francisco, Oakland, San Jose, and Sacramento, to name just a few, connections via plane should not be difficult.
California is also crisscrossed by various interstate highways. While distances can be far, driving times can be acceptable between most major cities depending on traffic.
Related:
Looking for a
party hostel in Las Vegas
or
San Diego
? Traveling alone to
NYC
or
LA
? Want a budget hostel in
San Francisco
?