Idaho On a Budget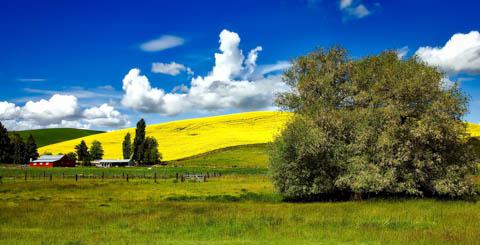 Perhaps best known for its "Famous Potatoes," Idaho's true nickname is "The Gem State" and is full of a kind of wild beauty that comes with snow-capped mountains, raging rivers, placid lakes, and dense forests. Agriculture mostly lies in the eastern part of the state, while the wilderness of northern and central Idaho consists of some of the state's greatest natural treasures, dotted with a few cities and college towns.
Sights
As a part of the Rocky Mountains and Pacific Northwest regions of the United States, Idaho has a landscape that ranges from rugged mountain terrain to sweeping prairies. In the mountains, ski resort towns like Sun Valley make for great hubs to get out and ski, hike, and backpack. Craters of the Moon National Monument, a volcanic park with vast fields of dormant lava as well as massive lava tubes, offers another unique landscape to hike and explore. Even the famous
Yellowstone National Park
is not too far; mostly located over the border in the state of Wyoming, it is home to wildlife like elk and bison as well as the world's largest collection of geysers.
Other attractions of the state include the massive boulders of City of Rocks National Reserve, a 72-mile paved bike trail that spans the panhandle called the Trail of the Coeur D'Alenes, the Frank Church River of No Return Wilderness which follows the Snake River through Hells Canyon, and the Lewis and Clark National Historic Trail following the famous expedition route which spans over three thousand miles from Wood River, Illinois, to the mouth of the Columbia River in Oregon.
Regions
Idaho is a state that is split - north from south - by time zone as well as its contrasting landscapes. The northern part is characterized by mountains, lakes, forests and rivers, while the southern part largely consists of high-plains desert and farmland with a striking mountain backdrop. North and Central Idaho are commonly referred to as the "Idaho Panhandle" and are considered to be part of the Pacific Northwest in the Pacific time zone, while Southern Idaho is a part of the Intermountain West in the Mountain time zone.
Boise is Idaho's capital and largest city, and is the heart for the arts, culture, and history of the region. It has a thriving downtown filled with shops and restaurants, and is also a great home base for the outdoor activities available in the surrounding areas. Other city hubs include Coeur d'Alene amidst the mountains and lakes of the north, Idaho Falls and Shelley near the agricultural center of eastern Idaho, Moscow home to the University of Idaho, Stanley known for its outdoor activities in the Sawtooth Mountains, the younger city of Twin Falls, Pocatello home to Idaho State University, and Sandpoint known for its skiing and water-sports destinations.
Activities
Idaho is prime location for outdoor activities year-round. In the wintertime, popular activities for visitors and locals alike include things like skiing, snowshoeing, snowboarding, and snowmobiling, while summer activities consist of boating, whitewater rafting, camping, horseback riding, hunting, fishing, mountain biking, and hiking. Rodeos are also common in the more rural areas. There are plenty of trails worth exploring in all seasons as well as many spectacular scenic drives.
Food and Dining
Most of Idaho serves up your typical American cuisine. The college towns (like Moscow, Boise, Pocatello, Idaho Falls) and the vacation centers (like Coeur d'Alene, Sun Valley, and Sandpoint) will have just about everything, including organic and vegetarian foods, while the cuisine of the more rural areas will be limited to hometown meals of beef and chicken. Some Idaho specialties include things like Idaho Rainbow trout, Kokanee salmon, wild huckleberries, and of course the famous potatoes. A favorite of southern Idaho is also a condiment called "fry sauce" - a combination of ketchup and mayonnaise, while the north favors locally made "ranch sauce" with their fries. Northern Idaho and the college towns of the south are also big on coffee culture, with several roasting operations and local shops.
Transportation
There are no international flights directly to or from Idaho. The nearest, serving the northern region of the state is Spokane International Airport in the state of Washington, about 20 miles (32 km) from the Idaho border.
Boise
Airport is the largest in the state and serves southern Idaho. Flights to and from Boise are available from most major cities in the western United States, as well as Minneapolis and
Chicago
. Airlines serving Boise include Delta, Frontier, Horizon, Southwest, United, and US Airways.
Other airports include Idaho Falls Regional Airport in eastern Idaho (popular for tourists visiting Yellowstone) and Friedman Memorial Airport near Sun Valley in central Idaho.
Related:
Looking for a
party hostel in Las Vegas
or
San Diego
? Traveling alone to
NYC
or
LA
? Want a budget hostel in
San Francisco
?