Wollongong On a Budget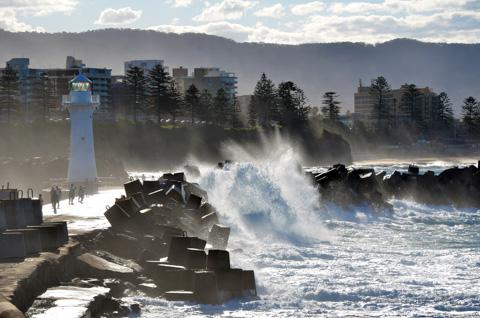 Wollongong is south of Sydney in New South Wales. It is also the third largest city in the state. Wollongong has a unique geography in that it is only six kilometers wide at its widest point and is forty kilometers long. It is squeezed in between the mountains and the ocean and in the process of growth, has swallowed several coastal towns between Dapto and Port Kembla. Wollongong is home to the University of Wollongong and has a diverse population that includes people of Serbian, Croatian, Italian, and Turkish descent among other nationalities. The influence of these cultures is obvious in the city's restaurant and entertainment options. Throughout the city you'll find some wonderful beaches with few crowds and some decent surfing opportunities.
Wollongong has an oceanic climate with highs reaching 17 degrees Celsius in the winter and 26 degrees Celsius in the summer. The temperature is kept cool by ocean breezes. Rain falls evenly throughout the year and sudden, short storms can occur during almost any month. Thunderstorms may occur during the summer months and bring lightening and heavy rain.
Sights
In all, Wollongong has about 17 different beaches you can enjoy, particularly in the summer months when the weather is the warmest. North Beach is probably the most popular beach, but City (South) Beach has nice sand and is closer to the city center. Austinmer is a quiet cove with a small beach. You'll also find restaurants and cafes nearby. Towradgi is one of the less crowded beaches, so if you're looking for peace and quiet, head here. On the south side of the city you can choose from Port Kembla and Windang, among others.
There are great views of the city from Bulli Pass, Mount Keira Lookout, and Mount Kembla Lookout. Other sights around town include the BHP Australian Historical Flying Museum, the Science Centre and Planetarium, the Nan Tien Temple, Wollongong Botanical Gardens, and Minnamurra Rainforest.
Neighborhoods
Wollongong's inner city includes the suburbs of Wollongong and North Wollongong. It runs from Para Creek to the north to Green house Park in the south and Wollongong Hospital to the west. The central business district has a variety of shopping and entertainment venues. Flagstaff Point is to the east of the city. There is a historic colonial fort and Wollongong Breakwaster Lighthouse at the harbour. There are several beaches in central Wollongong as well, including North Beach, Puckeys Estate Reserve and Wollongong City Beach.
Activities
There are many outdoor activities that you can enjoy while you're in Wollongong. Mountain biking is popular in the area as is scuba diving. For the adventurous, you can try your hand at sky diving. There are water sports available as well.
If you're interested in shopping, there are several good malls in the area. You can find everything from budget stores to designer boutique shops. The largest malls in town include Crown St Mall, Westfield Shopping Mall, and Wollongong Central. Crown St Mall is a pedestrian mall with several large department stores and smallboutique style shops. There are also dining options available. Wollongong Central is the area's largest shopping mall with over 220 retailers. There are also many restaurants in the mall.
Food and Dining
Wollongong has an excellent dining scene. Many of the restaurants are found on Keira Street and Corrimal Street, but there are options available in most neighborhoods. Budget options include Thai, Cambodian, Chinese, Mexican, Japanese, and vegetarian restaurants. Cafes and diners are also around with good food at reasonable prices. If you're looking for a high end dining experience then try either Lorenzo's Diner, which serves Italian cuisine, or Caveau, which serves French dishes. Reservations are recommended at both.
Transportation
If you don't have access to a car, then the northern suburbs along the coast are accessible by train. Trains run hourly and, depending on the station, it is possible to walk to Wollongong's central business district and nearby beaches without taking a taxi. Buses run along a free city loop that goes through the University and city center along Cliff Road and the Princes Highway. Buses run every ten minutes during peak times and every twenty minutes during other times. Public buses are also available in many parts of town for a fee. If you're hoping to see more of Wollongong or any of the surrounding areas you really do need to have access to a car as regional public transportation is extremely limited. If you want to explore the area, there are some good bicycling routes. Some of the routes will give you some great coastal views and a wonderful tour of the area and its scenery.
Related:
Looking for a party? Find a
hostel in Sydney
,
Melbourne
,
Cairns
, or along the
Gold Coast
.