Edmonton On a Budget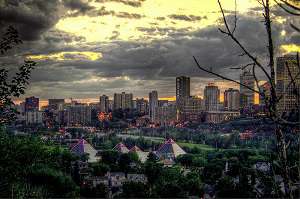 The capital of Alberta, Canada, Edmonton has a population of just over one million people in its metropolitan area. It is also North America's northernmost city of this large size. It's a beautiful place to visit because of the North Saskatchewan River Valley which has over one hundred kilometers of hiking trails, wildlife spotting, and overlooks. The valley has a string of parks which are wonderful to visit. In addition to the beautiful outdoor setting and activities, Edmonton also offers the largest shopping mall in North America, West Edmonton Mall. It's also a city with a lot of culture including a lively theater scene, many different festivals, and no shortage of sporting events that you could attend.
Edmonton has a humid continental climate. There is relatively little precipitation and the winters are milder than more southern cities such as Regina or Winnipeg. In January, temperatures average about 13 degrees Fahrenheit and in July they average about 64 degrees Fahrenheit.
Sights
Some of the more popular sights around town include the Alberta Legislature, the
Art Gallery of Alberta
, the Royal Alberta Museum, Fort Edmonton Park,
Elk Island National Park of Canada
, the Ukrainian Cultural Heritage Village, and seeing the Aurora Borealis or northern lights.
Elk Island National park has the highest density of hoofed mammals per square km for any wild area, with the exception of the Serengeti Plains of Africa. The park is 20 minutes to the east of the city and is a great place to see wood bison, elk and moose. There are also more than 250 species of birds.
Another interesting place to visit is the Ukrainian Cultural Heritage Village. It's located about 25 minutes east of the city and is near the Elk Island National Park. This is a historic site that highlights Ukrainian settlements in East Central Alberta. The site has more than 30 historic buildings including three churches, a grain elevator, a blacksmith shop and a sod hut.
Neighborhoods
Edmonton has several different districts, each of which has its own character. Central Edmonton is the oldest part of the city and has the glitzy skyscrapers and many of the city's attractions. South Central Edmonton has more of a college vibe as it is where the University of Alberta is located. The West End has the West Edmonton Mall and is the area to go for shopping.
Hotels are spread throughout the city but you'll find the highest concentration of budget options on either the south side of the city or in the deep east central area. There are also some budget hotels further out in the suburbs.
Activities
During the summer months, Edmonton hosts a wide variety of festivals. The city has a lively performing arts scene and there are many hiking trails and natural areas that you can explore in the nearby areas. Hiking, biking, and cross country skiing are all popular activities. During the summer months there are also a decent number of golf courses that you can play on. There are three public courses in the city limits and several outside of town as well.
Food and Dining
Dining in Edmonton is relatively diverse, but you'll find most of the restaurants in one of two areas. The downtown area has both chain and local restaurants and is a good place to explore if you're looking for interesting food. Also head to Whyte Avenue which has some interesting restaurants. West Edmonton Mall is another good place to hit up for a meal.
There is a diversity of food options with a good representation of ethnic cuisines. Options include Ethiopian, Chinese, Japanese, Thai, and Italian, among many others.
Transportation
The oldest part of the city is laid out like a grid. The streets are straight and it is easy to orient yourself. The city has a relatively reliable and inexpensive public transit system. There are hundreds of buses that travel on different routes throughout the city. You can use buses to access most destinations. They travel most frequently, every fifteen minutes, during peak hours, and then the frequency drops to every half hour. The city also has a light rail system. The line runs from Clareview Station in the northeast to Century Park Station passing by the University of Alberta's main and south campuses.
Edmonton Airport has flights to major cities around the world. The airport is located on the south side of the city and has several public transportation options, as well as private shuttle services. If you are looking for private transportation while in the area, you can
rent limousines in Edmonton
from AM PM Limo starting at $99.
Related
Looking for a
party hostel in Montreal
or
Vancouver
?
Traveling alone to
Toronto
or
Montreal
?